Google all out of black 16GB Nexus 5 handsets...for now
Other models remain available with long ship times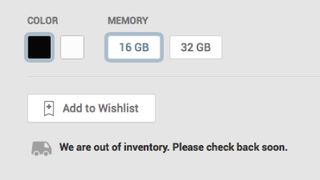 Barely two weeks old and already it's pulled a vanishing act. The most popular model of the latest Nexus-branded smartphone appears to have succumbed to the wallets of eager buyers.
The black 16GB model of Google's Nexus 5 handset is now showing as unavailable. It's far from a shocker as the new phone snags Android 4.4 KitKat and boasts a $349 price tag.
"We are out of inventory. Please check back soon," the black 16GB Nexus 5 product listing page on Google Play's Devices section seems stuck on.
Of course, it's not the first time the Nexus 5 has sold out - the device quickly depleted available inventory when it was first launched nearly two weeks ago, with subsequent shipping times ranging from two to five weeks.
Supply and demand
Google's latest Nexus handset manufactured by LG continues to be available in other flavors, with the 32GB black and 16GB white variations showing ship times several weeks long.
The 32GB white model has an even more specific timeframe, with orders estimated to leave the warehouse by November 26.
Google Play's "out of inventory" status comes on the heels of Sprint launching the Nexus 5 last Friday, with T-Mobile next in line for online orders kicking off is Thursday and in-store availability on November 20.
Sadly, that's little consolation for those looking to buy direct from the source, but patience should be considered a virtue for those waiting until Google Play restocks its virtual shelves.
Sign up to receive daily breaking news, reviews, opinion, analysis, deals and more from the world of tech.