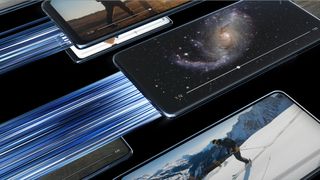 (Image credit: TCL)
If you just got your hands on the TCL 10 5G, you've got a lot of potential in your hands. Even though this phone costs just $399, it's packing powerful internals and can support a broad range of 5G signals for some impressive networking. If you're looking to take full advantage of all this phone can do for productivity, we've got some tips to help you get started making the most of the TCL 10 5G.
Get a handle on your 5G signal
Here in the US, the TCL 10 5G isn't supporting just any old 5G. While the device can connect to Sub6 5G networks for a more stable connection and stronger signal in most places, it's also capable of latching onto Verizon's ultra-fast mmWave (Ultra-Wideband) connection.
You won't find this mmWave signal just anywhere, but when you do, you can see your mobile data speeds cruise past 1Gbps. So, it's worth making note of locations where you're able to pick up this extra speedy connection (just look for the 5G UW symbol in your status bar). Then, when you need to download or upload large files or bunches of files (perhaps backing up all the 4K video you captured on the phone), you can save time with the transfer by doing it when you're in an area with mmWave coverage.
5G Hotspot is your friend
Your TCL 10 5G's new 5G connection doesn't have to be just for your phone, either. The bandwidth you can get from a 5G is more than you'll likely need for typical phone applications, but you can get extra productive by sharing that connection with more devices. Turning on your phone's wireless hotspot will let you turn your laptop into an even more capable, portable workstation. Just make sure you don't burn through your hotspot data allotment if you have one, because 5G will let you use that data extra quickly.
Take advantage of that microSD slot
The TCL 10 5G comes with a healthy dose of storage at 128GB, but you can ensure you're getting the most from it by using the phone's available microSD card slot. The built-in storage will provide faster performance, making it a better fit for your apps and bandwidth-intensive activities like recording 4K video. For things like files, downloaded videos, and photos, you can opt for microSD storage. This will let you keep room on the built-in drive for the applications that actually depend on its speed.
Reading mode is your friend
The TCL 10 5G has a big, bright screen with exciting features for watching content thanks to TCL's know-how in TV technology, but it also has readers covered. The phone supports a special reading mode. If you're reading long articles or digging into ebooks on the phone, Reading Mode will set the display to render monochromatically for a more book-like experience. You can also set the phone to automatically activate Reading Mode for certain apps to save you the effort.
Know when to tag in a bigger screen
The TCL 10 5G may have a substantial screen, but if you need a larger picture to make out extra detail or share what you're looking at with others, you might need an even bigger display. Fortunately, this phone is ready for that with its screencast feature. You can mirror your phone's display onto a TV or projector that supports Wi-Fi Display. So, if you need to make a presentation or collaborate on something, your TCL 10 5G can handle it without you needing to fuss around with cables and computers.
With all these tips in mind, you're ready to get the most out of your new 5G smartphone, whether you're in the office, on the go, or relaxing at home.
Sign up to receive daily breaking news, reviews, opinion, analysis, deals and more from the world of tech.