What is a Disney Plus gift card and how do I send one?
Features
Contributions from
last updated
Send a loved one on a magic carpet ride of entertainment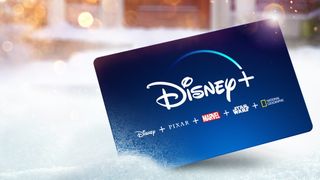 (Image credit: Disney)
Packed full of entertainment for all the family straight from the Disney Vault, give the gift of animated classics, superhero battle scenes straight out of Marvel, and intergalactic adventures from the Star Wars franchise with a Disney Plus gift card. One of the most popular VOD services around, this is the prefect present for keen streamers that'll keep on giving for the next 12 months.
Your recipient can enjoy a whole bunch of iconic TV shows and movies that will take them down memory lane - or make new budding fans of them. Don't forget Disney Plus also hosts a line-up of thrilling Original shows such as Andor and She-Hulk, as well as a whole 31 seasons of The Simpsons.
Below we'll explain how to purchase and send a Disney Plus gift card (without even leaving the house), the amount you'll pay, and any conditions that might prohibit the recipient from activating their gift subscription.
Does Disney Plus have gift cards?
Yes, although they're more accurately called 'gift subscriptions', because the recipient is emailed a digital code that, once redeemed, provides them with access for an entire year to Disney Plus.
So, rather than getting a physical card loaded with a fixed amount of cash, you activate a year-long paid subscription online. (If you want an actual gift card, these are available at Disney Stores and theme parks in the US).
You can purchase a year's worth of Disney Plus through its website.
There's no option to gift one month or six months. However, you end up saving a loved one – or yourself if you'd normally foot the bill – about 15% on a rolling monthly membership in what is one of the best streaming deals for Disney Plus currently. Not only that, but each account can be shared with up to four other people, so it's easy to spread the Disney cheer.
It's worth noting that in the US, you can only get an annual subscription to its Ad-Free plan, which means a gift subscription will offer the same commercial free experience.
You can find out more here about the Disney Plus price and plans, including how it compares to other streaming services with our guide.
Where are Disney Plus gift cards available?
Disney Plus gift cards are currently only available in the US, UK, Canada, Australia, France and Germany, and can only be purchased for someone living in the same country as you. The recipient must not have an active Disney Plus account, and they should be at least 18 years of age.
How do I send someone Disney Plus with a gift card?
It's easy to make someone's online streaming dreams come true. Just follow the steps below:
Click 'Give a Year'
Enter in your name and email address
Enter the recipient's information
You can select the date you'd like the gift subscription to be sent
Enter in your payment details
Confirm the purchase
Once the lucky recipient has the email, they should visit this page to redeem their gift subscription, and manually enter the code provided in the email.
Easy. Now they can sit back and enjoy 12-months of unprecedented Disney Plus entertainment, all thanks to you. And, if they're still loving it when the year ends, they can renew the membership by entering their own credit card details.
How much does a Disney Plus gift card cost?
A Disney Plus gift card costs the same amount as you'd pay for an annual membership. Prices are detailed below, and will vary depending on what region you live in:
US - $109.99
UK - £79.90
Australia - $119.99
Canada - $119.99
France - €89.90
Germany - €89.90
At the moment, these are the only countries where you can buy a Disney Plus gift subscription.
What if I give a Disney Plus gift card to somebody who already subscribes?
It's not ideal. As per the terms and conditions, only new and eligible returning Disney Plus subscribers can redeem a Disney Plus subscription that's been gifted to them.
However! If you've been gifted a year of the VOD service from family or friends, but are already paying for Disney Plus on a monthly or annual basis, go ahead and cancel your current subscription. Once it's elapsed, you'll be free to redeem the digital subscription code and utilize that complimentary 12-month membership.
Sign up to receive daily breaking news, reviews, opinion, analysis, deals and more from the world of tech.
Daniel Pateman is a freelance writer, producing articles across the cultural spectrum for magazines like Aesthetica, Photomonitor, The Brooklyn Rail and This is Tomorrow. He also provides text-writing services to individual curators and artists worldwide, and has had work published internationally. His favourite film genre is horror (bring on Scream 5!) and he never tires of listening to Absolute 80s on the radio.