Not too long ago, a 40-inch TV was considered rather massive – although admittedly this was back at the end of the CRT era, when TVs were thicker than most entertainment centers and weighed more, too.
Those days are now long behind us, with 65-inch TVs now the main staple of American living rooms (with Europe not far behind). It's easy to assume that given the need to go bigger and better all the time, the lowly 40-inch TV might be going the way of the dodo.
That's not the case though: if you want an upgrade from a 32-inch set that won't suddenly overwhelm your living room, a 40-inch TV is a superb option. You still get a great experience for movies and games, and 40-inch TVs are much cheaper on average than their 55- and 65-inch counterparts.
The only drawback is you don't always get the latest tech with a 40-inch TV. You won't find 40-inch OLEDs, or ones with the latest, greatest processors inside. That can mean that 4K and HDR are off the table, or that motion interpolation and upscaling are spotty at best – especially if you buy whatever TV is in the sale of the week.
The good news is that not all TVs and TV brands are created equal, and there are a number of exceptional 40-inch TVs with 4K HDR at a reasonable price. We've done all the hard work and research for you, and can promise that what you are about to look at are the best 40-inch TVs of the year.
What TVs does TechRadar recommend?
Ahead of the main event, let's quickly go through what makes a good 40-inch screen.
To begin with, do you want smart TV? We would. A TV with a smart interface and Wi-Fi will let you watch streaming services like Amazon Prime Video, Netflix and YouTube.
You'll want at least a Full HD panel, if not a 4K one, to keep movies and games looking sharp. Also check out the connections on a set. Make sure the number of HDMI ports at least matches the number of devices you want to plug in.
Ultra HD vs. Full HD: That you can't see a difference between Full HD and Ultra HD on a screen smaller than 55 inches is a common misconception. Now, we're not saying those people are flat-out wrong, but we can promise that if you take your time and really look at a picture – especially if that picture is using High Dynamic Range – you will see a difference.
We recommend picking a TV with 4K Ultra-HD and HDR if you can find one. They're not the standard at this screen size because the cost might outweigh the benefits for someone shopping for an ultra-cheap TV, but if you're serious about video, 4K is vital.
Operating system: 40-inch TVs didn't always come with a smart TV operating system in the past. These dumb TVs were incredibly cheap to make, and therefore cheap to buy, too. But there was a problem: As Netflix and YouTube became more and more popular, people wanted to stream those services on their TV without resorting to a streaming video device like a Roku, Amazon Fire TV or Chromecast.
These days, it's fairly easy to find good Smart TV on a 40-inch TV. All but the most bare-bones of screens will have them. What you're looking for, ideally, is a well-maintained operating system like Roku TV, LG's webOS or Samsung's Tizen operating system. If you go with a TV that uses a proprietary operating system (basically an operating system exclusive to that one TV) you might have some serious issues down the road.
Inputs and outputs: Connections seem boring, but trust us – this is something most folks don't think about until they bring the TV home and get it all connected, only to realize their great new TV only has one HDMI port.
Having multiple HDMI ports (along with options for optical audio out and RCA connectors) allow you to connect most – if not all – of your devices. This will save you time in the long run as you won't have to get up and switch the cables around any time you want to change the input.
Now you know what to look for in a TV, here are a few screens that we think might be a good addition to your burgeoning home entertainment center.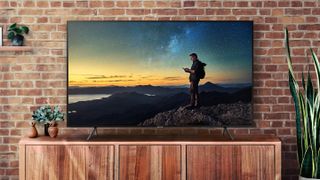 Samsung NU7100 Series
New for 2018, the NU7100 has awesome upscaling, UHD dimming and 4K resolution
Powerful upscaling engine
4K resolution and good dimming
Limited viewing angles
Samsung has long led the way in the mid-range and until very recently was almost unchallenged for the throne. While TVs like the TCL 5-Series and VIZIO E-Series offer much fiercer competition than we've ever seen before, Samsung still beats all the rest with its NU7100. While it doesn't offer as colorful HDR as the TCL or VIZIO, Samsung's NU7100 does a significantly better job upscaling content, which means those of you still rocking HD content – cough, cable, cough – will appreciate this TV's ability to make 1080p content look great in any circumstance.
While the TV suffers from limited viewing angles and is slightly more expensive than the rest of the TVs you'll find on this list, the NU7100 is our pick for the best 40-inch TV in 2018.
Samsung MU7000 Series
Samsung's 2017 MU7000 is a winning combination of picture quality and value
Bright, colorful HDR pictures
Attractive space-saving design
UK model's awkward legs
If you can't afford to get the latest and greatest model, the NU7100, you should definitely seek out the MU7000 – in the UK it goes by the designation UE40MU7000T, and in the US, it's called UN40MU7000. We love this TV. It delivers bright 4K HDR images and a price in temptingly low impulse-buy territory.
It's not without its flaws, but no other 40-inch TV we've tested around this price is even close to the MU7000. What it is able to do with native 4K resolution and HDR content is simply amazing.
If we're being picky, high contrast scenes can look slightly gray, there aren't as many color tones as you'd get with a more expensive 10-bit panel, and viewing angles are limited. But these concerns aren't going to be fixed on a 40-inch screen. For the money, this is now the second best 40-inch screen money can buy.
Read the full review: Samsung MU7000 Series
TCL 5-Series 43S517
Great Smart TV features on a budget
Roku TV is awesome
Dolby Vision built-in
Bright HDR and 4K
Poor upscaling
OK, so the TCL 43S517 isn't exactly a 40-inch TV – it's 43-inches. But look, you can get three extra inches for less than some 40-inch screens! Beyond the extra size, however, the TCL is an extraordinary value. It packs Dolby Vision HDR into a 4K TV that's built on top of Roku TV. Not only does that save you from buying an external streaming video device, but Roku TV is one of the best platforms on the planet.
Samsung and LG might have done an exceptional job improving their UIs over the years, but Roku TV is fast, responsive and packed to the gills with content – thousands of channels are available. Not only does it have a ton of stuff to watch, it's all super-easy to find thanks to its universal search feature. It scans over 200 channels to find films and shows at their lowest possible price.
If you're after the best deal, you can do no better than this.
Panasonic TX-40EX600B
A fantastic 40-inch TV with 4K and HDR for UK buyers
4K HDR detail
My Home Screen 2.0
Freeview HD
Awkward feet
UK residents don't know how good they have it when it comes to mid-size TVs. Panasonic, one of the finest panel makers out there, makes high caliber 40-inch screens at an affordable price, like the Panasonic TX-40EX600B.
The screen was released in 2017 and packs both 4K and HDR into its 40-inch panel.
While long time Panasonic owners might be a bit concerned not to see the trusty Firefox OS at the helm of the screen, don't worry – the My Home Screen 2.0 interface is almost the same thing, but developed entirely in-house by Panasonic.
Add to that three HDMI ports and you have a pretty fancy screen without a high price attached.
Vizio D-Series D40f-E1
Serious connectivity options in an affordable package
Tons of connectivity options
Crazy cheap
Full HD only
Proprietary OS
If you're looking for the most bang for your buck, and you live Stateside, VIZIO's D-Series offers great FHD visuals for next-to-nothing.
This year's model to beat is the VIZIO D40f-E1. The TV offers a 120Hz effective refresh rate, full-array backlighting and a 200,000:1 contrast ratio. This ensures solid image quality.
The VIZIO D40f-E1 looks good, has a great contrast ratio and can keep up with the action if you're watching a game of football on Sunday. It doesn't look as good as our top picks, but considering that VIZIO's screen usually costs less than $300, we're more than happy.
Panasonic TX-40DX600
Panasonic's 2016 40-inch screen is still a star
Clean, colourful 4K
4K digital file support
Tight viewing angle
The 40DX600 is Panasonic's best value 4K TV. Four pegs down from Panasonic's flagship DX900 range – five, if you count its OLED – the DX600 series claims a 4K Edge LED-backlit panel with adaptive backlight dimming, 800Hz scanning and Quad Core PRO processor for super-quick smart TV navigation.
It also has both a Firefox OS (now called My Home Screen) and a Freeview Play catch-up TV app. It's a smart, usable interface that lets you watch Netflix or Amazon Prime Instant Video.
Read the full review: Panasonic TX-40DX600