Newegg has slashed the price of the Lenovo Explorer Windows Mixed Reality headset from $349.99 to just $99.99. It's extremely rare for a virtual reality headset to drop below $100, and this deal makes the Explorer the cheapest way to experience games like Skyrim VR.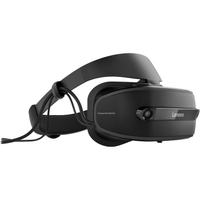 Lenovo Explorer headset for $99 at Newegg
The deal is for the Lenovo Explorer headset only. A bundle containing two controllers as well is available for $199, but if you'd rather not spend the extra cash, you can use an Xbox controller or keyboard and mouse instead.
Comfort and quality
Unlike some headsets (like the HTC Vive with its Lighthouses) the Lenovo Explorer doesn't require any extra hardware to get started. Just plug in a single cable, download the Windows Mixed Reality Portal software when prompted, slip the Explorer on, and tighten it using the dial at the back.
The headst is light enough to be comfortable, with soft foam padding, and you can flip the display up to see the real world without having to remove it.
The Explorer's lenses are a little smaller than some Windows Mixed Reality headsets, reducing your peripheral vision, but it's a very impressive device nonetheless – particularly at this price.
Via MSPoweruser