This week's Afterpay Day sale has delivered a few record-low prices, and a selection of Dyson's vacuums are among them. Two versions of the Dyson V15 Detect are now at their lowest prices yet, but even a AU$500 discount means you're still spending between AU$900–AU$950 for a vacuum cleaner – so is it worth your hard-earned cash?
The two models on sale are the Dyson V15 Detect Absolute (opens in new tab) and the Dyson V15 Detect Complete (opens in new tab). In the Afterpay Day deal available via eBay, the V15 Detect Absolute drops to AU$898 (RRP AU$1,399), while the Complete model is a little more at AU$948 (RRP AU$1,449). Both are AU$501 off, but they're still quite an investment.
The V15 is a premium cordless vacuum, and it currently holds the #2 spot in our guide to the best vacuum cleaners you can buy. We felt one of the main drawbacks of the V15 was its retail price when we first reviewed it, so we'd argue that the up to 35% discount is worth jumping on if you've been holding out for a better price.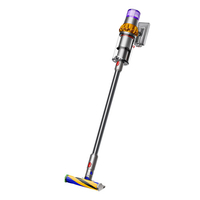 (opens in new tab)
Dyson V15 Detect Absolute | AU$1,399 AU$898 on Bing Lee eBay (opens in new tab) (save AU$501)
At AU$500 off, this is the lowest price we've seen for the Dyson V15 Detect Absolute, and we think it's worth snapping up if you've been waiting for a discount. This version comes with two main cleaner heads and three extra tool attachments. To get this deal, you'll need to pay using Afterpay and enter the code APAYDAY3 at checkout. Note that a AU$20 shipping fee isn't included in the price, and because it's being sold via Bing Lee's eBay store, it won't ship to all areas of Australia. An option to click and collect is available.
• The V15 Detect Absolute is also on sale at Dyson for AU$1,048 (opens in new tab).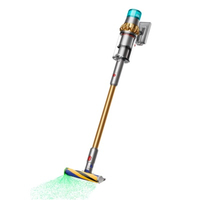 (opens in new tab)
Both models are essentially the same. The only difference between them is the colour scheme used on the machine and the number of accessories they each ship with.
All Dyson V15 Detect models come with a runtime of up to 60 minutes and powerful suction. The V15 can even sense what surface it's on, so it'll automatically increase suction when it senses carpet or rugs. It will also dynamically increase suction if it sense more dirt or hair on a surface – a really neat feature if you've got pet hair (or your own) to suck up.
The V15 range was the first from Dyson to use a built-in laser light to illuminate hidden dust and dirt in your home, but when we used the vacuum for our Dyson V15 Detect review, we found the feature to be a little gimmicky as the light just wasn't bright enough and the beam quite narrow (this has since been fixed in the latest Gen5 Detect vacuum cleaner).
A new feature we did like, however, was the piezo sensor, which lets you measure the amount of dirt you've captured in real time, even down to microscopic particles as small as 10 microns. It's all displayed on the V15 as you vacuum, so once the graphic stabilises, you'll know there's nothing more to clean up.
So, while the Dyson V15 models are still quite an investment – even with a AU$500 saving attached – we think they're worthwhile for somebody who sheds a lot of hair, or has a pet who does. The V15 models are also now cheaper than the newer Dyson Gen5 Detect, and they're physically lighter too, as we found the Gen5 Detect to be too heavy to use comfortably.