The Canon EOS R6 Mark II is a mightily impressive mirrorless camera, but one of its biggest drawbacks is its asking price – AU$4,499 at full price, although some specialist camera retailers do have a lower RRP. However, a 25% discount currently available from Amazon makes now a good time to invest if you're after a capable full-frame mirrorless camera.
The EOS R6 Mark II ranks highly in our guide to the best mirrorless cameras. It won us over thanks to AI-assisted autofocus that improves on what we've seen before in any other Canon camera (or Sony for that matter). There's also burst speeds of up to 40fps and fantastic handling, too. A small resolution boost brings the sensor up to 24.2MP over the older EOS R6's 20MP, and 4K video can be shot up to 60p using the full sensor width.
With that said, we think you'll get the most out of the EOS R6 Mark II if you're already using Canon's RF lens system, as it'll be a heftier expense if you're starting from scratch. A much cheaper alternative if you're just getting started is the Canon EOS R7, though that uses an APS-C sensor, not full-frame like the R6 Mark II.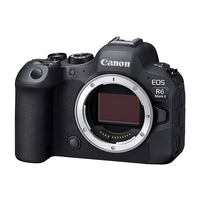 Canon EOS R6 Mark II (body only) | AU$4,499 AU$3,368 on Amazon (save AU$1,131)
This full-frame mirrorless camera was only released in November 2022, and Amazon has already slashed just over AU$1,000 off, making it the lowest price we've seen yet. While there's no getting around the fact that this is an expensive camera, we think the 25% discount certainly makes it a more tempting buy, particularly if you've already got RF lenses to use with it. The body is now available on Amazon for AU$3,368.
The EOS R6 Mark II is the newest iteration of the Canon EOS R6. The original R6 came with a 20MP sensor, but this brand-new model increases it up 24.2MP, while also doubling the burst shooting from 20fps up to 40fps with the electronic shutter. There's improvements for video as well, as the 30-minute recording limit for the R6 has been scrapped, and Canon is promising the R6 Mark II is capable of recording over 40 minutes at 4K 60p, or up to six hours at 4K 30p.
Those are not the only improvements – Canon claims it's got better stabilisation over the first-gen R6, although it is still measured at up to 8 stops for camera shake. Autofocus has been expanded to cover more subjects, uses AI to be more precise and, all in all, is a great improvement out of the box over its predecessor.
And then there's the price. At the time of writing, the original R6 can be bought for anywhere between AU$3,117 up to AU$3,400, and the newer, better R6 Mark II is not that much more expensive at its discounted price. The Canon EOS R, the camera maker's oldest full-frame model, falls around the AU$2,300 mark. This model has a full-frame 30.3MP sensor without an optical low-pass filter, and some 4K video limitations, with none of the speed and precision of the R6 II.
So, if you shoot video as well as stills, we'd argue that the R6 Mark II is the better buy compared to some of Canon's older models. If you're not already using Canon's kit, we can suggest cheaper alternatives such as the R7, or rival full-frame cameras including the Nikon Z6 II or the Sony A7 IV, although the specs for each of these vary from what the R6 II offers.