The Galaxy S23 was just announced this past week with a hefty $799 price tag. For some, that's going to be fine, but for others - way too much. If you're in the latter camp, then there's a perfect alternative in the form of the Google Pixel 7, an excellent device that's just been dropped to $499 (was $599) (opens in new tab) at Amazon.
At $599, the Google Pixel 7 was already way cheaper than the new Galaxy S23 but this particular deal makes it an absolutely stellar buy. Not only are we just $20 off the cheapest price ever (there was a one-day flash sale back in November), but it's not tied to the usual trade-in that you often have to make with cell phone deals.
Compared with the Galaxy S23, the Google Pixel 7 doesn't quite have the same kind of cutting-edge components (particularly on the chip front), but the camera is right up there with the best phones and the design is arguably more eye-catching. The Tensor 2 processor in the Pixel 7 is also plenty powerful for most people and enables some fantastic smart assistant integration and camera wizardry.
Note, if you're on the hunt for something a little more premium, then you could also consider the Google Pixel 7 Pro for $749 (was $899) (opens in new tab) at Amazon. This particular model is a little bigger than the standard Pixel 7 (6.7-inch screen versus 6.3 inches), has a few key camera upgrades, and an overall much better display (better 120Hz refresh rate). Today's deal puts it at $50 cheaper than the standard Galaxy S23 device but it's worth noting that it's much, much bigger than the Samsung device, which comes in at a more pocket-friendly 6.1-inch size.
Outside the US? Check out more of today's best Google Pixel 7 deals in your region just below.
Google Pixel 7 deals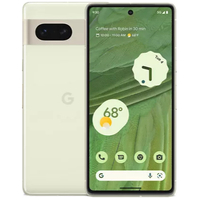 (opens in new tab)
Google Pixel 7: was $599 now $499 at Amazon (opens in new tab)
A full $100 off upfront makes the Google Pixel 7 a great buy if you're on the hunt for a fully-featured Android flagship but don't want to break the bank. Outwardly, it's still rocking one of the most eye-catching designs in the business while internally the Tensor 2 chip provides plenty of power and computational wizardry. Top it off with an excellent camera and you've got a fantastic device for the $500 asking price.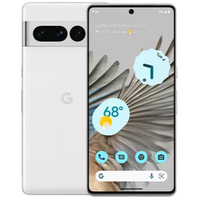 (opens in new tab)
Google Pixel 7 Pro: was $899 now $749 at Amazon (opens in new tab)
For those who want something a little more premium, consider the excellent Google Pixel 7 Pro - which is also heavily reduced today. Laying down that extra cash is going to score you a larger 6.7-inch display capable of a 120Hz refresh rate, a more flexible zoom for your camera, and more RAM under the hood. It's a much more flagship-orientated device, but one that's still great value thanks to this $150 price cut.
---
Want to see what other retailers are offering on these devices? Head on over to our main Google Pixel 7 deals page for the latest from Verizon, AT&T, and more.