You can get three months absolutely FREE with Three's 150Mbps 5G broadband Hub
When you sign a 24-month contract, you don't pay anything for the first three months, then price goes up to £20 p/m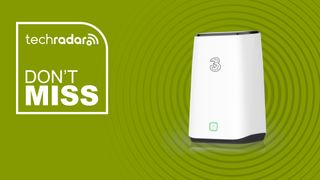 (Image credit: Future)
If you've been searching for the best broadband deals, then you might not have yet considered a 5G broadband tariff. However, we've found an offer that may well pique your interest...
Right now with Three, you can get its excellent 5G Hub broadband on a 24-month contract where you'll pay nothing for the first three months. After this period, the cost goes up to £20 a month, which is still a great price for the 150Mbps average download speeds you can get from its class-leading 5G Hub. This means it can easily rival some of the best and cheapest fibre broadband deals available right now.
If that wasn't enough, you get unlimited data, there aren't any upfront fees to pay and - arguably best of all - you don't need anything to be installed. You simply get your new Hub, plug it in and connect your devices to it to enjoy Three's 5G broadband.
We think that with these speeds any busy, small to medium-sized households - even with high internet usage - should have their internet demands met. However, the key thing to factor in here is whether or not your property can get a decent 5G signal. This is something you can check directly with Three when you sign up - but if you're still not happy afterwards, Three has a 30-day money-back guarantee in place.
---

Three 5G Hub | 150Mbps average download speeds | 24-month contract | First three months FREE | £20p/m thereafter | No upfront fees
You can now get Three's popular 5G broadband, which gives average download speeds of 150Mbps, for FREE for three months. This applies if you sign up for a 24-month contract, and then after the initial free period, the cost goes up to £20 a month. There aren't any upfront fees to pay and you can simply plug your 5G Hub in when you get it and then enjoy quality 5G broadband. Three also offers a 30-day money-back guarantee for added peace of mind. Your property will need to be in an area where 5G service is available.
More reasons to choose Three's 5G broadband
Our featured deal is just one example of why Three is essentially the go-to for 4G broadband and 5G broadband. They offer other similar deals to this one, and as our featured option also shows, they're typically on the cheaper end of the market.
The notable positive of its affordability is matched by its excellent customer service. Not only does it have the above-mentioned money-back guarantee in place and its easy Hub installation, but you can also get help via direct phone lines, Live Chat, social media and its app. For balance, its Trustpilot reviews aren't great, but these aren't a particularly fair reflection on what's a generally good level of support.
Three's flexibility is another big draw. We're specifically talking about the fact it offers monthly rolling contracts - a rarity for most internet service providers - which you can cancel at any time. They're also not that much more expensive than the 24-month plans.
What can be an issue here is something we've also mentioned in our featured deal - the fact you need a decent 4G or 5G signal. While coverage across the UK has improved there are still some areas where you won't be able to get mobile internet. You can learn more about this in our comprehensive guide to 5G broadband.
So if this is the case for you - or you simply want to know what other broadband options you have - check out our best broadband deals guide. Equally, just enter your postcode into the widget below and we'll show you what tariffs you can get in your location.
Loading...
Sign up for Black Friday email alerts!
Get the hottest deals available in your inbox plus news, reviews, opinion, analysis and more from the TechRadar team.
Rich is a freelance copywriter and content strategist with over 10 years' experience. His career has seen him work in-house and in various agencies, producing online and offline content marketing campaigns and copywriting for clients in the energy industry.