Walmart Black Friday sale live: deals including $79 AirPods and $228 4K TV open to all
Walmart's third Black Friday sale is open to all
Walmart Black Friday: the headlines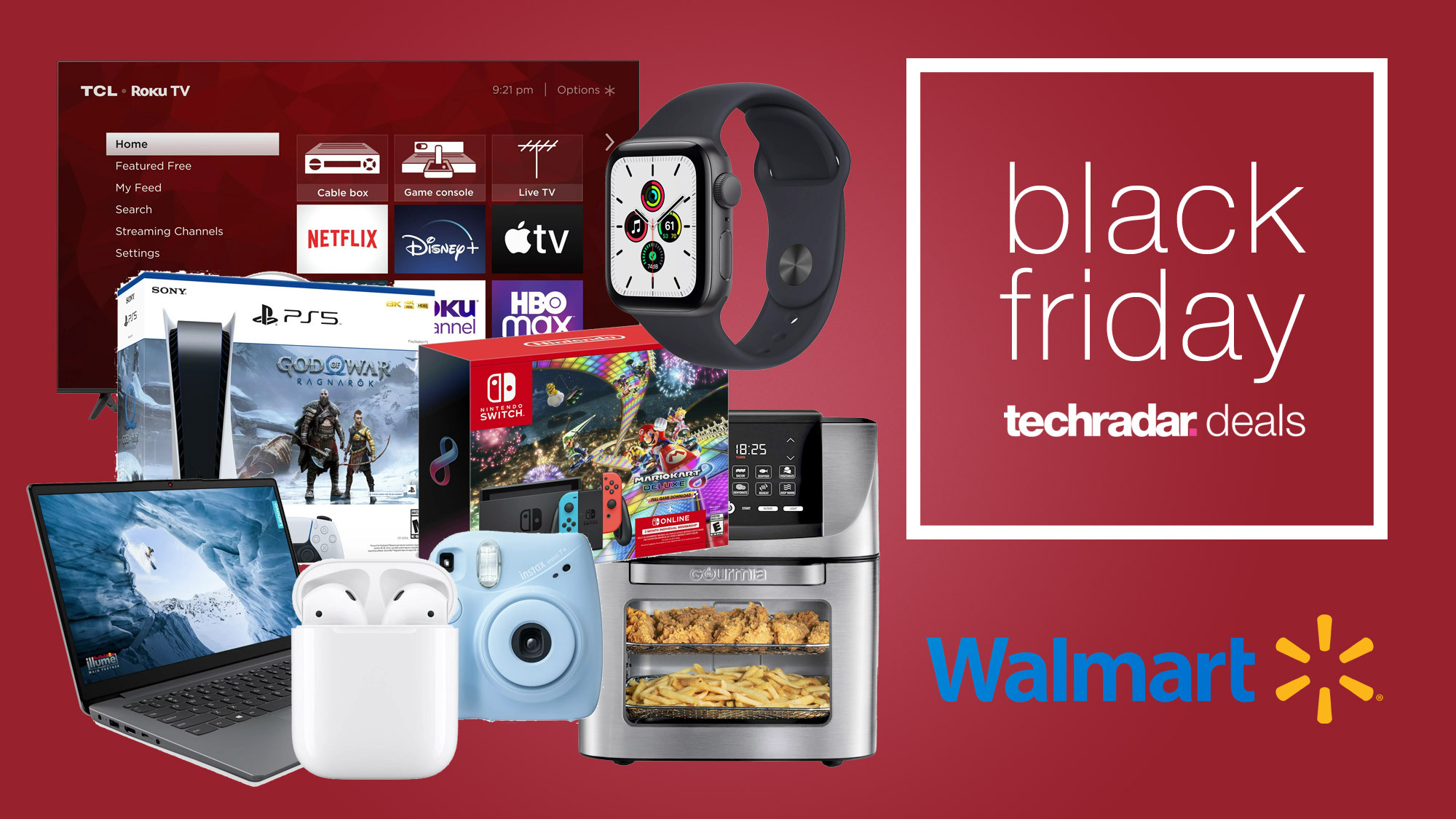 * Walmart Black Friday Deals for Days 3 live today
* Deals include cheap TVs, PS5, Switch, appliances, and more
* Walmart Plus members had early access from 12pm ET
* Sale now open to all
* Join Walmart Plus for $98/year + get Paramount+ free
The third and final Walmart Black Friday Deals for Days sale is now underway and open to all. We're here to share all the best deals that are available now that the early access period is over.
As with all the other Black Friday sales at Walmart this month, the offers were available early to Walmart Plus members. This priority window started at 12pm ET. Subscribers got access to the deals for seven hours before they became available to all at 7pm ET.
This is a huge benefit as we saw some of the most popular items sell out quickly in the first sale. Not a member? You can join Walmart Plus for $12.95 per month - or get a year's membership for $98.
Either way, stick with us as we cover all this year's Walmart Black Friday deals.
So, what's on offer today? Well, the headline news is that there will be both a PS5 restock and Xbox Series X restock. On top of that, the Nintendo Switch Black Friday bundle will be up for $299. Other standout offers include a TCL 65-inch 4K TV for $228 and the Apple Watch SE for $199.
You can also stick with TechRadar for even more Black Friday deals coverage throughout the week as we hunt down all the best discounts.
The best Walmart Black Friday deals
Walmart's third Black Friday sale is now open to all.
These are the best offers available today:
More of today's best Black Friday sales
Reporting now:
James Pickard is a Deals Editor at TechRadar. He's been covering Black Friday for years - both personally and professionally - and knows just about everything there is to know about finding the best deals.
Refresh
We're back again for another Walmart Black Friday sale
It's almost time for the third Walmart Black Friday Deals for Days event - and we're covering the whole thing live.
If you've been here for the first two you know exactly what's coming. First-timers can expect a new wave of deals on TVs, laptops, home appliances, headphones, video games and so much more.
It's important to point out that Walmart Plus members get early access to the deals from 12pm ET as well. This will be even more important today as there will be PS5 and Xbox Series X consoles restocked - plus an excellent value Nintendo Switch bundle.
Stick with us over the next hour as we share the best offers already announced, the early offers available now and all the top deals still to come.
What are the highlights this time?
With around an hour to go, let's take a look at some of the biggest deals in today's sale. There are some obvious highlights, though the general feeling is that this is actually the weakest of the three batches so far.
Of course, the headline news goes to the incoming console drops. That includes the PS5, Xbox Series X and Nintendo Switch. There's also a big discount on the Apple AirPods, which drops them to $79. There's also a large TCL 65-inch 4K TV that will fall to $228.
Outside of that, there aren't too many obvious big wins for Walmart. We've rooted around the previews live on the site now and will shout out a few of our favorites during the sale.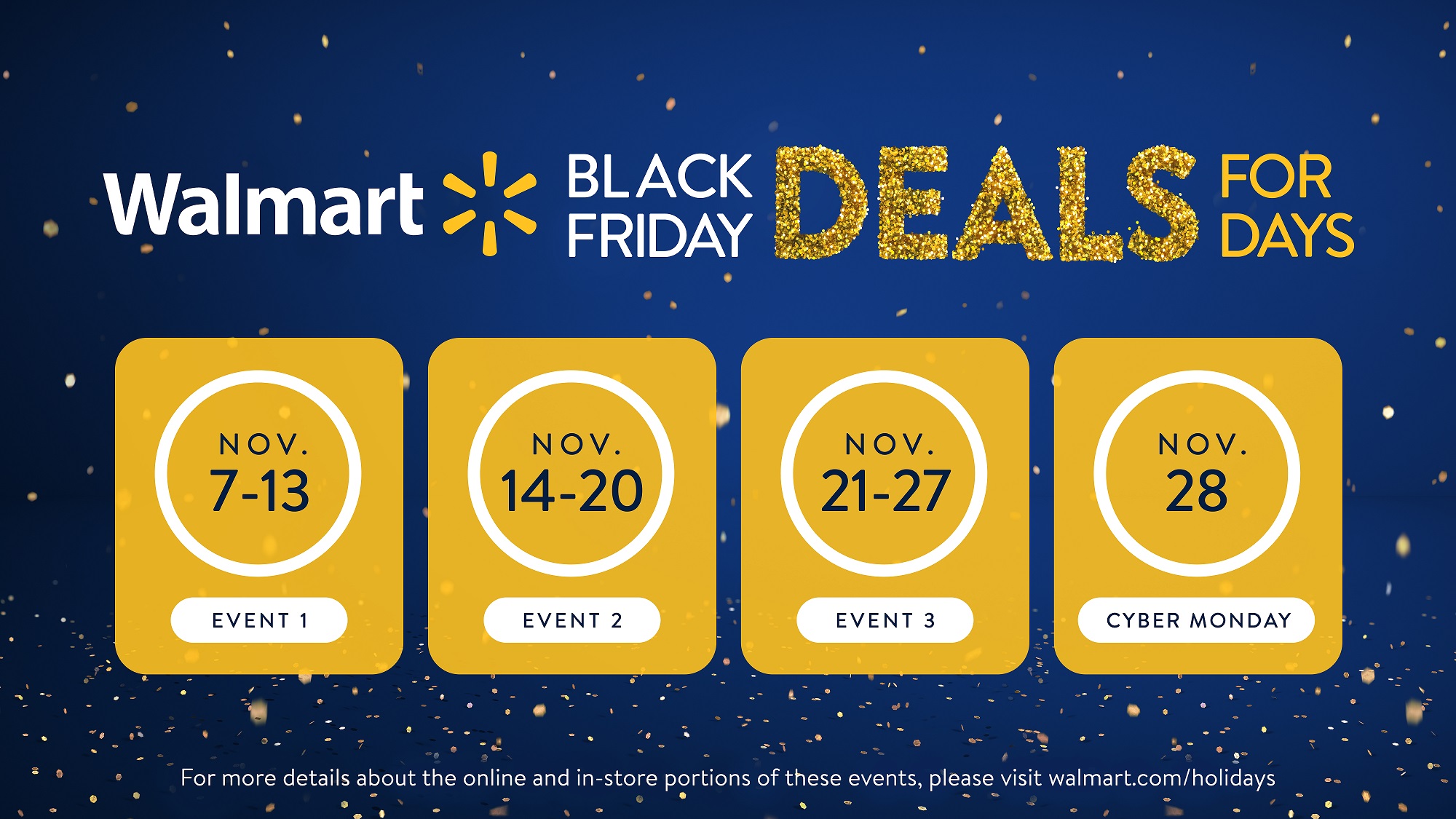 What is the Walmart Black Friday 'Deals for Days' sale?
Walmart first announced its Black Friday 'Deals for Days' events back in October. The retailer confirmed they would run throughout the whole of November 2022 with significant deals across electronics, home, toys, clothing, and more. Popular brands would also feature, such as Apple, Dyson, and Lego.
Essentially, a new batch of deals launch Monday at 7pm ET in November and remain available throughout the week - or until stocks last. Following this third event, a fourth and final one is planned for November 28, which will be the retailer's grand finale: a one-day Cyber Monday sale.
Walmart Plus members can get early access for seven hours to all of the deals except those in the Cyber Monday event. That means subscribers have from 12pm ET to 7pm ET each Monday to root around the digital aisles while the others are queuing at the online storefront.
The 5 best deals available now at Walmart
Ready to shop now? There are still countless deals available from the previous events at Walmart.
These are our top picks:
Get ready - deals go live in 10 mins
Walmart Plus members: it's almost time. The third Walmart Black Friday sale starts within the next ten minutes - and this is your last chance to get early access.
Deals will be available from 12pm ET and you'll have seven hours before everyone else to pick up your favorites - or secure your PS5 or Xbox Series X in today's restock.
You can find all the offers up top, but we'll also be sharing all the very best ones in more detail over the next few hours that we don't want you to miss.
Definitely don't wait around if there's something that catches your eye as we've already seen many top bargains sell out before the wider general sale in the previous events.
Early access begins now - see the best 10 deals here
It's now time for the third Walmart Black Friday Deals for Days event. Walmart Plus members now have early access to the deals until 7pm ET when the sale opens to all.
We've picked out the top offers right here, including the Nintendo Switch, Apple AirPods, TCL 65-inch TV, and restocks of the PS5 and Xbox Series X consoles.
Go wild.
Don't miss these Apple AirPods
Of all the deals available in today's Walmart Black Friday sale, we think this price cut on the Apple AirPods is the best of the bunch.
Now, they equal the record-low price we've seen for the Apple earbuds. These are a solid option to pair with your iPhone, with a rapid wireless connection and good audio quality.
Considering the price and the popularity of the AirPods, we think this is the most likely offer to sell out first. Our advice? Act on it fast before it's gone.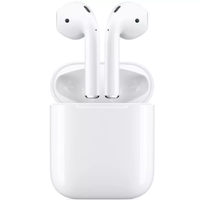 Apple AirPods (2nd Gen): was $159 now $79 at Walmart
The AirPods 2 are Apple's cheapest earbuds, and Walmart's early Black Friday sale has slashed the price down to just $79. That matches the record-low and is $10 less than Amazon's current deal, it's also a fantastic price for a pair of premium wireless earbuds.
PS5 and PS5 Digital Edition both in stock now
Walmart already announced that it would hold four PS5 restock events over the Black Friday period. Today's sale marks the second, with both the PS5 and PS5 Digital Edition available in a bundle with God of War Ragnarok.
This time, the consoles are only available to Walmart Plus members.
However, don't fret about missing out, as the PS5 will be available two more times throughout the week. The next time will be Wednesday from 12pm ET for Walmart Plus members again before the consoles go on sale to all from 7pm ET.
The fourth PS5 restock will be in-store only on November 25 - that's Black Friday itself.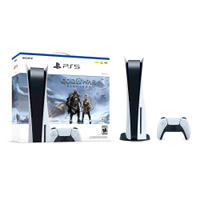 PS5 | God of War: Ragnarok: $559 at Walmart
This is the latest PS5 bundle available featuring the recently-released and hotly-anticipated PlayStation exclusive. God of War Ragnarok is one of the best games of the year, according to our review, so snagging the action epic with the Sony console is the best deal you can get right now.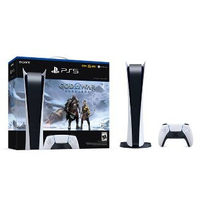 PS5 Digital Edition | God of War: Ragnarok: $459 at Walmart
If you'd prefer the PS5 Digital Edition instead, a bundle featuring that version of the console and a copy of God of War: Ragnarok will also be available in Walmart's upcoming restocks. We predict that this one will sell out the fastest so you'll need to get in quickly if you want the Digital Edition – or look at one of the other options for a better chance of buying the console over Black Friday.
And let's not forget the Xbox console, too
Now, the Xbox Series X may now be as popular as Sony's latest console, but there's still a big interest in any restocks. It's now also available in today's sale at Walmart.
That said, we've seen the console remaining in stock for weeks at a time in the US now so it's unlikely this one will sell out in the early access period.
For those interested in a cheaper option, the Xbox Series S is also in stock now at Walmart - and there's $50 off the usual price.
That's a fantastic deal in my eyes. I'm a big fan of the Series S as a capable current-gen console. And when paired with Xbox Game Pass Ultimate is an affordable way to play lots of Xbox titles both new, indie and classic.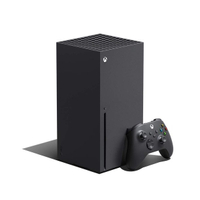 Xbox Series X: $499 at Walmart
Walmart will hold an Xbox Series X restock today. The retailer has had the console available for longer periods of time recently, so an instant sell-out is unlikely. That said, even though it's not as popular as Sony's latest console, it can still sell out in rapid time, so you need to be prepared when the time comes.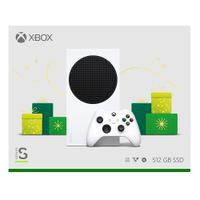 Xbox Series S: was $299.99 now $249.99 at Amazon
Here's a saving of $50 on the Xbox Series S for Black Friday, which brings it down to the cheapest price ever. Microsoft's cheaper current generation console is not as powerful as the Xbox Series X, but with this deal, it's $250 less and still capable of playing all the same games in 1440p at 120fps. A good option if you want to game on a budget.
Nintendo Switch Black Friday bundle in stock at Walmart
If you've been waiting for this year's best Nintendo Switch Black Friday bundle then Walmart now has it in stock.
It contains a Nintendo Switch console, Mario Kart 8 Deluxe and a 3-month Switch Online membership. Bought separately, this would set you back around $370. That means it's terrific value for the popular console, one of its best games and membership to Nintendo's online subscription service. With the latter you get free classic games, cloud saves, and access to online multiplayer.
Now, we did already know that this bundle was coming after Nintendo announced its Black Friday plans a few weeks ago. It'll also be very familiar to veterans of Black Friday as it's the exact same Nintendo Switch bundle that's been on offer for the last four years.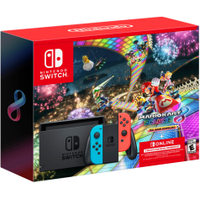 Nintendo Switch (Neon) + Mario Kart 8 Deluxe + 3 Months Switch Online: $299 at Walmart
A very familiar Nintendo Switch bundle is back again for this year's Black Friday. It includes the Switch console, a digital copy of Mario Kart 8 Deluxe, and a 3-month Switch Online membership. When all three are bought together, it represents a saving of around $70.
Don't ignore these solid wireless earbuds for under $10
Usually, when you see a pair of earbuds for under $10, it's safe to assume that they will be a bit rubbish. That's not the case with the JLab Go Air Pop, which are now just $9.88 at Walmart.
We gave them a solid four-and-a-half stars out of five is our review, are were impressed with these comfortable and light earpieces. Of course, you're not going to get the best audio quality from these buds, but these do admirably considering the price. Plus, they have good battery life, too.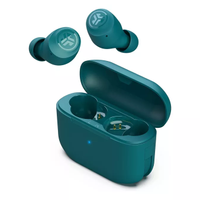 JLab Go Air Pop: was $24 now $9.88 at Walmart
These fantastic little true wireless earbuds were a stone-cold steal when we first reviewed them. Now, thanks to the latest batch of Black Friday deals at Walmart, you can get these excellent affordable and comfortable buds for under $10. They boast Bluetooth 5.1, wearer-detection, three effective EQ profiles, on-ear volume control and a whopping 32-hour battery life. Bargain.
Got a consoles already? How about some games, too?
If you've just picked up a new games console from Walmart today, you might want a few extra games to go with it.
Well, thankfully, Walmart has a number of PlayStation, Xbox and Switch titles on offer from just $10. Some of the titles included are Red Dead Redemption 2, Mario Party Superstars and The Last of Us.
Best time to buy a budget Apple Watch
Black Friday is arguably going to be the best time to snag yourself a new Apple Watch, but this deal is one of the cheapest (and best value) ways to get your hands on an entry-level watch. Walmart is offering the first-generation Apple Watch SE for just $149 down from $279.
The Apple Watch SE, originally released in 2020, was rated the best Apple Watch you could buy for the money when we first reviewed it. Even though its sequel, the second-generation SE, debuted this year, it's hard to argue with our original assessment when this gen-one model is so attractively priced.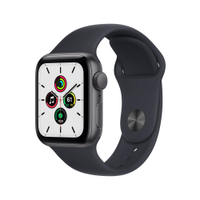 Apple Watch SE (1st Gen): was $279 now $149 at Walmart
The original SE isn't as good as the Series 8, Ultra, or the updated SE from a hardware point of view, but there's still a lot to love here for $150. With a recycled aluminum case, it's swim-proof, great for hiking with real-time compass and elevation readings, and allows you to take calls and answer messages from your wrist.
The best TV deal in the Walmart sale
There are a lot of TV deals already out there for Black Friday, but Walmart's latest sale has given us one of the best if you're after a large display on a budget.
This TCL 65-inch 4K Smart TV is now $228. That's a low price for a whole lot of TV and excellent bang for your buck.
As well as support for 4K resolution to give you superior picture quality, it also boasts HDR for more improved lightning and Roku TV for access to all the major streaming apps such as Netflix, Disney Plus and HBO Max. And it can all be controlled with your voice, too.
Get this if you want a cheap TV for your everyday viewing.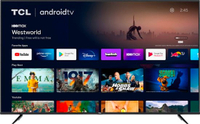 TCL 65-inch LED 4K Smart TV: $228 at Walmart
If you're looking for a big-screen TV on a budget, Walmart has the TCL 4-Series 4K display on sale for just $228. An incredible price for a 65-inch display, you're getting 4K resolution support, the Google Assistant and Chromecast built-in for seamless streaming, and a handy voice remote.
Latest Walmart Black Friday sale now open to all
The early access window has ended for Walmart Plus members and now the latest round of deals in the Walmart Black Friday sale is open to all.
Check out all the offers available right here:
Sign up to receive daily breaking news, reviews, opinion, analysis, deals and more from the world of tech.
Thank you for signing up to TechRadar. You will receive a verification email shortly.
There was a problem. Please refresh the page and try again.