If you need an affordable way to quickly print out documents in bulk, the best black and white printers could be for you.
If your business prints out lots of documents that don't need to contain color, a black and white printer can help you save money. They will cost less upfront, and their running costs are usually lower as well, as you only need to buy black ink or toner to print in monochrome.
Color toner cartridges cost more than black toner cartridges, and you need four of them to print a color document. What's more, a printed color image takes up a lot more toner than a monochrome image because black and white images use a lot of the blank white page to make up the picture.
If speed is important, then black and white printers again are a great choice, as they are often much faster than color printers. We're seeing more inkjet models appear that only print in black and white, offering a more affordable alternative to laser printers. We also have a number of great monochrome laser printers on this page as well, as they remain incredibly popular for businesses and offer excellent print speeds.
For businesses, then, investing in a great black and white printer is a wise move, so read on to find out our top picks. To accurately assess these black and white printers, we compared them across multiple points, from their printing speed and quality to their size, connectivity, and build quality. We looked at their multi-function capabilities, security features, and pricing, among many other things.
Also check out the best cheap printers.
---
The best black and white printers of 2022 in full:
Why you can trust TechRadar Our expert reviewers spend hours testing and comparing products and services so you can choose the best for you. Find out more about how we test.
The initial cost might seem high for a mono printer that doesn't even have a Wi-Fi module built in. However, it looks and performs like a premium printer, turning out perfectly crisp mono pages at the very impressive rate of 55 per minute.
It is highly efficient too, thanks to a hardwearing image drum that lasts much longer than usual and a very low running cost of around 0.4p per page. There is a five line LCD display that is an upgrade from previous two-line displays, but it lacks touchscreen functionality.
There's enough toner in the box for 10,000 pages and enough room in the main tray for a whole ream of paper. If your print demands are high, this quality machine will keep your print costs low.
Read the full Kyocera Ecosys P3155dn review.

The Canon PIXMA GM4050 is one of the first monochrome printers to be added to Canon's cartridge-free MegaTank range and it's one of the cheapest ways to print around. It's a 3-in-1 device with a scanner, 35-sheet ADF (automatic document feeder) and room for 250 sheets of paper in its main paper tray.
It can duplex print and Wi-Fi with Wi-Fi Direct built in. The sluggish print speed cannot compete with a laser printer, but with three bottles of black ink in the box, it can offer a higher page yield and a lower per page cost. It has a control panel that folds outwards, but the two-line display is hard to read.
If you print frequently and never in colour, this capable machine will keep your print costs right down.
Read the full Canon PIXMA GM4050 review.

The tiny and portable Laserjet Pro M15W combines the practicality of a mono printer with the footprint of an inkjet model. Its two trays fold away neatly, making the printer's footprint just a bit larger than an A4 sheet, and it's around the same height as an average smartphone. Perfect for those who work from home or in a cramped office and aren't fussed about high-quality prints (its resolution is a meagre 600 x 600dpi), it prints quickly and reliably.
Initial setup is a breeze despite its lack of an LCD display, which means you can't tweak settings on the printer itself. However, this is made up for in HP's excellent (and free) Smart app, which lets you scan and print documents wirelessly, in addition to printing from the cloud with support for Google Docs, Dropbox, and Evernote.
Read the full HP LaserJet Pro M15w review.

Don't underestimate this pale grey laser printer. The Brother HL-L6400DW may be small, but it can hold 570 sheets of paper and prints at the remarkable speed of 50 pages per minute. It ships with enough toner for 1,200 pages, so it will satisfy the needs of any small office with a big workload.
The setup and installation process is smooth, thanks to the touchscreen interface, But the display is quite small, and you're likely to have trouble when inputting your Wi-Fi password.
Although it performs simplex printing swiftly, the speed drops down to 24ppm in duplex mode.
There are plenty of upgrade options too, and with its paper capacity expanded to a maximum of 2,650 and Brother's ultra high-yield cartridge achieving 20,000 prints, it could serve a really large workgroup just as well.
Read the full Brother HL-L6400DW review.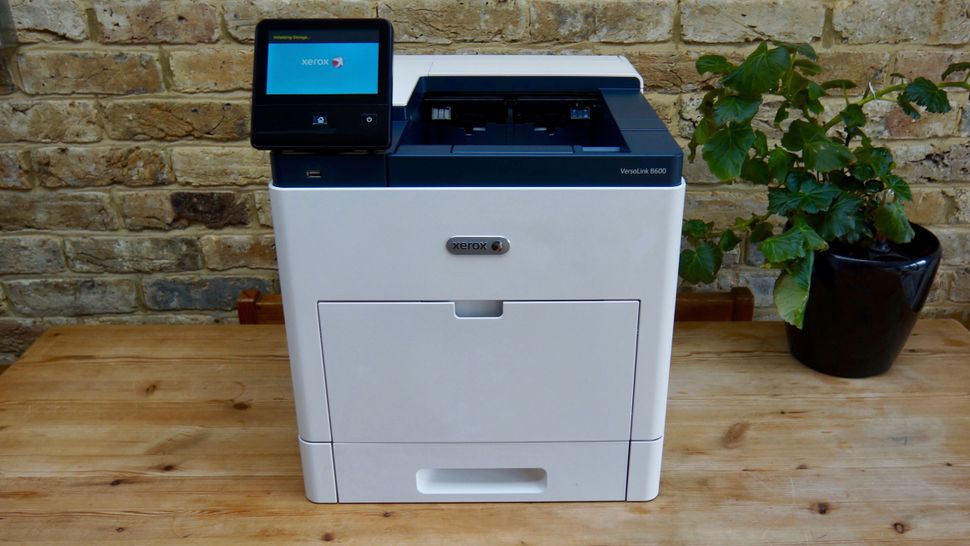 If you think the Brother model above is fast at printing, the Versalink asks you to hold its beer. With a duplex print speed of 55ppm, it is one of the fastest laser printers in the business and stores a massive number of sheets while supporting high-capacity toner cartridges, which ultimately brings down the running cost over time.
It is larger, noisier, and more expensive than the HL-L5100DN – not to mention twice the weight – which makes it more suitable for a busy SMB or large workgroup than a household. And although it is compact enough to fit on a desk, it is quite heavy at 22.3kg.
There is a generous folding touchscreen display (five inches) that presents the printer's functions as apps, as seen on smartphones.
Read the full Xerox VersaLink B600DN review.

This mono print-only device could not be any simpler and what it does, it does well. It prints quickly at 40 pages per minute and it can automatically print both sides of the page (auto duplex).
There's no touchscreen, just a two-line monochrome display, but that's fine for a single-use device. You can fit 250 sheets of A4 in the main tray and another 100 in the multipurpose tray.
If that's not enough, you can buy additional paper cassettes to expand the capacity, though these accessories are quite expensive. The toner cartridge included is good for 3,000 printed pages.
Connectivity options include 1 x Hi-Speed USB 2.0, 1 x USB at the rear side, 1 x Gigabit Ethernet jack. It supports Apple AirPrint, Google Cloud Print, and HP Smart App, among other wireless connectivity options.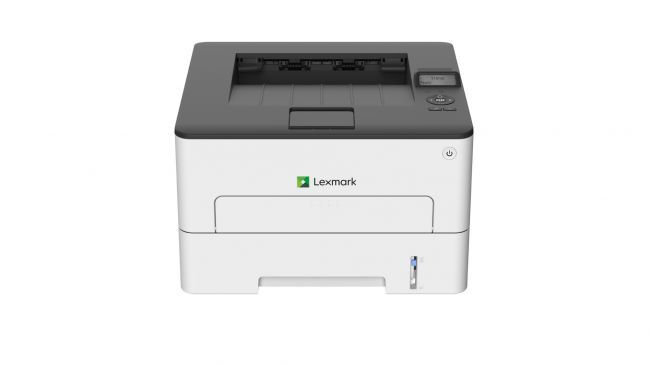 Offering decent print quality and a slew of features, this Lexmark printer is an attractive model that doesn't skimp on security. Logging into its web server lets you restrict printing and admin access to certain users and departments, making it ideal for use in office or shared accommodation scenarios.
Duplex printing is enabled by default and print quality itself is stellar considering the B2236dw's initial affordability. It has a separate drum (rated for up to 12,000 prints) and toner (up to 6,000), which together result in acceptable (but far from best-in-class) running costs over time.
It features USB and Ethernet connectivity, along with Wi-Fi and support for Apple AirPrint, Mopria, and the Lexmark Mobile Print app.
Heavy users are advised to sign up for Lexmark's Cartridge Collection Program for best bang-for-buck when it comes to replacing ink.

Suitable for home printing, this speedy model from Brother is suitable if you're looking to occasionally burst print a bunch of pages while initially looking to spend as little as possible. Setting up the HL-L2350DW isn't fun on its tiny LCD screen, but once completed, the printer is compact and light enough to move into position.
It is also pleasingly inexpensive to operate in the long term and features connectivity options aplenty – including compatibility with AirPrint, Google Cloud print, and Brother's own iPrint & Scan app. Thanks to its 250-sheet capacity, you won't have to refill often, and you can store letter and legal sized paper.
Turning our attention to quality, the Brother produces text with above average sharpness – certainly enough for everyday printing tasks – but we were less enamoured with its graphics quality.

This mono inkjet printer won't suit everyone, but if you simply need to scan and print black and white pages, you won't find a more efficient device. The distinctive design with the raised flatbed scanner is unusual, but practical because it allows for a large (250-sheet) paper and there are surprisingly few features.
There's no Wi-Fi, or an ADF (automatic document feeder), or even an Ethernet port. What it does have is a single ink reservoir for you to top up with black ink. Epson generously includes two bottles in the box, which is enough for 11,000 pages.
It has an easy-to-access color display that's mounted on top, but it's hard to see because the screen is pretty reflective. It prints quickly for an inkjet and turns out crisp auto duplexed pages at a lower cost than most lasers printers.
Read the full Epson EcoTank ET-M2140 review.

It might seem expensive for a desktop device, but this colour laser printer comes with impressive specifications and a slick smartphone-style interface. It has a huge capacity for paper with a 550-sheet tray built in and the option of doubling that by adding a second tray. Xerox includes a generous amount of toner too, enough for 2,000 colour or 3,000 mono pages.
The five-inch touchscreen makes setup and operation easier than most while it's print quality is excellent, thanks largely to its bold Pantone-approved colour performance.
You'll find connections at the printer's rear for a power cable, type A and B USB ports, and an Ethernet port. There's another USB port located at the front for easy access, but it only supports PDF, JPEG, TIFF and XPS file types.
Read the full Xerox VersaLink C400DN review.
We've also featured the best printers overall.
---
How to choose the best black and white printers for you?
When choosing the best black and white printer for yourself, start by considering whether you'll be using the machine at home or the office, and how much printing you could be doing on a monthly basis.
If it's for office space, a large and noisy printer will be fine, but if it's for home use, then something compact and silent is preferable.
If your printing requirements go into several hundreds or thousands of pages a month, it's best to opt for a heavy-duty machine that can keep up with the large output and whose ink prices aren't steep.
Don't forget to consider the printer's speed, connectivity options, multi-function capabilities, control panel, companion app, and price, among other things.
The best black and white printers: How we test
Each black and white printer we sourced for testing was measured on our test bench and the results were compared with the other models that we'd reviewed.
Instead of relying on the manufacturer's quoted figures, we timed the print speeds in single sheet and duplex mode using a standard ten-page document and a stopwatch app.
We printed out the same test documents on every machine to accurately compare print quality and assess sharpness, color fidelity, and contrast, among other things.
We also calculated the running costs, compared functionality, and considered each product's versatility, design and build quality. The overall score reflects all of these parameters and value for money.