Sonos Move 2 leak looks like a bigger Era 100, but with a 24-hour onboard battery
It's (likely) coming in September – and now, with stereo sound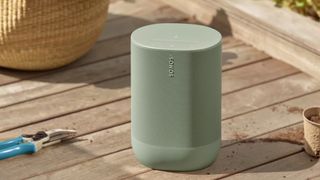 (Image credit: The Verge )
Great news, Sonos fans: it seems the March rumor was true – the Sonos Move 2 is (probably) coming soon! According to a new leak, its USB-C port will now be able to charge your phone and you'll get more than double the wireless playtime from it too.
The Sonos Move 2 will arrive as the long-awaited update to the high-end firm's first ever Bluetooth and Wi-Fi portable speaker, the 2019 Sonos Move, and The Verge has said it now knows that the speaker will be released around the end of September.
Take note, it's apparently called the Sonos Move 2 and not Sonos Move (Gen 2), and just like its 6.61lb / 3kg older sibling, it'll tip the scales at "over six pounds". To put that into context, the company's joint-newest progeny, the Sonos Era 100, weighs 4.44lb / 2.02kg).
Four years is a long time in audio tech and it seems Sonos has used the time wisely… and then some. According to the report, substantial improvements will be arriving across the board this time around – to the audio performance, battery life, the charging base station, connectivity and more.
The biggest Move 2 upgrade sonically is claimed to be true stereo playback (rather than mono in the original Move) thanks to the inclusion of dual angled tweeters, versus the solo downward-firing tweeter and mid-woofer found in the older-gen model. Said woofer will likely be retained for those juicy bass frequencies – although there's no news on upgrades coming to the Class-D digital amplifiers found in the original Move – as will Automatic Trueplay to optimize the Move 2's sound whenever you change its position.
And the battery life will apparently be 24 hours, which is more than double the 10-hour staying power of the original Sonos Move. The juice pack will again be replaceable, and the Move 2 will likely use less energy when idle, ie. in standby.
Fans of the Sonos Era 100 or Sonos Era 300, which both launched in March 2023, will also be happy to note that the dedicated volume control and tweaked buttons first seen in these two speakers are allegedly being carried over for the Move 2.
Analysis: four years is a long time for an update – but Sonos has made good use of it
And that's not even the end of the story! Like the Sonos Roam, the Move 2 should be able to play Bluetooth audio (now Bluetooth 5, rather than 4.2 in the original Move) across the rest of your Sonos system when you're using it at home. The inaugural Move couldn't pull this off – Bluetooth and Wi-Fi couldn't be used simultaneously.
Visually, we should be getting a chic olive option as well as Sonos' trademark black and white finishes, and the charging base should have a detachable power adapter (it's hard-wired with the original Move). There will also be a new switch on the back for disabling the mics and thus shushing your chosen voice assistant; Alexa plus Sonos' own May 2022-issue virtual helper, Sonos Voice Control, are on the menu, but Google Assistant will likely be just as absent, as it is in the Era models.
Additionally (and provided you buy an adapter), the new speaker is said to support line-in audio over its USB-C port (again, just like the Era 100), but you'll also be able to charge your phone or tablet using it, which is a helpful feature also found in the JBL Charge 5 and inexpensive Tribit Stormbox Micro 2.
Pricing? Of course: The Verge's sources claim the Sonos Move 2 is set to be priced at $449 (a $50 increase over the original's $399 / £399 / AU$649 launch price).
If it comes boasting these features, it'll certainly be a contender for our best Bluetooth speakers buying guide – although the current Move is the most expensive product in that list as things stand (and I probably won't be testing the new $499 Rinaro/Bearbrick speaker, although I love the Y2K feels).
If the Sonos Move 2 becomes an entrant in our best wireless speakers buying guide, however (a guide largely populated by Sonos products), it'll be among similarly-priced company – after all, Sonos is known for multi-room audio and quality, rather than wallet-friendly products.
It's important to note that The Verge's exclusive report is not an official announcement from Sonos. As such, it should be treated with a generous pinch of your preferred seasoning – but we're still circling the last few days of September in our calendars, and not just because of the expected iPhone 15 launch.
Sign up to receive daily breaking news, reviews, opinion, analysis, deals and more from the world of tech.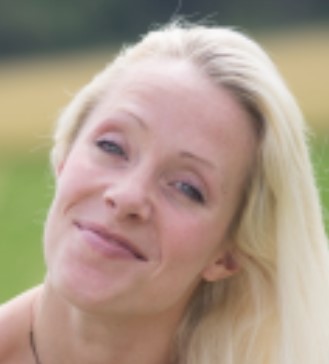 Senior Audio Staff Writer
Becky is a senior staff writer at TechRadar (which she has been assured refers to expertise rather than age) focusing on all things audio. Before joining the team, she spent three years at What Hi-Fi? testing and reviewing everything from wallet-friendly wireless earbuds to huge high-end sound systems. Prior to gaining her MA in Journalism in 2018, Becky freelanced as an arts critic alongside a 22-year career as a professional dancer and aerialist – any love of dance starts with a love of music. Becky has previously contributed to Stuff, FourFourTwo and The Stage. When not writing, she can still be found throwing shapes in a dance studio, these days with varying degrees of success.