Been thinking about picking up a pair of true wireless earbuds but don't want to spend a huge amount of money? Then this was the Lightning deal for you on Amazon Prime Day.
Yep - you guessed it, the deal is over. If you made it through in time, well done. If not... spend your $20 on a nice hat instead.
(In case you're curious, here's the deal still below).
You might not be familiar with the brand name Altec Lansing, but it's been around for a while - and it's offering a limited number of these earbuds on one of Amazon's Lightning deals for just $19.99.
That's a shade under $20 for a pair of headphones that were originally over $30 - but you'll have to be quick. The user reviews suggest that you could have a few syncing issues, and a phone in the pocket could slow down the connection, but for the price it's pretty hard to beat them.
The Lightning deal has just gone live, so step in now if you want to bag a bargain!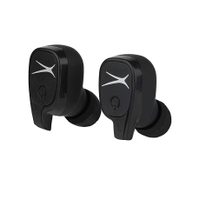 Altec Lansing MZX635 earbuds: were $32 now $19.99
SOLD OUT This Lightning deal is already selling out fast, so if you want these true wireless earbuds then you'll need to act pronto - and you even get free ear hooks to wear when working out!