At this point, the brand Fitbit is pretty much synonymous with fitness trackers and there's a very good reason for that. Fitbit has a range of devices to offer and you'll find many of them are up there with the best fitness trackers currently on the market.
Though prices vary from model to model, your best chance to find the one you're looking for at its lowest price is on Black Friday (Here's our Australian and US Black Friday 2017 deals page, by the way). As the biggest shopping day of the year with major sales at many retailers, Black Friday is the time to buy and it's fast approaching.
Before you buy the first seemingly good Fitbit deal you see, though, there are some things to consider. Not all models are created equal – some are better than other overall, some have specific functions that you might need to know about, and some are just better value.
Even if you find a Fitbit that looks like a good deal, it might not be the model for you.
Bearing that in mind, we've put together this guide that will help you step lightly through the Black Friday Fitbit deals and find the best one for you. Here, we're taking a look at the most important things you have to consider when it comes to specs and features, and we've also highlighted the models that are most likely to be reduced on the big day.
Don't forget to come back to TechRadar on the day itself, too, because we'll highlighting all the best deals once they're live.
The features to look out for
If you're absolutely set on a Fitbit and not really willing to consider any other brand then there's not too much to watch out for. But there are a few things to consider, be it features that you might not need and could save yourself some money by ditching, or those that are actually quite important.
Screen or no screen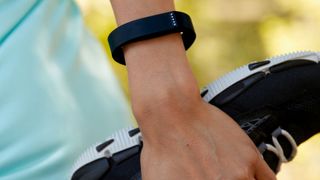 Some Fitbits have screens, others, such as the Fitbit Flex, don't (unless you count the five lights on the front).
Models without screens are, of course, much less equipped to relay the kind of detailed information those with screens are.. You can still do a deep dive by booting up the Fitbit app, but if you want to see as much as possible at a glance then a screen is important.
Sacrificing this wrist-mounted convenience, however, does usually mean you get a device that's cheaper, so if you're happy to turn to your phone for more than a vague overview of your performance then you might be able to save some money by opting for a screen-free model.
A question of taste
Fitness trackers aren't exactly known for being stylish and when it comes to Fitbit some are a lot nicer to look at than others. But even if you don't like the basic design of a tracker bear in mind that you might be able to swap the strap out for something more your style.
The Fitbit Alta, Fitbit Alta HR, Fitbit Flex, Fitbit Flex 2 and Fitbit Charge 2 all have a wide variety of strap replacements, and in some cases even options that let you wear them as a necklace.
With the Fitbit Zip you're more limited, and while the Fitbit Blaze and Fitbit Ionic come with some strap choice it's not as wide as most other models. So if you care what your Fitbit looks like it's worth checking whether there's a strap you like.
Water resistance
If you want to take your Fitbit swimming you'll have to go for a Fitbit Flex 2 or a Fitbit Ionic, as they're the only two that are waterproof enough to take into a pool.
However, all Fitbit trackers are rain-proof, so you're safe to use them in the great outdoors whatever the weather.
Power when you need it
How often are you happy to charge your Fitbit? That's a question to ask yourself before buying one. The good news is that any Fitbit will last longer than most smartwatches, but they're not among the longest lasting fitness trackers, and some last considerably longer than others.
How long a Fitbit's battery last is often down to how many features it packs in. The Fitbit Alta for example typically lasts a very reasonable seven days, but the more feature-packed Fitbit Surge lasts just three.
If you want as many features as possible then you may have to make some sacrifices when it comes to battery life. However, if you just want little more than a basic step counter then you can get a longer-lasting battery – and save some money – by opting for a simpler model.
Heart rate monitors
One simple way to save money on a Fitbit is to opt for a model that doesn't have a heart rate monitor.
This is most evident when looking at the Fitbit Alta and the Fitbit Alta HR – they're two very similar models, but the latter has a heart rate monitor, and a higher price to go with it. It's a similar story with the Fitbit Charge and the Fitbit Charge HR.
Of course, you may want a heart rate monitor, but if it's something you're happy to sacrifice then it's a very easy way to cut your costs.
Our deal predictions
We're almost certain we'll see reductions on various Fitbit models on Black Friday. Exactly which ones will be reduced and by how much is less certain, but the following four may well be sold at a bargain price.
We'll explain why below, but if they are, and if they have the features you need (bearing in mind our advice above), then any of them would be well worth buying.
Fitbit Flex 2
The Fitbit Flex 2 is a basic tracker with no real screen, but it's cheap and one of only two truly waterproof models.
There's reason to think it will be reduced on Black Friday as well, as it already got an Amazon Prime Day reduction this year, so there's a good chance that Amazon – and potentially other retailers – will also reduce it on Black Friday.
Fitbit Alta
The Fitbit Alta is still sold by Fitbit itself, yet it's been in some ways superseded by the more expensive Fitbit Alta HR, so we wouldn't be surprised if retailers reduced this older, simpler model.
It's already one of the cheaper bands in Fitbit's range so any reductions could make it a real bargain, as the Fitbit Alta is also stylish – by fitness band standards – and highly customizable.
Battery life is strong too at around a week, but its tracking skills are basic and of course it lacks the heart rate monitor of the Fitbit Alta HR, so think about what you want to use your Fitbit for before buying.
Fitbit Blaze
Head to Fitbit's site and you'll see the Fitbit Blaze classed as a smartwatch, which is sort of true, but it's not as smart as a typical Android Wear device, partially because it can't display notifications from most apps.
Still, as a fitness tracker it's accomplished, with a long-lasting battery, a heart rate monitor and the ability to automatically detect and track exercises.
And the fact that Fitbit counts this as a smartwatch is key, because the company has since launched the newer and distinctly smarter Fitbit Ionic, leaving the Blaze looking a bit dated and ripe for a discount.
Fitbit Charge 2
The Fitbit Charge 2 currently tops the list of our favorite Fitbits and with good reason. It's got a big screen, a comfortable strap, a heart rate monitor and multi-sport tracking, so you can track lots of different exercises.
Yet it's also been discounted before, most notably on this year's Amazon Prime Day, so as with the Fitbit Flex 2 we reckon further discounts are in its near future. If so, we'd strongly consider buying it, though note that there's no GPS, which could be a deal-breaker for some users.