When you're setting out to buy a new television set, it's easy to think that even the best TVs under £500 are going to struggle to give you a half-decent picture or sufficient features – but you couldn't be more wrong.
You won't get the best specs out there at this price range – OLED TVs, 75-inch TVs, or QLED will sadly be out of your reach – but sub-£500 TVs can still offer a lot for the money, whether you're angling for a capable small TV or moving into big-screen territory.
Ultra HD image resolution is now very much within reach for the money, as TV makers shift the bulk of their production to 4K panels, though there are still plenty of models still making a case for Full HD. If you want a new screen able to make the most of a PS4 Pro or Xbox One X, or to sate your binge-watching habit, then you're in luck.
You can even expect to get some level of network functionality, although in many cases what you'll encounter is a stripped back platform that mainly offers the most popular streaming services. Still, Netflix is Netflix, right? You can also upgrade your smart capabilities cheaply with a good HDMI streamer (like an Amazon Fire TV or Roku streaming device).
Of course, when it comes to design and build quality, you can't expect too much at the budget end of the market – though getting a TV with a thin bezel and simple pedestal is likely to offset how much plastic you have to look at.
A more contentious area when buying budget is HDR (High Dynamic Range). While many cut-price flatscreens will technically 'support' HDR, they don't have the power to display the kind of luminous peak brightness that really eye-catching HDR can offer.
Audio quality is also likely to be fairly routine, with low cost drivers and limited amplification. But again this can be addressed at a later date, with a soundbar or separate audio solution.
Thankfully, you don't have to wade through reams of tech specs to discover the sharpest bargain buys. TechRadar's guide to the best TVs available for under £500 will point you in the right direction...
What is the best TV under £500?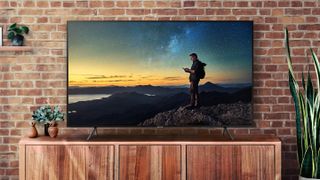 1. Samsung UE40NU7120
A perfectly-pitched mid-range Samsung TV
Low input lag for gamers
HDR10+
HDR could be better?
No Bixby
Samsung's NU7120 (or NU7100) is a 4K UHD television simply does everything you'd need it to for the price. It can't compete with Samsung's other, more high-end models like the Q9FN, but it doesn't have to.
This LED set might not be the most premium machine on the market – and can certainly stand to learn a few tricks from the higher-tiered competition – but it's hard to complain about a TV that, most of the time, costs in the region of £400-500.
It features a recognizably Samsung design, with a flat back but solid frame despite its plastic build – and with mounted ports rather than a tidy OneConnect box to outsource inputs. HDR isn't as sharp as you'd hope, but the picture isn't going to disappoint, and you'll be able to run the premium HDR10+ format alongside regular HDR10.
The NU7100 Series (NU7120 in the UK) offers almost all of the smart functionality as the top-tier models in a cheaper-but-still-good package. It's not going to blow you away if you're a cinephile, but if you're a gamer on a budget wanting low input lag, or someone who just wants to see what all the fuss about 4K is, this is one of the best Samsung TVs out there, and certainly one of the best sub-£500 sets you can buy.
Read our full Samsung NU7120 review
2. Philips 43PUS6753/12
The first port of call if you want a high-value flatscreen
Ambilight mood lighting is a blast
Affordable 4K
HDR performance isn't ultra bright
Philips 6-series sets are often a first port of call if you want a high-value flatscreen with an edge.
We've long been fans of Philips scene-setting Ambilight technology, and on this range you get to enjoy it with 4K HDR and catch-up packed Freeview Play.
Ambilight, if you've never used it in the past, allows you to wash your walls with the colours of onscreen action, or bathe them in solid hues. When playing music, the set will pulsate its Ambilight LED lights with the beat, while gaming can make your room positively throb with colour.
But this set is about more than a few cheap parlor tricks: image quality is class-leading. Philips Pixel Plus UHD image processing ensures clarity and a decent level of contrast. The TV's pixel dense screen brings a pleasing smoothness to both Full HD and UHD sources.
The TV is compatible with HDR10 – though not Dolby Vision – and has the brand's own HDR Plus processing on top. It isn't, however, particularly bright – only what only what you'd expect from an SDR model – meaning that it doesn't quite do justice to the HDR compatibility it promises. But the 55PUS6753 is still a far better picture performer than you've any right to expect from such an affordable 4K TV.
Despite the low price, there's an effective smart portal here, with 4K Netflix, YouTube and Amazon Video available. A great choice for a budget 4K television.
Read our full Philips 6573 TV review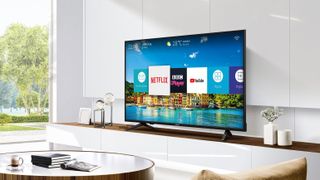 3. Hisense H50A6200UK
A great value 4K television
Great, accurate colors
Bottom dollar pricing
Dim display
Limp HDR
Why spend a whole £500? While skimping further on your budget will necessitate more compromises, this year's Hisense A6200 is a solid, affordable 4K TV with a great picture and color accuracy beyond what we might expect of the price.
Size matters when it comes to 4K, too, which is why a 50-inch screen for less than 500 smackers is extremely enticing. (It also comes in 43, 55, and 65 inches.)
That said, Hisense has a reputation for value, which is typified by this budget beater: A Freeview Play tuner ensures a full raft of catch-up services, including UK Play, while Hisense's own Vidaa Lite smart portal offers Netflix 4K, Amazon Video, YouTube and Wuaki TV.
Build quality and design are much better than you might expect at this price point, and connections include three HDMIs with an option for component for legacy gear.
The A6200 is technically HDR (High Dynamic Range) compatible, though it struggles to deliver on that promise. HDR content is made for a minimum of 1000 nits brightness, so this 200 nits display was always going to struggle with those demands. The 4K, however, is reliably sharp, even if some of the more popping colors and light detail don't show through here.
Overall, the Hisense A6200 should be considered very good value.
Read our full Hisense A6200UK review
4. Sony Bravia KDL32WE613
Good-looking 720p resolution
HDR support
Freeview Play
720p resolution only
Small-size television
If you're more interested in the quality of the picture for HD/SDR content, rather than the size of the display, then the Sony Bravia KDL32WE613 may be the one for you.
Coming in at only 32-inches, it's another compact set that won't take up much space. Not one for big groups, or to fill a family-sized living room, but ideal for smaller residential spaces.
Despite the smaller size, Sony's forward-looking set still incorporates HDR standard pictures (High Dynamic Range), despite this usually being saved for the larger or more expensive sets out there. So you'll get more out of HDR compatible content when gaming or streaming on a high-tier Netflix account.
The Sony KDL32WE613 is only 720p resolution, so don't expect Full HD pixel quality, or anything close to 4K. But you'll find this more satisfying to watch than a lot of 720p screens.
The TV also offers recording over USB, Wi-Fi and access to BBC iPlayer, YouTube and a fistful of other apps.