These are the best cheap laptop deals available in the UK right now. After a search through major and independent retailers, we've gathered up a selection of devices that cover a wide variety of budgets and needs. Our aim is to ensure you pay the best price for your new laptop and get as much as possible for your money.
Cheap laptop deals by price
1. Deal of the week
2. Under £200
3. £200 - £300
4. £300 - £400
5. £400 - £600
6. Over £600
The laptops we've picked out are made by some of the highest-rated brands or models that we've also tested in our best laptops guide and include many of the latest components you can buy today. This isn't just a selection of cheap laptops based on price alone, but we've taken into consideration the level of performance you get for the money as well as the types of tasks each one will handle. So, whether you need a bargain Chromebook for basic tasks, an excellent value laptop for everyday use or a powerful ultrabook for more advanced work then you can find a bargain below.
Some of the best cheap laptop deals available today are at major retailers such as Amazon, Currys, Very and John Lewis. We've got a new top pick this week: the HP 14s. It's our top cheap laptop this week as it offers a lot of performance for the price and is capable of handling anything from light work to more demanding multitasking. For a premium ultrabook, you want to check out the latest Dell laptop deals or the more expensive Asus Vivobook 15 configurations we've singled out further down the page.
Either way, have a look below for info on all of the best laptop deals available this week. For the Apple fans, you might be interested in our cheap MacBook deals page for offers on those premium ultrabooks. Or, if you're just looking for the cheapest web surfer you can find, check out the cheap Chromebooks available right now. And if you're after something with a bit more power, you can take a look at all the latest cheap gaming laptop deals. Those who can wait a couple of months, too, could hold off until Amazon Prime Day which is set to take place in July and is likely to feature dozens of laptop deals.
Cheap laptop deal of the week
HP 14s laptop: £349.99 at John Lewis
This is a great price for an HP 14s laptop from John Lewis. If you need a capable everyday machine then your money is well spent here. The Intel i3 processor and 8GB of RAM ensure excellent performance, while the 128GB SSD is a decent amount of speedy storage for your key files and applications. At 14-inches, it's a very portable device. too.
Cheap laptop deals under £200
Acer Chromebook 311: £229.99 £169.99 at Amazon
Save £60 – The Acer Chromebook 311 is a simple and affordable 11-inch laptop that is all you need for basic tasks. It's not the fastest machine but it is built to handle emails, word processing and everyday work or school tasks. It sports an impressive 15-hour battery life, too, so it's great if you're on the go.
Asus C523NA Chromebook: £279.99 £189.99 at Amazon
Save £90 – It's not always easy to find a laptop with a 15.6-inch screen for under £200 but this Asus C523NA Chromebook just slips under that price range at Amazon. Along with the larger screen size, you get an Intel processor, 4GB RAM and 64GB of storage - all components you'd expect for this price and enough to power a machine for general browsing or basic office work.
Asus VivoBook E510MA: £219.99 £199.99 at Amazon
Save £20 – This may only show a £20 saving but it's still one of the best cheap laptop deals available this week. You don't often see a laptop this low with 128GB of storage - especially one with a 15.6-inch screen, too. If a larger screen and extra room for files and applications are important then it's worth picking up this Asus VivoBook while it's on offer.
Cheap laptop deals from £200 to £300
Asus VivoBook 15 X515JA: £399.99 £249.99 at Amazon
Save £150 – This was one of the most popular cheap laptop deals in the Amazon Spring Sale and we're glad to see it's still available. It's excellent value for money as a general everyday laptop with a large 15.6-inch screen, a decent 4GB of RAM and a healthy 128GB SSD. If you just need a device for basic tasks and some light work it will do the job without issue. A 1-year Microsoft Office 365 subscription included in the price is a nice bonus.
Asus M515DA laptop: £399 £299 at John Lewis
Save £100 – There are some solid components for the price in this Asus laptop from John Lewis. An AMD Ryzen 3 processor and a 256GB SSD are not always easy to find for under £300 - and both will give you a noticeable performance boost for everyday use. You do have to compromise a little as this device only has 4GB of RAM, but that's enough to support simple tasks such as office work, emails and browsing.
Cheap laptop deals from £300 to £400
HP 14s laptop: £349.99 at John Lewis
This is a great price for an HP 14s laptop from John Lewis. If you need a capable everyday machine then your money is well spent here. The Intel i3 processor and 8GB of RAM ensure excellent performance, while the 128GB SSD is a decent amount of speedy storage for your key files and applications. At 14-inches, it's a very portable device. too.
Dell Inspiron 15 3000: £449 £389 at Dell
Save £60 – The Dell Inspiron range is solid if you're after a general everyday laptop. So, here's the best deal we've found on one this week when purchased directly from Dell. It comes with a Ryzen 3 processor, 8GB RAM and 256GB SSD - exactly what you're after for a mid-range machine. All of it comes in at under £400 too, which is a solid price for this specification.
Asus X515: £549 £399 at Very
Save £150 – This Asus X515 is a great pick for those in need of an all-purpose laptop and have around £400 to spend. It features a fast Intel i5 processor, 8GB RAM and a 256GB SSD that all ensure it will handle tasks with no trouble. We like the fast and responsive 144Hz screen, too, which improves the look and feel of the device.
Cheap laptop deals between £400 and £600
Asus VivoBook 15 OLED: £499.99 £479.99 at Amazon
Save £20 – This Asus VivoBook 15 OLED is on our list as it offers terrific value for money thanks to an extra £20 saving on top of the £200 discount that was already applied last week. It has a Ryzen 5 processor, 8GB RAM and 512GB SSD - fantastic components for an all-around machine at this price. The best bit? The OLED screen. If a quality display is the most important factor for you then this is worth considering over our other cheap laptop picks. The improvements will be best seen when editing images and video or streaming 4K media content.
Acer Aspire 5: £649.97 £529.97 at Box
Save £120 – What impresses most about this Acer Aspire 5 laptop deal from Box is the inclusion of a huge 1TB SSD. That's far more fast storage than any other device on this page so if you need lots of room for files, videos, photos or more then this could be the laptop for you. It doesn't lack in performance elsewhere, either, with a powerful Ryzen 5 processor and 8GB of RAM that ensures it's a capable all-around laptop.
Asus VivoBook 15: £679.99 £559.99 at Amazon
Save £120 – Another appearance for the Asus VivoBook 15 but this version comes with even more upgrades to make it the best high-end laptop deal available this week. It features some very powerful components including an Intel i5 processor, 16GB of RAM and a huge 512GB SSD. All these will ensure excellent performance no matter what tasks you throw at it - be that general browsing, video calls, office work or media streaming.
Best laptop deals over £600
Apple MacBook Air (M1): £999 £887 at Very
Save £102 - It's now out of stock everywhere else so act fast if you don't want to miss this £100 saving on the latest MacBook Air at Very – one with the powerful M1 chip at the helm no less. That's an excellent price - and just £20 away from the record low. This configuration offers 8GB RAM and a 256GB SSD which is a solid high-performance spec for general everyday use.
Which stores have the best laptop deals?
The best cheap laptops
The best cheap laptop deals are often found on low-price machines that edge their way into the mid-range category thanks to some superior performing-boosting components. It's in this pocket of budget laptop shopping that you'll find some of the most compelling offers. We've picked out a few devices from our guide to the best laptops so you can see the lowest prices available today.
With a 12-hour battery life, bright 14-inch display and tactile keyboard, the Acer Chromebook 314 offers everything you could ask for in a cheap laptop. While this model doesn't quite stretch to 64GB, storage is easily expanded using a portable hard drive and there's a full array of ports to take advantage of as well (though limited display options). What's more, this is one of those rare cheap laptops that looks and feels far more expensive than it actually is - something that makes it one of the best Chromebooks to buy. Thin, light, and sturdy, this is an excellent machine to throw in a backpack and expect it to last all day.
A sturdy choice for a study laptop for school/college/uni. The HP Pavilion 15 has plenty of power for the average student's needs while keeping the costs sensible. There are plenty of configurations available in this budget laptop as well. Some of the best HP laptops favour speedy SSDs, while others go for larger regular hard drives, so it all depends on what you're going to need more really.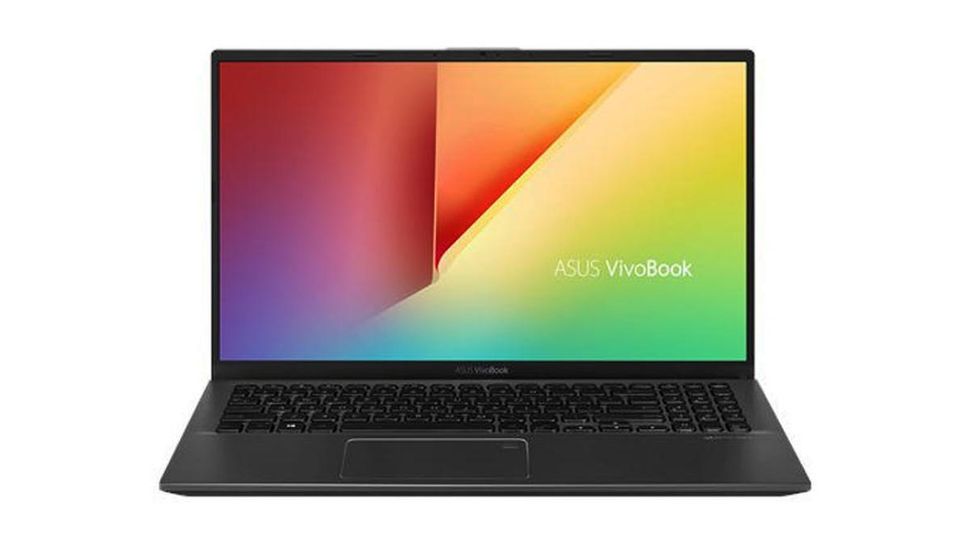 The Asus Vivobook 15 can usually be found from £399 upwards, offering baseline specs that vastly outperform many of the Chromebooks usually found at this price point and ranging all the way up to incredibly powerful configurations should you need them. With an expansive Nano-Edge display, you're even getting a full 15.6-inch sized laptop here, coming in at just 1.6kg, a fingerprint sensor and options for speedy Intel Optane memory as well.
Cheap laptops: what to look out for
Cheap laptops can often lure shoppers in with a sub-£200 price tag, but unless you're picking up a Chromebook you're unlikely to get your money's worth with these particular models. Chromebooks largely run on Chrome OS, which means they rely less on more expensive components and more on cloud-based services provided by Google Chrome. That means you'll regularly find cheap laptops under £200 that are well worth your cash - provided they were built with this functioning in mind.
These kinds of budget laptops are regularly found on sale, but every now and then we do spot savings that offer mid-range specs for entry level prices.
It's worth looking out for cheap laptop deals that offer a Windows 10 operating system, but only 16 or 32GB of storage space. You'll likely speed through those gigabites faster than you'd think, and storing those hefty Windows 10 updates often presents a new challenge in its own right. That means the smallest we would recommend on this page is a 64GB hard drive if you're running a Windows 10 or 10s operating system.
Cheap laptops can also come with the caveat that they don't offer an operating system at all. These FreeDOS laptops can sometimes be appealing (and if you're up for installing your own copy of Windows or Linux, they often deserve to be), but it's important to check that spec and low price before you buy. We do feature the odd freeDOS budget laptop on this roundup, as they can prove cost effective, but we'll make sure you know when we do.