The best 4K TVs of 2022 are the TVs most people want to buy. That's because HD TVs rarely come in large sizes any more, while 8K TVs – as impressive as they are – are also much more expensive. And with the ongoing lack of 8K content, 4K is the sweet spot for most of us.
There are tons of 4K movies, TV shows and games out there, so it's easy to get really incredible home entertainment – and today's models can even take lower-resolution HD video and upscale it so that it looks nearly as crisp and sharp as real 4K and significantly better than the original.
Because this is such a competitive market there's lots of choice. There's everything from compact and cheap options up to super-elite home theater epics. Most people will fall somewhere in the middle, and it's easy to find a model that hits both the size and the budget you're looking for.
Our list contains some of the best OLED TVs, which are ideal for movie lovers watching in a controlled environment, as well as some of the best gaming TVs, with next-gen features ready for the new consoles.
For the very best deals on offer today, head over to our cheap TV sales guide, or check out our pick of the best 8K TVs if you're looking to upgrade your home cinema set-up with the latest generation of display technology.
Best 4K TV: the list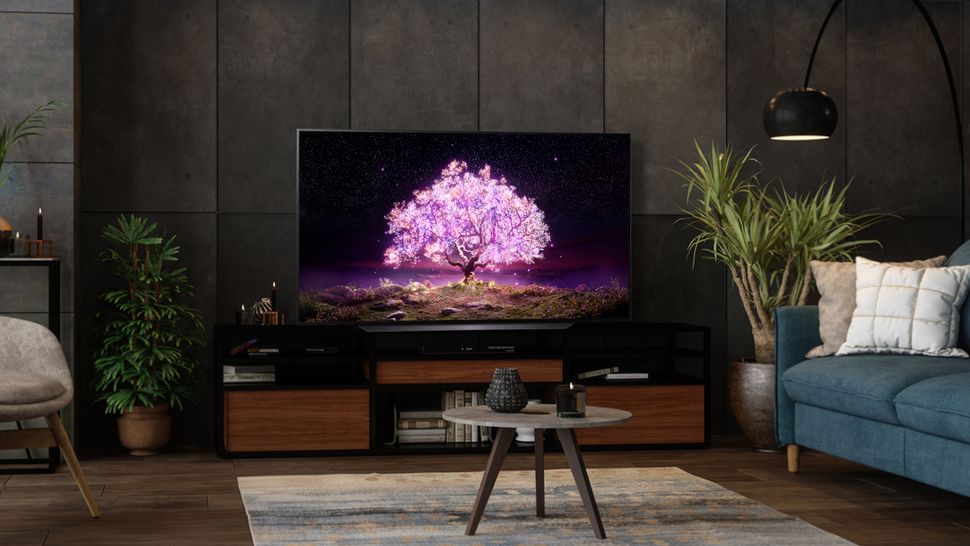 The LG C1 OLED is an iterative change on last year's LG CX, but it outperforms huge swathes of the UHD TV market with its OLED images, excellent black levels, infinite contrast, and impressive feature set.
The 2021 model doesn't up the stakes quite as much as the Samsung QN95A, which has Mini LED and takes the best 4K TV spot for that reason. But with this LG you're still getting a knockout screen and one of the very best 4K TVs on the market today.
The LG C1 uses LG's latest Alpha a9 Gen. 4 processor for better upscaling and virtual surround sound audio, and with four separate HDMI 2.1 ports it's ready for the PS5, Xbox Series X, Xbox Series S, and whatever next-gen consoles can throw at it. Gamers will also appreciate the new Game Optimiser menu that gives you the option to quickly adjust brightness, contrast and VRR on the fly.
The LG C1 isn't flawless: we encountered issues when the new Alpha a9 Gen. 4 upscaled faces, and and the all-glass screen is very reflective in sunlight. But these issues do little to dent the cinematic experience of this 4K UHD TV.
Read the full LG C1 OLED review
---
The Samsung BU8500 is designed to offer the latest functionality, discreet looks, and rock-solid build quality at a price that the majority of us won't baulk at. During our testing, we concluded that Samsung absolutely nailed it with this TV.
It boasts 4K HDR specification (albeit without Dolby Vision), a trio of HDMI inputs, voice-control, two (count 'em!) remote controls and a Tizen smart TV interface featuring all the apps you want at this sort of money. And when you consider the BU8500 as an object, it's slimmer and more understated than many flagship TVs from just a few years ago.
Picture quality here is good, but obviously can't compete with the high-end models on this list. In our review, we wrote: "In every significant area of picture-making, the Samsung's never less than competitive — and its backlighting is beautifully implemented, which helps the impression of quality no end. And as long as you temper your expectations it even sounds okay."
One of the only downsides to the Samsung BU8500 is that upscaling is disappointing and the lack of Dolby Vision HDR is still just as annoying here as it is with other, more expensive Samsung televisions.
But overall, the Samsung BU8500 is a very nice TV indeed when you balance the price, specification and screen-size ratio. It gives you comprehensive smart TV support and great 4K picture quality for not much money.
Read our full Samsung BU8500 (55BU8500) review
---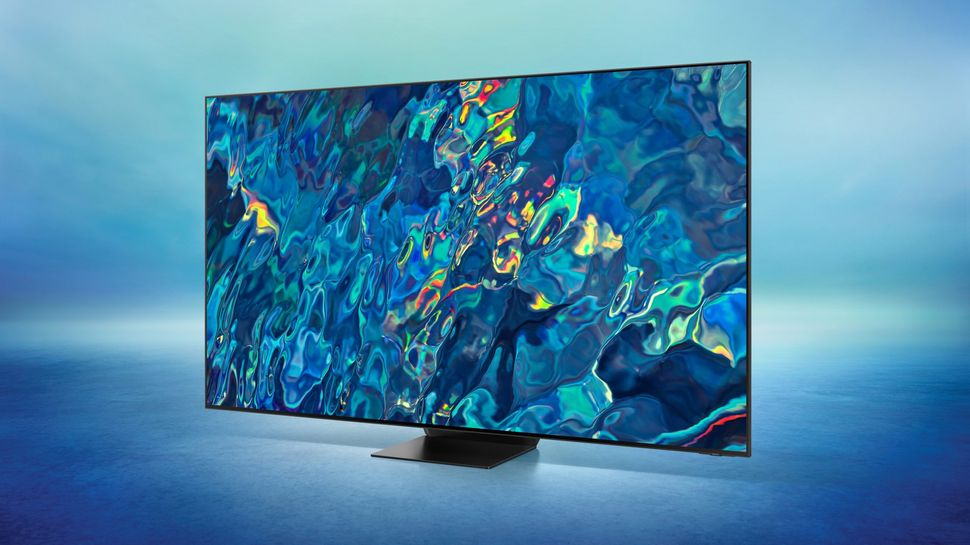 The Samsung QN95B is the company's flagship 4K TV for 2022, featuring a mini-LED backlight for dazzling HDR brightness. That backlight delivers precise local dimming and light-shaping tech so that light doesn't bleed into the darker areas. That's particularly important for movies where much of the action takes place after dark or in gloomy indoor spaces: if you struggled to see scenes in the rather murky The Batman, you won't have that problem here.
The Samsung delivers superb SDR and HDR images with deep blacks and brighter highlights, all of which are delivered without blooming or loss of shadow detail. The QN95B delivered over 2,000 nits of brightness in Filmmaker Mode in our tests, which is just astounding. Samsung's quantum dot technology delivers saturated and nuanced colours, and thanks to the Filmmaker Mode these images are also extremely accurate.
The combination of that mini-LED technology, quantum dots and Samsung's fantastic image processing is spectacular. Motion is smooth without looking artificial, 4K detail is impeccable and HD is upscaled with utter conviction. As we said in our full Samsung QN95B review, you get extreme clarity and detailing with an organic and natural feel.
The QN95A doesn't just look good. It also sounds fantastic thanks to Object Tracking Sound Plus (OTS+), which uses an array of speakers around the TV's ultra-slim chassis to deliver positional audio that appears to come from where the action is on-screen.
This is another triumph of industrial design from Samsung, with a minimalist but elegant shape, solid metal stand, and nearly bezel-less screen. The connections are all pushed out to an external box that you can hide away, which connects to the TV over a single small cable. It's not just one of the best 4K TVs – it's one of the best-looking too.
Read our full Samsung QN95B review
---
The Sony X90J is a great option for anyone wanting a very premium TV that isn't a high-end OLED.
It has excellent image quality, thanks in part to a new Cognitive XR processor that rolled out to Sony's top sets bac in 2021, delivering excellent upscaling and contrast control. The X90J also sports the new Google TV smart platform for easy setup and broad app support as well as the ability to Google Cast from Android devices. There's Dolby Vision HDR and Dolby Atmos audio packed in too.
For gamers, the X90J has a 120Hz panel with 4K resolution and two full-spec HDMI 2.1 ports for your Xbox Series X and PS5, with VRR (variable refresh rate) and ALLM (auto low latency mode, for sub-10ms lag) to really up your gaming experience. Just be sure to head into the picture settings and switch on 'Enhanced format' for your selected HDMI port or you won't get the benefit of its 2.1 specification.
We did encounter a few issues: off-axis viewing isn't great and this TV struggles in direct daylight There are still a few lingering issues, including middling off-axis viewing and struggles with direct daylight – and the X90J isn't quite as spectacular as Sony's next model up, the X95J. But the Sony X90J succeeds in delivering stellar performance for a reasonable price.
Read our full Sony X90J 4K TV review
---
The LG C2 OLED launched in early 2022 and had big shoes to fill. Its predecessor, the C1 OLED, topped many tech reviewer's lists of the best TVs you could buy in 2021, including ours. However, the LG C2 OLED doesn't disappoint, with the company making useful, incremental changes to its popular set rather than going for a complete overhaul.
With a razor-thin design and super thin bezels, the C2 OLED offers a whole lot of screen. During our testing, we were surprised by just how great this screen is. In our review, we wrote: "It showcases the best of OLED technology, delivering excellent contrast levels, intense brightness, and vivid colors. Having tested it with everything from regular SD shows to Dolby Vision blockbusters, the C2 OLED has proven itself more than capable of handling pretty much any content you can throw at it."
We weren't blown away by the claims of virtual surround sound in this TV, but the audio performance is good for a flatscreen nonetheless. What's more, a number of different sound modes means you should be able to find an audio profile that suits your needs.
If you're in the market for a new 4K TV, the LG C2 is an excellent example of the technology, offering brightness levels that are significantly better than LG's previous models.
Read our full LG C2 review
---
Samsung has thrown a lot of technology and features at its S95B OLED TV. It's got the brand's latest AI-inspired picture processor, a massively comprehensive and re-designed Tizen-based smart system, the latest gaming features, and even, despite the ultra-slim design, a clever object tracking sound audio system.
The result is an ultra-slim TV with exceptional picture quality and, considering just how great it is, a surprisingly affordable price tag to match — at least by the latest OLED TV standards.
We thoroughly enjoyed testing this TV and although there's a lot to love, it was the incredible OLED picture quality that really blew us away. In our review we wrote: "While Samsung's enthusiasm to show off what its new tech can do leads to a few picture preset issues, with a little tweaking it provides a combination of brightness, black depth, contrast and color that we just haven't seen before on a consumer set or even the best Samsung TVs. It's something special."
We did find there were a few settings we had to tweak to get it working perfectly, and while the S95B does a great job of figuring out how to handle HDR, it's still a shame that Samsung won't support Dolby Vision HDR on any of its TVs. But otherwise, this is a fantastic TV with a sensational picture that's hard to beat.
Read our full Samsung S95B review
---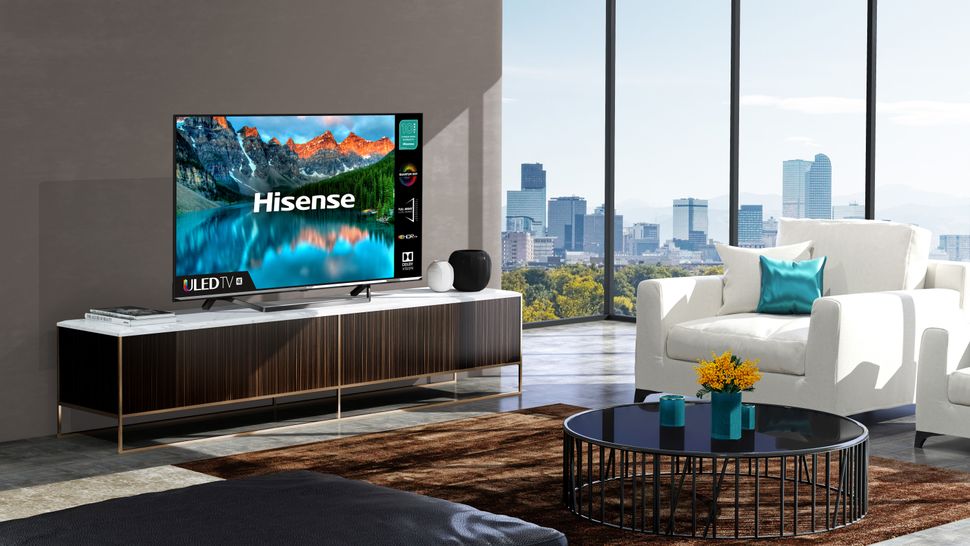 If you're looking to save some cash while getting one of the best 4K TVs out there, this Hisense U7QF could be a great buy. When it launched we felt it was overpriced, but its price tag has plummeted and that means you get a lot of TV for a lot less money. And it's good looking too, with a sleek TV stand design (with sharp accents on the bottom bezel) that's far more confident than the timid feet you'll find on the XH95.
Unusually for a TV this affordable you get universal HDR support, with HDR10+, Dolby Vision and HLG all thrown in to ensure all bases are covered. The Hisense does a good job of upscaling HD content to 4K, so you'll never have to curse grainy and jaggy images from non-4K sources, and while you're not getting true 10-bit HDR we found that the the frame rate control used as workaround still delivers a decent amount of the HDR spectrum.
Our only real issue is that we experienced some motion judder, which suggests that this isn't the best set for action movies or sports matches. And the undercooked VIDAA U services try and fail to emulate Samsung's TV Plus and Art Mode, but they're relatively easy to ignore. This is an excellent budget buy.
Read our full Hisense U7QF QLED review
---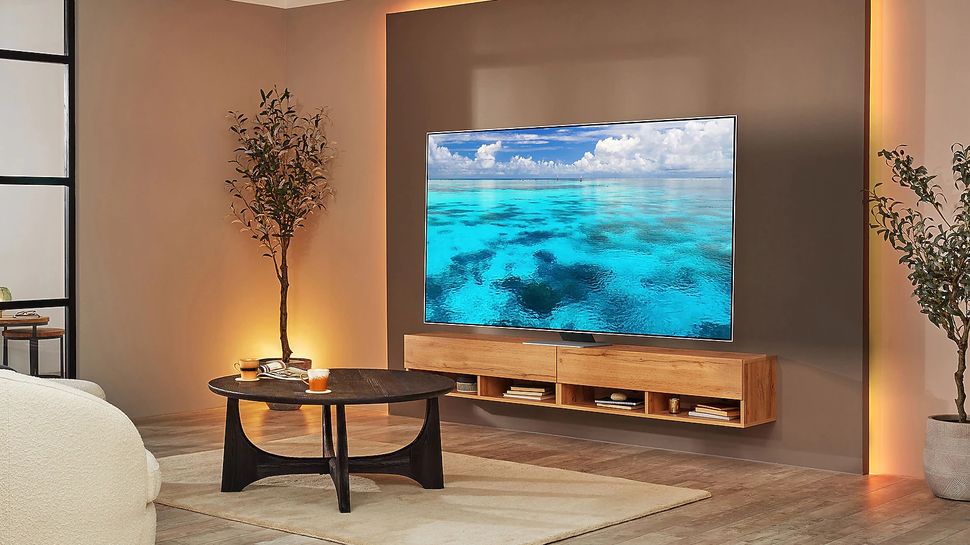 The Samsung QN85B is one of our favorite 4K TVs that boasts Mini-LED technology, which Samsung calls Neo QLED. What this panel tech brings you is a super slim profile and high levels of peak brightness.
For those reasons, we found this TV a treat to test. It looks great in terms of aesthetics and its incredibly bright screen. It's also fitted with a state-of-the-art picture processor, a redesigned version of the Tizen smart TV interface that's been a highlight of Samsung TVs for a while now, and it's got six speaker drivers that want to give you a tiny taste of spatial audio. This makes it a great option for movie lovers and gamers. For the latter, there are HDMI 2.1 features across all its HDMI sockets.
However, you do pay a price for the brightness. It means it can't bring convincing levels of detail to the black tones it generates — and it's not immune to backlight bloom or smear, either. It simply doesn't match some of the best OLED and 4K TVs for precision.
All in all, the Samsung QN85B is a brilliantly accomplished TV in so many ways for movies and gaming, but it lacks the across-the-board excellence of its best rivals at the same price, such as the LG C2 in the list above.
Read our full Samsung QN85B review
---
LG's A2 series may be the company's entry level OLED set, but that doesn't mean you're missing out on much. The A2's overall picture quality is excellent, and will give OLED enthusiasts exactly what they want.
Gamer-friendly features like a 120 Hz display aren't present at this price, which is a shame but to be expected, and picture brightness is lacking compared with LG's step-up OLEDs.
We enjoyed testing this TV, especially when it came to watching movies, and in our review we wrote: "Images had the deep blacks and detailed shadows typical of the best 4K TVs, while colors looked both fully saturated and clean. Brightness isn't the A2's strong point but it was good enough to flesh out highlights in movies and TV shows with HDR, something helped along by the set's effective Dynamic Tone Mapping."
If you want ultimate brightness, look at a few of the other TVs in our guide above, like the LG C2 or G2 series. However, if you're looking for a good, affordable set for movies and other entertainment, the A2 is a very solid 4K TV option.
Read our full LG A2 review
FAQ
What is 4K?
Essentially, 4K is an ultra-high-definition screen resolution. Also called UHD or 4K UHD, the display technology has become the default screen resolution across all of the TVs that you're likely to see in stores today – as well as many PC monitors, too.
The very best UHD TVs pack over eight million pixels in their high-res displays – that's four times the amount you'll find on the Full HD panels in today's small TVs.
You don't necessarily need access to 4K entertainment content to enjoy the benefits of 4K resolution, either, since many of the best 4K TVs – i.e. most of the displays on this list – boast impressive upscaling technologies that bolster content filmed in HD.
The other reason 4K TVs have taken off in recent years is the 4K support offered by games consoles like the PS4 Pro, Xbox One X, PS5 and Xbox Series X, as well as 4K Blu-ray players and streaming devices.
In fact, the only displays which boast a sharper picture are the 8K variety – though choice in that department is much more limited and, naturally, far more expensive.
What to look for when buying
When on the hunt for a 4K TV, you'll want to look out for picture quality, app support, other handy bells and whistles like voice control and, of course, price.
Features like HDR support, Dolby Vision and Atmos, OLED panels and the like can be real differentiators when it comes to finding the 4K TV with the best viewing experience, though it's no surprise that the more of these extras a display has, the more expensive it tends to be.
That doesn't mean all of those features are necessary to enjoy a 4K TV, though – as evidenced by our best value 4K TV, the Hisense U7QF. It still offers universal HDR support, HDR10+, Dolby Vision and HLG, but none of the super-flashy features that make displays like the Sony A90J so pricey.
It all depends on what you're after in a 4K TV and how much you're willing to spend. Luckily, we've included a large variety of displays in this guide to offer you the widest choice possible.
What types of TV are there?
There are plenty of different screen types out there, all working in different ways to produce the same results. Each technology has its own unique strengths and weaknesses, so here are some basics to consider when looking for the right 4K TV for your needs:
LED TV: Direct LED
These displays are backlit by an array of LEDs (light emitting diodes) directly behind the screen. This enables localised dimming – meaning immediately adjacent areas of brightness and darkness can be displayed more effectively – and greatly improves contrast. LED TVs are also more power efficient and capable of a wider colour gamut than CCFL sets. Because of the extreme cost of mounting these arrays of LEDs, cheaper TVs usually use Edge-Lit LED screens over Direct or Full-Array LED screens.
LED TV: Edge LED
With these TVs, LEDs of the backlight are mounted along the edges of the panel. This arrangement enables radically slender displays and offers superior contrast levels to CCFL, but can't achieve the same picture quality as directly lit LED sets. However, they do come in far cheaper which is why most LED TVs out there now use this technology.
OLED TV
The backlighting on OLED (organic light emitting diode) sets is achieved by passing an electric current through an emissive, electroluminescent film. This technique produces far better colours and higher contrast and also enables screens to be extremely thin and flexible. This is the holy grail display technology and LG, Sony, Philips and Panasonic have all adopted it in their flagship sets.
Quantum Dot
Quantum Dot is Samsung's big play in the LED TV space. With it, the brand claims that it's able to produce more colorful pictures than LG and Sony while offering even brighter panels. LG's Super UHD TVs all use a variation of Quantum Dot called Nano Cell, and Hisense makes a number of Quantum Dot TVs for the US and China.
Today's best 4K TV deals