5 reasons why now is a great time to bag a big-data SIM only deal
Don't scrimp on data with these SIMO contracts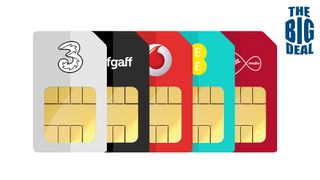 You made a bit of a mistake two years ago didn't you? You saw that super-cheap [insert name of handset here] contract phone deal and you snapped it up, feeling very pleased with the bargain you'd bagged. The 1GB data allowance didn't matter, you told anybody who would listen, as you didn't really use your phone away from Wi-Fi anyway.
But then you signed up for that Spotify Premium account, didn't you? No matter – streaming Ariana Grande on repeat doesn't use up that much data. And then your commute got a bit longer, so you had to start rationing episodes of Stranger Things on Netflix. Eventually you stopped downloading podcasts away from the house, as that really jacked up the data usage – and you don't even think about live streaming Premier League football.
We know, we know – life can be hard. But now your contract has finally come to an end, and you can make a better decision. It's time, as they say, to go SIMO.
Luckily, now is a fantastic time to pick up a SIM only deal, especially if you want to rectify your bad data decision of 24 months ago. Big data is the in-thing, and we'll guide you to some of the best SIM only contracts on the market.
After all: "The quality of decision is like the well-timed swoop of a falcon which enables it to strike and destroy its victim." Not the words of The BIg Deal, but of Sun Tzu – and he knew a thing or two about getting the best SIM only deal... probably.
1. Three's award-winning SIM only contract is still available
The 2018 Mobile Choice Consumer Awards are almost upon us (can it really have been a year since the last one!?), and we'll wait eagerly to see who wins Deal of the Year. Last year's inaugural winner was Three's incredible 30GB data SIMO for £18.
That tariff disappeared for a few months earlier this year, but now it's BACK. So not only do you get all that lovely data and unlimited calls and texts, but Three's Go Roam promotion also means you get to use them in 71 countries. Plus, you get weekly freebies and discounts from Three's Wuntu rewards app.
You can get this award winning SIM only deal from Three here
2. Giffgaff's Always On goodybag gives you unlimited data
Imagine never having to check your data use again. Trust us when we say that it's as liberating as a winter skinny dip in the English Channel, only with less pneumonia. Well, Giffgaff's Always On plan is currently the cheapest way to get an unlimited data SIM deal.
You won't have to break the bank to get it, as Always On costs £25 per month. The only thing you have to watch for is that Giffgaff starts restricting your speeds at peak times once you've gone over the 20GB mark in a month.
Head to Giffgaff to get all-you-can-eat data with Always On
3. SIM only on EE just got cheaper for big data
To be quite honest, we don't often recommend EE when it comes to SIM only contracts. We find that the network relies on the fact that it can provide the UK's fastest 4G coverage to bring in the punters, rather than cheap SIMO prices.
So what's changed? We're glad you asked. EE has just dropped a phenomenal 40GB SIM plan for a mere £25 per month. That's stonking value, bearing in mind those rapid 4G speeds.
Get this deal online either direct from EE or from Carphone Warehouse
4. Vodafone just improved its perks
We've enjoyed Vodafone's Red Entertainment plans for a while now. These premium tariffs have given you the choice of a free subscription to Spotify Premium, NOW Entertainment TV or the Sky Sports app.
But Vodafone has recently added Amazon Prime Video as an extra choice, as well as adding 29 new destinations to its free roaming perk, including the US, Canada, South Africa and Australia.
And like EE, Vodafone also has a 40GB for £25 deal that should be very tempting indeed. While retailer Mobiles.co.uk has launched some fat cashback offers, getting you £108 back by redemption or £80 automatic cashback on their identically priced SIMO deals.
Head here to check out all of Vodafone's SIM only plans, including Red Entertainment
5. Virgin Mobile just went big on 100GB
Virgin Mobile really knows how to keep us on our toes. Some of the special limited-time SIM only 'Flash Sales' it produces are well worth shouting about, and its August offer is no different – it's offering 100GB of data for a mere £20 per month.
There's a limit on calls, but 5,000 minutes a month should still be sufficient for even the most ardent chatterboxes. And if you decide a few months in that you were blinded by all that data and don't really need 100GB, Virgin's flexible plans mean that you can make a change.
Get 100GB of data for £20 per month from Virgin Media
If you want to discuss, debate or deliberate any phone deals news and views with The Big Deal, then head over to our @TRDeals twitter feed – you'll also find the latest offers on phones, TVs, consoles, broadband and more tech.
Sign up to receive daily breaking news, reviews, opinion, analysis, deals and more from the world of tech.
Adam was formerly the Content Director of Subscriptions and Services at Future, meaning that he oversaw many of the articles TechRadar produces about antivirus software, VPN, TV streaming, broadband and mobile phone contracts - from buying guides and deals news, to industry interest pieces and reviews. Adam has now dusted off his keyboard to write articles for the likes of TechRadar, T3 and Tom's Guide.