If you've already read our review of Samsung's incredible Q90 QLED TV but just can't stretch to that QLED's overbearing price tag, then the 65-inch Q85 (QE65Q85R) could be a set better suited for you – the Q85 costs far less (£2,999 compared to £3,800 for the 65-inch Q90), yet delivers almost all of the same features and similarly fantastic performance.
Yes, you still get Samsung's game-changing viewing angle technology, for instance, which finally helps LCD take on OLED in this key TV performance area. You still get Samsung's new AI 4K chipset with its much-improved upscaling of HD and standard definition sources. You still get Samsung's QLED technology, which uses metal-clad Quantum Dots to deliver high levels of brightness and a wide colour response.
Also present and correct is Samsung's new dedicated backlight management chip, and the set copies the Q90R series in sporting a direct LED lighting system (where the LEDs are placed right behind the screen) with local dimming.
While the 65-inch Q90R TV benefits from a huge 480 zones of local dimming, though, the 65Q85R 'only' gets 96. That's actually still a pretty high number, but having nearly 400 fewer light control zones does go a long way towards explaining why the 65Q85R is so much cheaper than the 65Q90R...
Price and availability
The Samsung Q85R comes in 75-, 65- and 55-inch screen sizes and became available to buy in March 2019.
However, note that these are just UK and European exclusive releases. You'll have to import them if you're buying from elsewhere, and you'd have to assume any import charges will bring you close to the price of the Q950R flagship, at which point you should probably opt for that instead.
Design
All said, the QE65Q85R looks good for a TV with direct LED lighting (given that such technology requires a chunkier rear than typical edge LED or OLED TVs). The frame around the screen is very trim, and the combination of an open stand neck and forward-presenting silver bar stand give the screen an appealingly airy, floating look.
Even the rear panel is more attractive than most thanks to its freedom from sockets and cable spaghetti, and its slick, subtly striped finish. Not that you'll likely ever look at again it once initial set up is complete, of course.
How come the rear manages to be free of sockets and cabling mess? Because like the 65Q90R, the 65Q85R ships with an external connections box that attaches to the TV via a single skinny, light-coloured cable. Even the power to the screen is passed through this cable, alongside all the picture and sound information. This ultra-tidy approach is particularly useful, of course, if you're thinking of wall hanging your TV.
The QE65Q85R's nifty design tricks continue with an Ambient Mode. This lets you play digital stills or cute screensaver videos on the TV's screen when you're not watching it - a much more attractive proposition than having to put up with the gaping black hole in your decor TVs typically leave you with in standby mode.
You can even take a photo of your wall paint/wallpaper and have that play on the screen to maximise its blending in potential.
Samsung's decision to add animated screensavers and a new 'strip lighting' screensaver that can bathe your room in different tones and colours of light make it much more likely, too, that people will actually make the initial effort to engage with Ambient Mode.
Connections on the One Connect box are extensive, including four HDMIs, three USBs, and built-in Bluetooth and Wi-Fi support. There's no physical headphone jack, though; your only headphone option is Bluetooth.
It's worth noting, too, that Samsung has not joined LG in offering full-bandwidth HDMI 2.1 ports. This means it can't support all of the extremely high frame rates with 4K sources that may - appear in the gaming world. It also means in Samsung's case that there's no support for eARC technology, where the TV can pass lossless Dolby Atmos or DTS-X object-based soundtracks via HDMI to compatible AV receivers or soundbars.
This feature can actually be delivered from HDMI 2.0 ports, as Sony has proved with some of its high-end TVs. But right now Samsung won't say anything more certain than that it's looking into the possibility of adding eARC via a firmware update.
Design TL;DR: The Q85's bodywork is attractive enough, but its design charms are taken to a whole new level by Samsung's innovative and cleverly implemented Ambient Mode.
Smart TV (Eden)
Samsung's process of gradually refining its already strong Eden smart platform continues with the 65Q85R: The main menu adopts the two-tier approach that's now becoming commonplace in the smart TV world, where selecting an icon along the bottom usually causes a contextual second tier of content links to appear above. (So, for instance, if you highlight Netflix in the main app 'bar', a second tier will open with direct links to Netflix shows.)
The interface runs very slickly under Samsung's latest powerful chipset, and the platform is extremely comprehensive when it comes to apps and video streaming platforms. Netflix, Amazon Prime Video, YouTube, the BBC iPlayer, Now TV, ITV Hub, All 4, My5, UKTV PlayGoogle Play, Rakuten… all the major video streaming players are there.
The only pity is that the catch up services for the main UK broadcasters aren't available within a Freeview Play umbrella like they are on the vast majority of other smart TV services these days.
Samsung's universal search and TV Plus features have been enhanced to offer more intelligent browsing and suggestions of both online and broadcast content. The order of the apps in the main app bar is easy to change, too, and Samsung's voice control system is if anything even better (and more granular in the way it integrates with the TV's functions) than it was last year.
There's support for Amazon Alexa and Google Home Assistant as well - though unlike LG's TVs that run the latest version of WebOS with ThinQ AI, you need an external 'listening device' for these to work with the Q85.
Other neat little tricks include auto tuning in the background, so you don't have to sit and wait for it to happen before you can do other stuff, and automatic detection of equipment you've got connected to the TV's HDMIs. Once an external device has been recognised, moreover, the TV's smart remote can be used to control it.
This glamorous, metallic smart remote's deliberately stripped down button count can cause a few button mapping issues, though, somewhat hindering its universal remote potential. Samsung has sensibly included Netflix, YouTube and Rakuten buttons this year, though.
Smart TV TL;DR: Samsung's latest smart system is comprehensive, slick and easy to customise and use.
HD/SDR Performance
While 4K HDR support dominates the Q85's DNA, it still does a very good job with the HD, standard dynamic range content we still spend most of our time watching.
That's because its upscaling is particularly impressive. Samsung has taken the core algorithms and database-driven technology developed for its debut 8K TVs and integrated them into its new 4K TVs too, resulting in a clear improvement in the sharpness and noise management of the 65Q85R's upscaled pictures compared with last year's Q9FN models... just bear in mind that you need to handle the TV's Digital Clean View feature with care to get the best upscaling results.
The Auto setting, while useful for heavily compressed digital broadcasts or internet streams, can be too heavy handed with relatively clean HD sources such as HD Blu-rays. And you don't need it at all, I'd say, for native 4K content.
It's good, too, to see colours retaining natural, authentic tones as they pass through the latest upscaling engine. Even upscaled skin tones manage to avoid looking plasticky or blotchy.
Intriguingly, as with the Q90R, the 65Q85R no longer carries Samsung's confusingly-named HDR+ system for converting SDR sources to HDR. Apparently user engagement with this feature on past models has been low, so Samsung has decided to can it to reduce the potential for confusion now that we now also have the new HDR10+ format to think about (more on this later).
This seems a slight shame to me; certainly HDR10+ did a pretty good if sometimes over-aggressive job of opening up SDR's brightness and colour range. That said, the 65Q85R still does a good job of mapping SDR to its high-brightness screen.
The Movie preset can look rather dark with SDR versus previous incarnations, and the Standard preset can sometimes show up a little elevated noise in dark areas of heavily compressed content. With most content, though, 65Q85R users will feel nothing but thrilled with how good sub-4K content looks on such a large screen.
HD/SDR Performance TL;DR: Although Samsung has ditched its HDR+ SDR-to-HDR conversion option for its TVs, the 65Q85R still does an excellent job of handling SDR on its super-bright screen. Its new HD-to-4K upscaling processor also delivers fantastically effective results.
4K/HDR Performance
Cutting edge 4K HDR content is what the 65Q85R has been built for - and it does a spectacular job with it. HDR sources benefit gloriously from the TV's combination of high brightness (we measured just over 1500 nits on a 10% white HDR window in the TV's standard mode) and sensational black levels for an LCD TV.
It's not just the set's ability to deliver such extremes of light that makes it such an HDR hero, though. Also remarkable is how the 65Q85R is able to combine bright highlights with ultra-rich black levels within a single image - something LCD TVs aren't really supposed to excel at.
There's surprisingly little reduction in the brightness of stand-out bright elements when they appear against very dark backgrounds and, even better, there's typically incredibly little sign of light blooming around bright objects. (In fact, with the most extreme black and white contrasts there's scarcely any more blooming than you get with the Q90R, despite the Q85R having hundreds fewer dimming zones.)
It should be said that the 65Q85R's peak brightness is 500 nits less than Samsung's flagship Q90R models. Thankfully, the quality of its backlight control is such, though, that it still delivers an immensely punchy and satisfying sense of the difference HDR can make to your viewing experiences. Even better, the HDR talents - even during dark scenes - hold up remarkably well even in bright conditions environment, too, thanks to the TV's remarkable light-absorbing filter.
Oddly, perhaps because of the way the new wide viewing angle system works, the set's colour range doesn't cover quite as much of the key DCI-P3 colour spectrum as last year's Samsung Q9FN models. But you'll be hard pushed to tell without using a measuring device - from a typical viewing distance, the Q85R's fine detail resolution and looks excellent, aided and abetted by good motion management (provided you avoid the rather messy Auto motion setting and instead choose Custom with the blur and judder elements set below level five).
One final strength of the QE65Q85R is its gaming performance. It delivers an excellent sub-15ms of input lag when running in their Game mode, and also support both automatic game mode switching and variable refresh rates with compatible sources (such as the Xbox One S and X).
While the 65Q85R's HDR 4K pictures look breathtaking in most ways, inevitably they're not quite perfect. First, while the new viewing angle mostly works brilliantly, you do suddenly start to see light blooming around stand-out bright objects when you're not viewing the set from straight on.
Every now and then, a dark scene containing a lot of low level shadow detail comes along that suddenly exposes the relative lack of local dimming zones compared with the Q90R. With such content, black levels take a slight hit across sometimes quite large parts of the picture, and there's a slightly unstable look to things. Partly because you become over-aware of the backlight adjustments taking place within such detail-rich dark shots, and partly because you notice - in a way you never typically do with this TV - quite obvious shifts in the baseline backlighting as a low-lit scene switches between dark and light shots.
Using the 65Q85R's out of the box settings, there's a little crushing out of shadow details in very dark parts of the picture. You can improve this by nudging up the set's brightness level, but doing this can make the occasional bright shot look a touch strained.
Finally, Samsung decision to deliberately push the brightness of its HDR presentation bright occasionally causes a little detail to be lost in the most extreme highlights. Though for the vast majority of the time I think most viewers will lap up the set's aggressive HDR approach.
4K/HDR Performance TL;DR: For the vast majority of the time, the Samsung QE65Q85R's picture performance with 4K HDR content is sensational. Especially if you're looking for a TV to go into a bright room.
Sound
The QE65Q85R sounds absolutely fine with relatively undemanding fare, and produces a startlingly large soundstage for a TV with such a sleek design. You certainly feel like you're hearing a wall of sound - one that stretches above the screen, too, as well as to left and right.
Good action scenes, though, uncover a few limitations. For starters, really heavy bass lines can cause the speakers to splutter and drop out. Partly because of this, big soundtrack moments tend to fall back in the mix a little rather than exploding forth. Also, the lack of any forward facing speakers means you don't really feel immersed in the mix; the action seems to be taking place behind the screen rather than all around you.
Sound TL;DR: Although it's good enough to get you started, the QE65Q85R's sound doesn't really have the dynamism, drama or scale to match its pictures.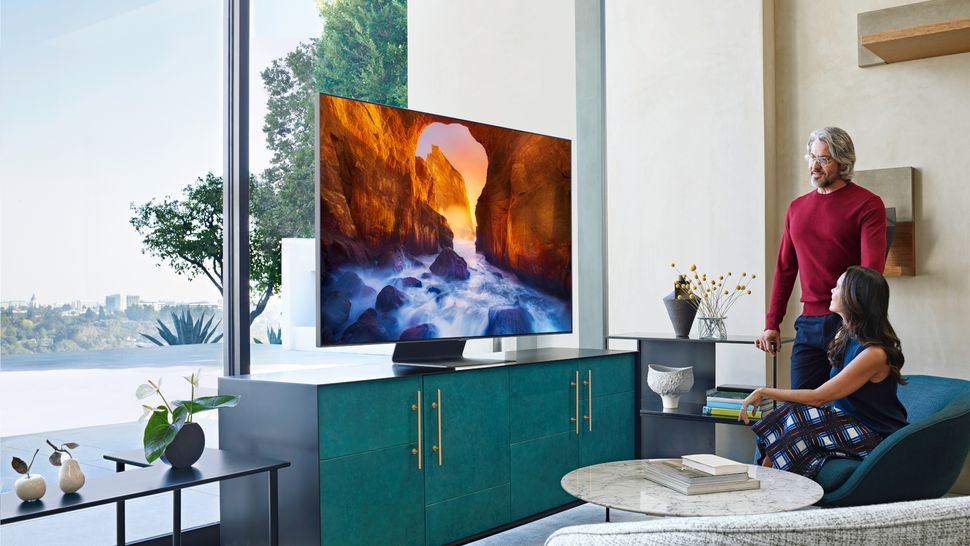 Other panels to ponder...
If money's no object, you might want to go for Samsung's more expensive model, the QE65Q90R. This set has far more dimming zones, and so delivers more consistent and impactful contrast. It's a handy 500 nits brighter, too.
If money's REALLY no object, you could even think about stepping up to one of the Samsung Q900RB (US)/Q950 (Europe) 8K TVs. These retain the wide viewing angles of the new 4K sets, feature remarkably good 4K upscaling, and are also super-bright and contrast-rich. There's no native 8K content yet, though, and I'd suggest trying to step up to a 75-inch model if possible to get more benefit from all those extra pixels.
Finally, the new LG C9 OLED is outstanding - especially if you like a cinematic, dark room experience. They make up for their lack of raw peak brightness versus Samsung's LCD models with gorgeous pixel-level contrast and some excellent new HDR processing. They support Dolby Vision, too - but not the HDR10+ format the Samsung supports.
Final verdict
When it comes to 4K UHD performance and features, the Q85R ticks a good many boxes. It's clearly a premium performer. And although its charms don't come cheap and its sound is nothing to write home about, the QE65Q85R rewards your expense with exceptionally punchy, bright, colourful HDR pictures that frequently look incredible. Even, remarkably, if you're watching from a wide angle in a bright room.
TV stands: finding the best TV stand to suit your living room cinema needs
Best Samsung TV: a guide to the best Samsung televisions on sale today