Verdict
The Galaxy S10 Plus is undoubtedly the most advanced and balanced phone by Samsung right now, at least until we don't get to see a commercial unit of the Galaxy Fold or the Note 10.
Although the phone doesn't bring any major surprise, there are several significant improvements which we loved. First is the bigger display in a smaller and better-looking body and then the new wide angle lens makes it one of the most versatile camera phones available. Performance-wise, the phone doesn't give you a chance to complain. You can play graphic-intensive games without any compromise, it's super smooth. The only downside is its camera performance indoors and in low-light, it doesn't quite match the flagship standards that Pixel 3 had set last year.
On top, features like Wireless PowerShare and the in-display fingerprint sensor are first on any Galaxy-S phone. Samsung's reverse wireless charging is easier to set up than Huawei's, and while its ultrasonic behind-the-glass sensor takes getting used to, and isn't flawless, it's better than all of the optical sensors out there.
Samsung's best phone today, the Galaxy S10 Plus, starts at Rs 73,990, which is more than the Galaxy Note 9. But if you're looking for affordable alternates that offer something similar, the Galaxy S10 and Galaxy S10e exist for you.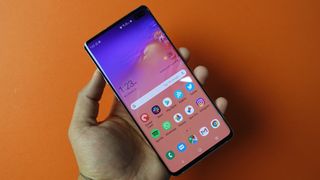 Who's it for?
If you're after the do-it-all-smartphone, one that's as comfortable snapping photos and recording HDR10+ video as it is running PUBG Mobile on the highest graphics and making your Netflix subscription look fantastic, the Galaxy S10 Plus is for you.
There's heaps of power, a versatile camera (not better than the Pixel 3 though), possibly the best smartphone display on the market, and style to make you swoon.