Heart Internet is a fine web hosting provider from the UK offering a broad range of solutions aimed at newcomers and webmasters alike, with a focus on its home market. Besides being stingy with the entry-level plans and not standing out among its competitors in general, there are no significant deal-breakers with this host, so you can give it a spin with a clear conscience.
Pros
+

A fine range of hosting solutions

+

Free domain name with all plans

+

Free website migration within 48 hours

+

30-day money-back guarantee with all shared hosting plans
Cons
-

Limited payment methods

-

Shared hosting plans are a bit steep

-

No SSL certificates with lower-priced plans
Why you can trust TechRadar We spend hours testing every product or service we review, so you can be sure you're buying the best. Find out more about how we test.
Founded in 2004 by Tim and Jonathan Brealey, Heart Internet is a British web hosting company that takes pride in being the first to include a complete billing and CRM system for free with its reseller hosting products. They also claim to have created new and unique hosting solutions that have brought success both to them and their customers. Although Heart Internet advertises its services as "award-winning", it hasn't received any awards since 2015, which coincides with the twists and turns it went through in the last decade.
In 2011, Heart Internet became a part of HEG (Host Europe Group), which was bought by a US-based hosting giant GoDaddy in 2017. Nevertheless, Heart Internet is still considered to be the second-largest web hosting company in the UK for hosted websites.
Heart Internet's head office can be found in Hayes (the UK), while their primary data center is located in Leeds (the UK) where they host most of their solutions, including everything from shared hosting to VPS and reseller packages. There is also a secondary data center at an unspecified location in the EU but it is available for some of their hybrid servers, and dedicated servers solutions purchased from 2006 onwards.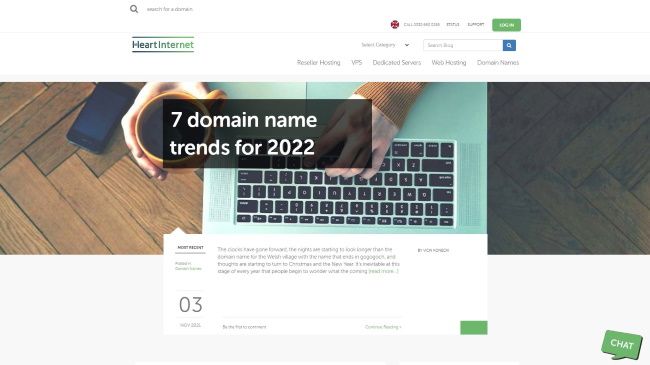 Heart Internet's official site looks pretty plain but it is fully functional and features an interesting and informative blog. You can also keep up with them on Facebook, Twitter, and LinkedIn, where all accounts are in fine fettle.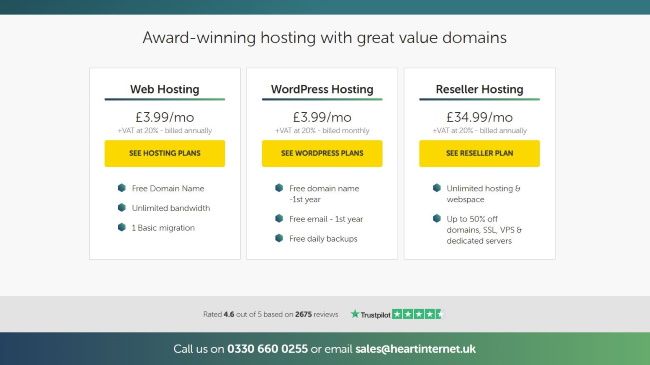 Plans and pricing
Heart Internet offers a wide array of hosting services and most of them are reasonably priced. However, some of the entry-level solutions are a bit more expensive than we expected.
Those in need of hosting solutions can choose between several Linux and Windows shared hosting plans, nine WordPress-specific plans, three business email plans, six VPS plans, four plans for dedicated servers, and one unlimited plan aimed at resellers. In addition to this, Heart Internet offers domain name registrations, SSL certificates, and "Website Security" suites.
The most pocket-friendly shared hosting plan is Linux-based "Economy" which will cost you £4.99 ($6.70) for one month, or £3.99 ($5.35) per month if billed annually, and this is without adding 20% VAT. The "Economy" plan will provide you a single website, one free domain name (excluding premium domains), 25 subdomains, 100GB of storage space (NVMe SSD), unmetered bandwidth, 512MB of memory, 50 FTP accounts, 10 MySQL (up to 1GB) databases, and one basic website migration. However, there are no free SSL certificates for those who choose one of the low-cost plans.
All of Heart Internet's shared hosting plans come with a "hassle-free" 30-day money-back guarantee, and if you want to purchase any of its products you can do it via credit card, and that's about it.
Swipe to scroll horizontally
Ease of use
To get things rolling with Heart Internet you'll have to pick out a plan, and doing so shouldn't present a problem since all plans are presented in a particularly detailed manner. First, you'll have to pick out one of the hosting types, and then you'll go for a specific plan. It's nice to see both Linux-based and Windows-based servers among the entry-level options since this is often not the case with the competing providers. And if we ignore the one-off set up fee of £10.00 (13.45) that comes with the cheapest plans, the pricing is not a bit over the odds.
If you're a new customer, upon opting for a plan you'll be asked to create an account with Heart Internet, which includes surrendering your full name (even a title), birthday, email, and physical address, and coming up with a solid password. You also get to choose a security question, so make sure to remember the answer. We should also note that if you're attempting to sign up from any country outside of the UK, Ireland, Germany, or France, to complete the process you'll have to get in touch with Heart Internet's sales team via telephone or email.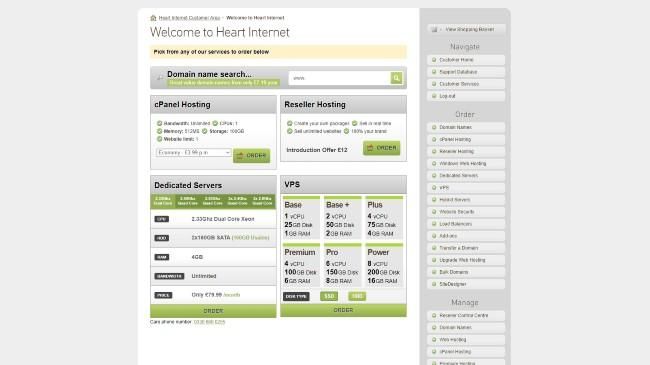 After making a purchase, you'll proceed to Heart Internet's customer area which (in contrast with the official site) looks and feels behind the times, although (to be fair) it works like clockwork. Fortunately, instead of the eXtend control panel, Heart Internet now provides the latest version of industry-leading cPanel with its Linux-based packages, and it's only a click away from the old-looking customer area. Unfortunately, if you went with a Windows-based package, there's no cPanel for you.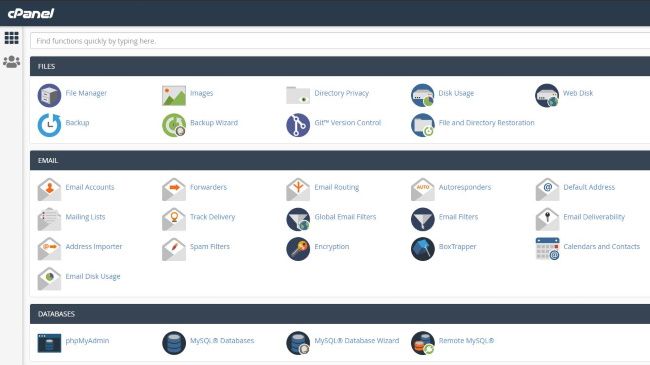 From cPanel, you can easily install WordPress, Magento, OpenCart, Joomla, PrestaShop, or any of the 30 available apps. You can use a File Manager or even FTP to build your site from scratch, but not a user-friendly website builder since Heart Internet offers none. If you've purchased a Linux-based package and already have a decent-looking site, Heart Internet's technical team will migrate it for you without any cost within 48 hours.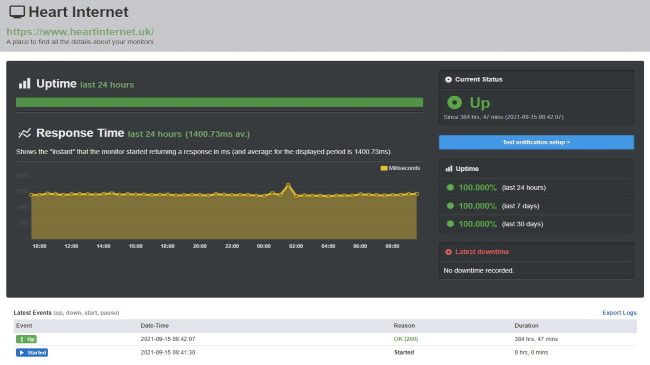 Speed and experience
After checking the speed on Heart Internet's official site we weren't exactly blown away by the performance, and we weren't short on trying either. Our testing tool, GTmetrix, showed that the site's load time was 3.3 seconds, which is perfectly presentable performance. Almost all other vital speed measuring metrics were ahead of the curve, all but one. Enter largest contentful paint (LCP), which represents the time it takes for the largest content element (such as a hero image or heading text) on the page to become visible. Although for ideal user experience LCP should be 1.2 seconds or less, Heart Internet's site took 2.8 seconds to do so, which is a bit worrying. In the end, GTmetrix decided to rate the speed performance of Heart Internet's site with a modest C (66%).
As for uptime, Heart Internet offers a 99.9% uptime guarantee with all of its plans, which means that amount of downtime per year shouldn't exceed nine hours in total. After monitoring Heart Internet's site for two weeks via UptimeRobot, we found no trace of downtime at all, which looks promising despite the relatively short monitoring period.
Support
While seeking support on Heart Internet's site you'll surely bump into the live chat, which is available 24/7 in theory rather than in practice, so make sure to use it Monday to Friday, 9 AM to 5 PM (GMT). You also have an option to get in touch with the pre-sales and support staff via a UK-based telephone number, email, and ticket. We decided to test our luck with the support ticket and got a worthwhile answer within an hour, which is a pretty prompt response time for a ticket.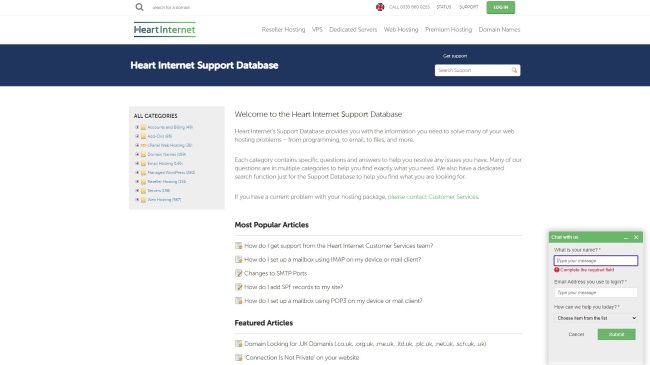 If you want to stay self-sufficient, your best shot is Heart Internet's "Support Database" which looks a bit old-fashioned but most of its how-tos are up-to-date. There you'll find over a thousand how-tos separated into nine different categories ("cPanel Web Hosting" being a recent addition). Searching through them wasn't as easy as we'd like it to be, and all of a sudden the site started slowing down and crashing when we tried using the search box. In the end, we managed to find what we were searching for but it felt like an uphill climb.
The competition
Like Heart Internet, Easyspace is a host from the UK with a wide variety of hosting solutions aimed at newcomers and professionals alike. True to its name, Easyspace is easy to set up and use, and it will also provide you with lots of features sure to set you off for a successful start. However, customer support is Easyspace's chink in armor and one that less experienced users are not likely to withstand.
As its name suggests, UK2 is a UK-based web hosting provider and a good alternative to Heart Internet. In terms of hosting options and features, these hosts are somewhat similar, although UK2 is more open-handed with its freebies, particularly with entry-level packages. With UK2 you can also get an easy-to-use website builder, which is currently not an option with Heart Internet.
Although Bluehost is based in the USA and Heart Internet in the UK, both hosts are beginner-friendly and offer a full range of hosting solutions including some superb WordPress-specific packages. Although Heart Internet appears a bit cheaper at first, Bluehost sweetens the deal by offering a free SSL certificate with all its plans, as well as a drag-and-drop website builder.
Much like Bluehost, HostGator is a versatile host from the USA offering a wide array of hosting options, features, and one-click apps. Besides being a bit cheaper than Heart Internet (yet more feature-rich) it also provides more in-depth how-tos and step-by-step video guides.
Final verdict
If your main quest is to resell, Heart Internet's solutions provide an appealing price-performance ratio, and the same is true of their VPS and dedicated server packages. However, when it comes to simpler solutions (such as shared or WordPress hosting), the entry-level plans look pale in comparison to other options on the UK market.
If you don't find having a UK-based host vital to your vision, US-based HostGator and Bluehost can provide you with almost everything Heart Internet can, and they will throw in a bunch of beginner-friendly features to boot.
Mirza Bahic is a freelance tech journalist and blogger from Sarajevo, Bosnia and Herzegovina. For the past four years, Mirza has been ghostwriting for a number of tech start-ups from various industries, including cloud, retail and B2B technology.