The small product range, annoying limits and sometimes very high prices make it difficult to get enthusiastic about Name.com. We can't ignore its great performance test results, though, and if you're not worried about the price and various plan limits, you might, just about, want to give the company a try.
Pros
+

Excellent speed tests results

+

cPanel management console

+

Softaculous app installer
Cons
-

Too many limits and too few features

-

Above average prices

-

Small product range

-

Live chat support isn't 24/7
Why you can trust TechRadar We spend hours testing every product or service we review, so you can be sure you're buying the best. Find out more about how we test.
Name.com is best known as a domain registrar, but it also offers a small number of shared hosting products: basic website hosting, WordPress hosting, a website builder and a very simple one-page plan.
These products are a little limited, and prices are above average. The Startup plan supports a single website and comes with 10GB of disk space, 100GB bandwidth, 100 emails and a free Encryption Everywhere SSL certificate for $4.99 a month in year one, $6.99 afterwards. For comparison, fellow domain registrar Namecheap's Stellar plan includes 20GB storage, unmetered bandwidth, 30 email accounts and support for three domains, and is priced at $1.44 in year one, $2.88 on renewal.
Elsewhere, basic managed WordPress hosting (unlimited storage and bandwidth, free daily backups, 'theme and plugin support') starts at $2.50 a month paid annually, but getting just a single email address lifts the price to $4.16, and opting for 10 email addresses bumps it up to a bizarrely high $19.15. The WordPress Pro-Blogger & Business plans include 1-10 email accounts.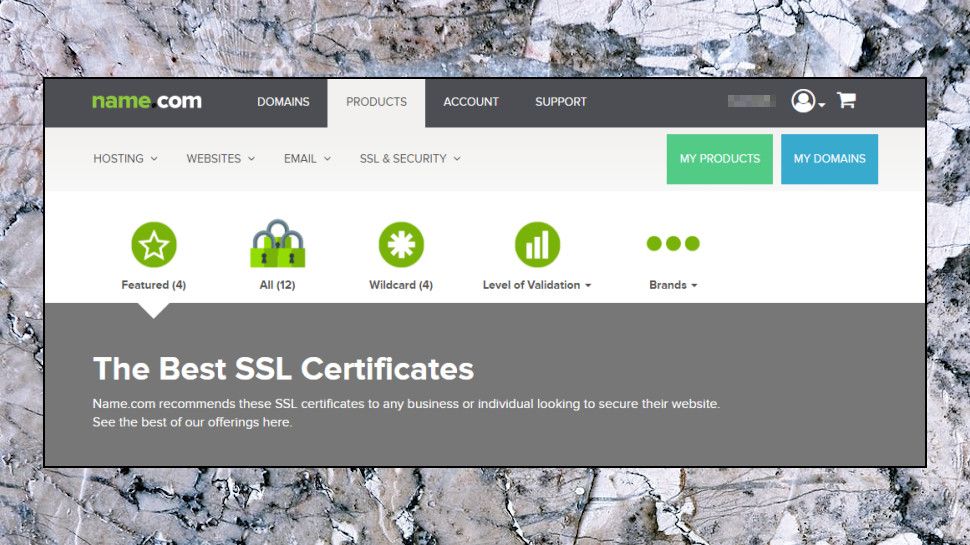 These plans previously didn't include SSL, with Name.com suggesting that if you need one, you would need to purchase a regular hosting account, instead. Now, however, SSL encryption is available for free with your purchase.
The only other mildly interesting option is a One-Page Website plan which enables setting up a simple single-page site, includes free SSL and a single forwarding email address, and costs only $4.99 a year.
Your site can only be a basic landing page, so you can't do a lot with it. But if that's essentially all you need, an online pointer to your real-world business, then it could be a quick, easy and cheap solution.
If you're looking for anything more powerful - cloud hosting, VPS, dedicated servers - then prepare for disappointment, because you won't find anything like that here.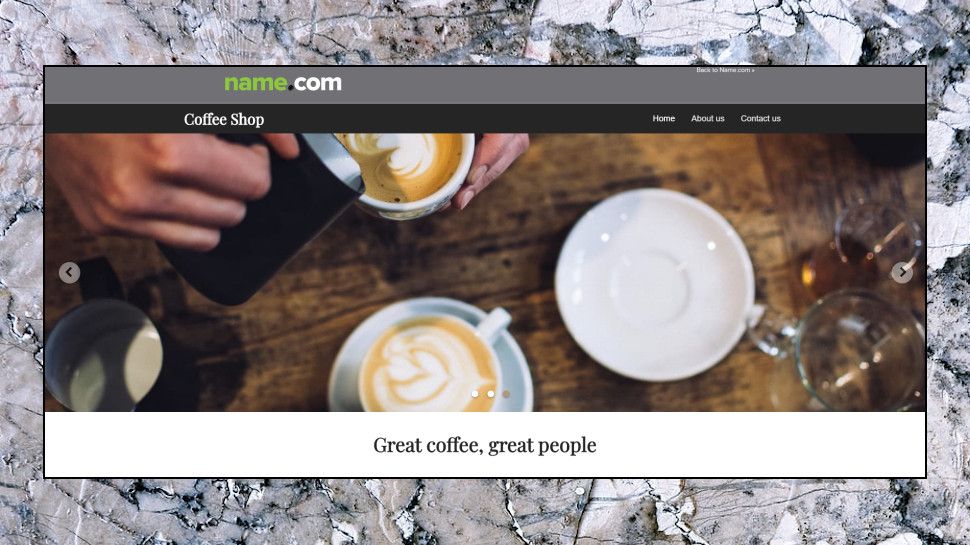 Getting started
Signing up with Name.com works much the same as any other web service you've ever used: choose a plan, click the Order button, enter your details to create an account, and pay via card, PayPal, MasterCard, American Express, Discover, Diners Card, AliPay, and China UnionPay.
If anything, this is even simpler than you'll see with most providers, as Name.com has so few products that it can sum up its entire range on a single short page. Name.com recently added Cloud Hosting, Digital Ocean Basic Droplets.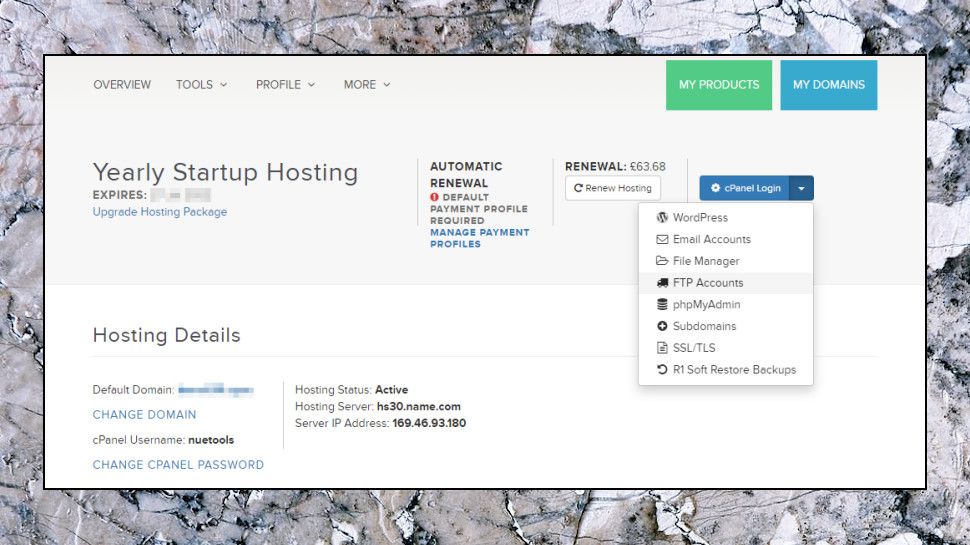 We purchased a starter web hosting panel, then headed off to Name.com's surprisingly basic hosting management panel. Around half the panel was white space, and the rest was restricted to some basic plan details (default domain, hosting server name and IP address, cPanel username) and DNS records for your domain. None of which will mean a lot to Name.com's target audience of first-time and novice users.
There is some help here, though poorly presented. Click the arrow to the right of the cPanel Login button and a drop-down menu includes shortcuts to some of the most important website management and creation functions: WordPress, Email Accounts, File Manager, FTP Accounts, Subdomains and more. If you only need to upload a static site, for instance, choose the file manager option and you can get the job done right away.
That's good news, but the panel should present these up-front so they're immediately visible, not hide them under a cPanel button, when the people who most need to see them might have no idea what cPanel is.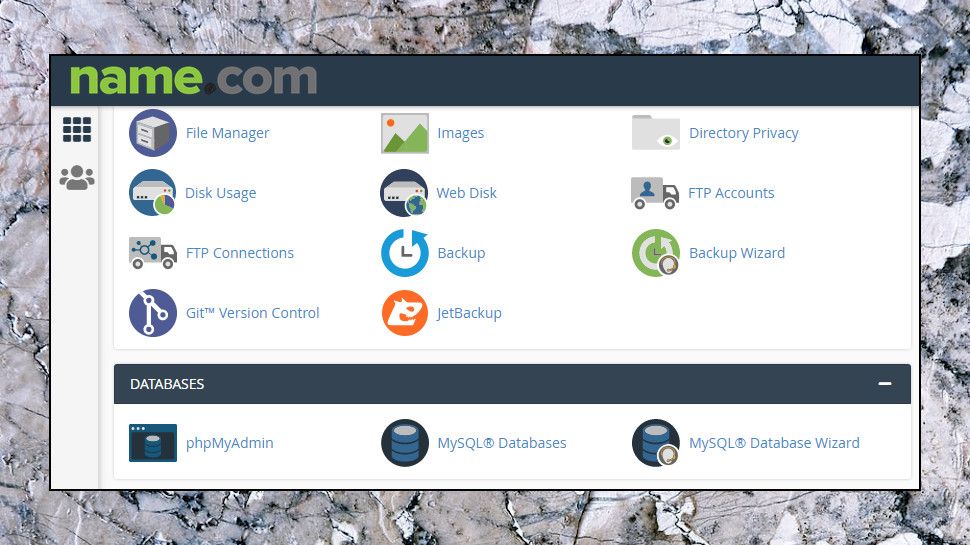 If you are familiar with cPanel, though, or you just happen to click that button eventually, you'll find a regular cPanel installation with all the key site setup and management tools you need.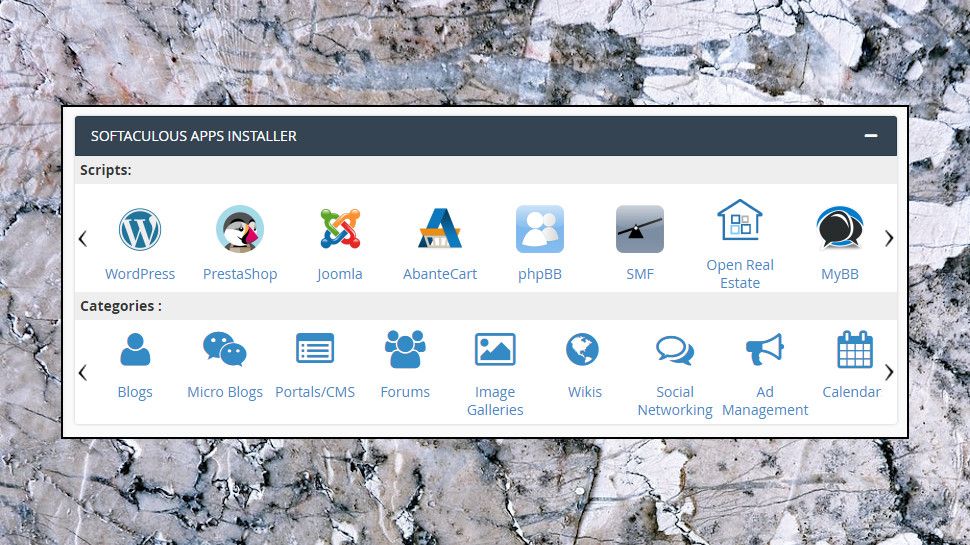 Softaculous is a powerful platform which automates the installation of WordPress and 450+ other apps, for instance.
The file and FTP account managers give you the ability to upload and work with a static site.
MySQL and phpMyAdmin enable creating and working with databases, domain tools can set up subdomains or redirects, and a pile of email features help you add and manage email accounts, forwarders, autoresponders and more.
Overall, we're happy to see both cPanel and Softaculous included with Name.com's shared hosting, and that's a definite plus point for the service. But the company hasn't made any significant effort to present these in a way which makes them easier to access or use.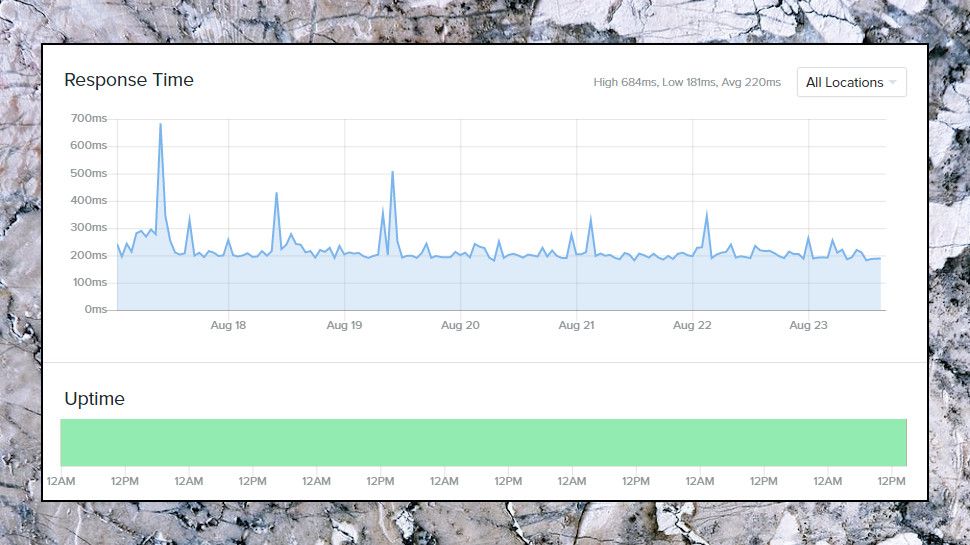 Performance
Name.com's hosting is aimed squarely at the beginner, and that means the company needs to provide the quality support its target audience requires.
The company's knowledgebase is decent enough. Menus and links point you to various topics, featured articles highlight common issues and there's a search box to help you track down what you need.
We tried a few test searches with limited success. The engine regularly reported finding large numbers of articles (148 for 'email'), but these cover all Name.com products, not just web hosting, so we had to scroll through various domain registration and email hosting articles to find what we needed.
The situation picked up once we located more relevant content. There's usually not a lot of detail, but most articles cover the core points, with screenshots to point you in the right direction, and some video tutorials if you prefer.
There's a support team to deal with more complex queries. They're available via telephone and live chat, only for a limited number of hours (7am to 10pm phone and 12pm to 3am Monday to Friday for phone, 2am to 8pm chat), but there's 24/7 ticket support if you need it.
We finished the review by using Uptime.com to check our review site's uptime and speed. The test accessed our site every five minutes over a period of a week, more than 2,000 data points, and found Name.com averaged an average response time of 220ms. With most shared hosting products averaging around 200-400ms, that's a great result, and puts Name.com amongst our top test performers.
Final verdict
Name.com's shared hosting plans don't make any major mistakes, and our test site scored very well in our performance tests. If you can live with the various plan limits then the company might be a sensible choice, but you'll find more features for less money elsewhere.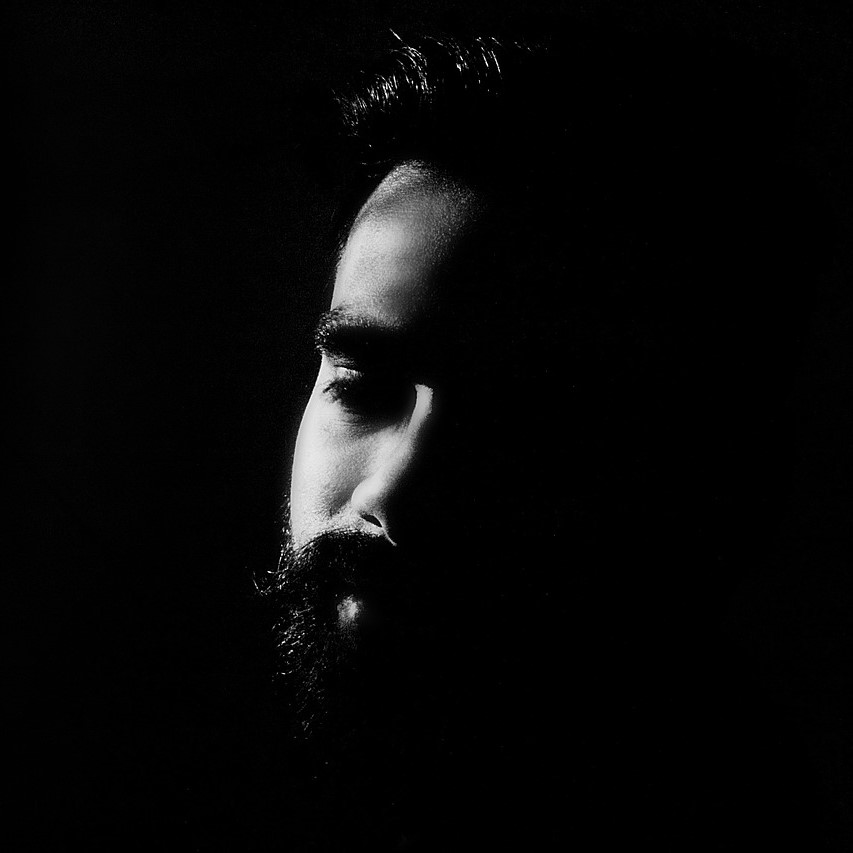 Mike is a lead security reviewer at Future, where he stress-tests VPNs, antivirus and more to find out which services are sure to keep you safe, and which are best avoided. Mike began his career as a lead software developer in the engineering world, where his creations were used by big-name companies from Rolls Royce to British Nuclear Fuels and British Aerospace. The early PC viruses caught Mike's attention, and he developed an interest in analyzing malware, and learning the low-level technical details of how Windows and network security work under the hood.