Based in Lithuania, Hostinger (opens in new tab) is one of the largest hosting providers catering to more than 29 millions users daily. Part of the reason for its continued success is its performance and devotion to customer service.
The company claims an average response time of 143ms for its WordPress (opens in new tab) sites, and an average response time of 50s should you need any help. As admirable as these claims are, our experience was quite different on the Single Shared Hosting plan, and more at par with the shared plans of other hosting providers such as HostGator (opens in new tab), as the average speed was closer to 800ms.
Even so, Hostinger offers lucrative features such as SSL certificate (opens in new tab) and Cloudflare (opens in new tab) protection if you purchase a year-long subscription. In addition to offering an email account, the Cloudflare protection also sets Hostinger apart from most of its peers, which reserve both these features for the higher priced plans.
Apart from 24/7 chat support, you'll most likely find relevant answers to your queries in Hostinger's Help Center, which is home to hundreds of different articles on a range of topics such as site migration, maintenance, performance, working with cPanel, or even Hostinger's own hPanel, and more.
Even the cheapest shared plan includes managed WordPress (opens in new tab), which takes care of deploying updates, and LiteSpeed Cache for WordPress, which is another feature that would attract new and intermediate users looking to deploy a professional-looking WordPress site.
Pricing
Hostinger offers a range of services including shared hosting, VPS hosting, cloud hosting and even specialised hosting solutions such as WordPress hosting, cPanel hosting, etc. When choosing your hosting solution, you must carefully weigh the price of the package and features with your current needs. This is so that you don't end up shelling money out on a plan that supports 25,000 monthly visitors and lets you deploy multiple websites, when you only need to set up a single website, which attracts around 8,000 monthly visitors.
You can get started with the Single Shared hosting plan for as little as $1.39 per month, if you opt for a four-year subscription. The plan is an absolute steal when you consider that it includes weekly backups, 30GB storage space.
The convention with hosting providers is to offer a cheaper on-boarding price for longer durations. For instance, the same plan costs you $1.99 per month if you choose a 24-month subscription. You should also keep in mind that this is only the introductory offer, renewal prices are higher, and vary depending on the duration you choose.
Hostinger doesn't provide dedicated hosting, which is aimed at large enterprises that require vast resources to accommodate their thousands of visitors. Your next best option is to pick from one of the eight VPS plans on offer. The cheapest plan is priced at $3.95 per month for a four-year subscription and includes a single CPU core, backed by 1GB RAM, 20GB SSD storage, 1TB Bandwidth, full root-access and assorted features. The prices get steeper if you want more resources added.
For TechRadar readers only, Hostinger's Cloud Lite Hosting (opens in new tab) plan is $1.79 per month for the first three months and its Premium Shared Hosting plan (opens in new tab) is just $1.79 per month for the first 12 months.
Hostinger's usual price for cloud hosting starts at $9.99 per month for a four-year subscription and go up to $18.99 per month.
The choice of plan will depend on your use case. For instance, if you wish to host a podcast on your website, your only option is to opt for one of the VPS plans as Hostinger doesn't allow the same on its shared or cloud hosting plans.
As with most hosting providers, Hostinger supports payment through Google Pay and most Credit Cards. Payment through debit cards and regional payment gateways or wallets are not supported. Although the hosting provider resisted cryptocurrencies initially, it has now partnered with CoinGate, another Lithuania-based company, and accepts cryptocurrency as payment. However, Hostinger's refund policy states that purchases made using cryptocurrencies are not refundable, which might defeat the 30-day money back policy.
Hostinger "free website" hosting offer: (opens in new tab) $41.88 $0
TechRadar Pro exclusive: Get everything you need to put your business online with a WordPress friendly hosting package that comes with 30GB of storage and 100GB bandwidth. Grab a full refund of $41.88/£41.88 in Amazon vouchers when you purchase Hostinger's single shared hosting package. Terms and conditions apply (opens in new tab). *Initial purchase required
Features
Hostinger's cheapest shared hosting plans boasts of a single CPU core with 768MB RAM. While this might seem low, at $1.39 per month, the plan is aimed at small businesses or professionals who only need a single email account, and expect less than 10,000 monthly visitors. At the same time, 100GB bandwidth means that you can utilize the 30GB SSD storage space to showcase your portfolio and range of services, whether you're a business or a professional.
Hostinger consistently provides features in its shared plans that many competitors don't, such as free email account, weekly backups, two sub-domains, and more. You can use the sub-domains to deploy a blog, or otherwise create a sister website which makes your website look more professional.
All shared plans are hosted on the Cloud Linux 7 distribution, but unlike HostGator that provides a complete list of all installed software and underlying operating system on its knowledge base, Hostinger doesn't publicly disclose this information. Your only recourse is to turn to the help staff for software and version information.
Add-on packages
Once you login to your Hostinger account, click the Store link on the top-bar for a list of additional tools and services to enhance your hosting experience. These include a Business Email, which gives you 10GB email storage, two mail filters, and more.
You can alternatively choose the Enterprise Email package if you want unlimited email aliases, antivirus checks, and other perks. While the basic shared hosting plans only include weekly backups, you can purchase the Daily Backup for peace of mind.
Also on offer is the SEO Toolkit Pro to get the page rank your business deserves. The Whatagraph Data Analytics package can similarly be used to track vital data, build customizable visual reports, and more.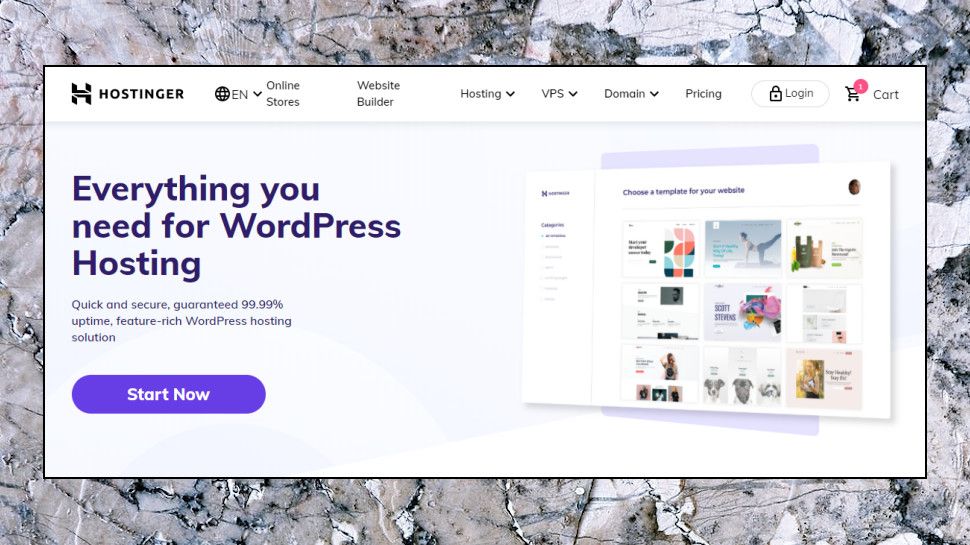 WordPress Hosting
Hostinger's WordPress hosting (opens in new tab) improves on the shared plans in several important ways. Even the cheapest Starter plan (opens in new tab) provides a single Wordpress site, one email account, 30GB SSD, free SSL, WordPress Acceleration, managed auto-updates, and all for $1.99 (4 year period) and $3.99 after renewal.
Upgrading gets you more storage space, support for more sites, and Jetpack Free on the WordPress Starter and Business WordPress plans. You're still restricted in various ways, though the WordPress Pro plan allows for 300 Websites.
The higher plans are notably more expensive, too, at an initial $2.99, $5.99, or $11.59 a month, so it looks to us like the Starter plan is the highlight of the range. Additional features with more expensive plans includes the ability to manage multiple WordPress sites from one dashboard, automatic plugin updates, daily backups, and a Google Ads credit.
Managed WordPress plans from other providers can be more powerful. IONOS' WordPress Pro (opens in new tab) includes advanced features such as staging support (make major changes to your WordPress project without affecting the live site).
All this power comes at a price, though. IONOS has very low prices, but even its most basic single-site plan costs $18 billed monthly, around six times the cost of Hostinger's Starter WordPress plan (though keep in mind that's over four years; opt for monthly billing with Hostinger, too, and you'll pay $7.99.) If you're new to WordPress or working on a small site, start with a simple product, like Hostinger's shared plans. Upgrade to full managed WordPress later, if you feel you need it.
Hostinger business web hosting (opens in new tab) | 4-years | $3.99 per month
Exclusive to TechRadar readers. This is an incredibly cheap deal. You can get a free domain, 200GB storage, unlimited traffic, a free SSL certificate, and daily backups. This package is perfect if you plan to host just one website and grow it rapidly with plenty of features not usually found at this price level.

Servers
More demanding users could try one of Hostinger's semi-managed VPS (opens in new tab) plans. These start with a basic 1 vCPU, 1GB RAM, 20GB storage and 1TB bandwidth setup for an initial $3.95 a month on the annual plan, rising to $8.16 on renewal. Or a very capable 4 vCore, 4GB RAM, 80GB storage and 4TB bandwidth plan for $15.95 for the first four years, $32.76 on renewal.
This is good value, and notably better than we see from most providers. Hostwinds (opens in new tab)' equivalent 4 vCore 4TB VPS starts at $44.99, for instance, and renews at around $50, significantly more expensive.
If even the most powerful VPS isn't enough for you, we would normally recommend you turn to the dedicated hosting plans. But in this case, bad news: Hostinger doesn't have any.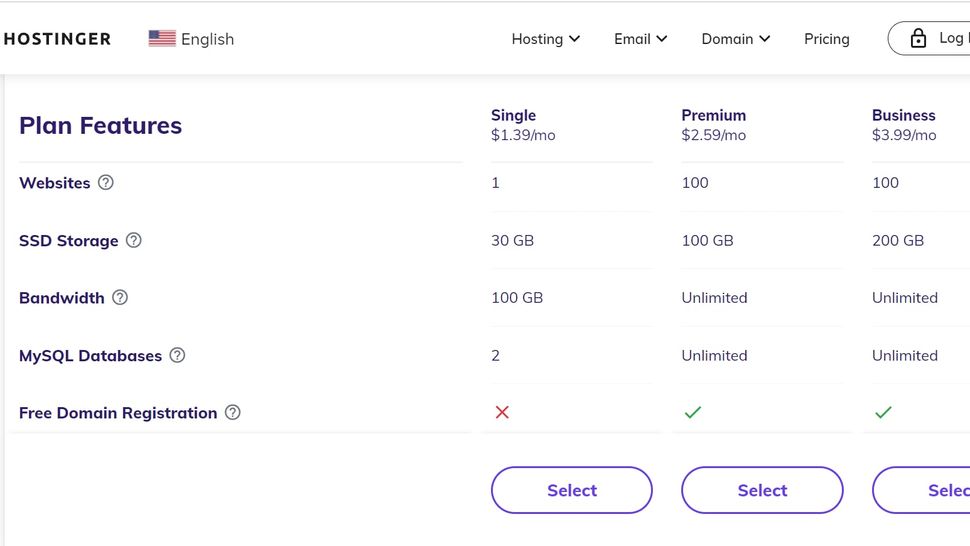 Account setup
While many hosts are annoyingly vague about the low-level details of their packages, Hostinger spells out almost everything in a lengthy comparison table. If you care that the baseline Single Shared Hosting plan only allows one cron job and doesn't support SSH access, for instance, you'll discover that here.
Choose a plan, click Buy and you're presented with various subscription options (usually that's monthly billing along with one, two- and four-year plans).
Mostly these work as you'd expect: the headline price quoted on the site is for the longest term, and you'll pay a little more for shorter subscriptions.
The only significant issue is the monthly plan, which is often so expensive that it's really not worth considering. The annual Single Shared Hosting plan costs a total $35.88, for instance; the monthly plan is $9.49 plus an initial $4.99 setup fee, $14.98 in total, or a total of $33.96 after just three months.
Cloudflare integration is also available on all accounts.
There are plenty of payment options available, including PayPal, credit card, Google Pay and Bitcoin. We chose PayPal and handed over our virtual cash in the usual way. A website link took us to a simple startup wizard and a welcome email quickly arrived with more details.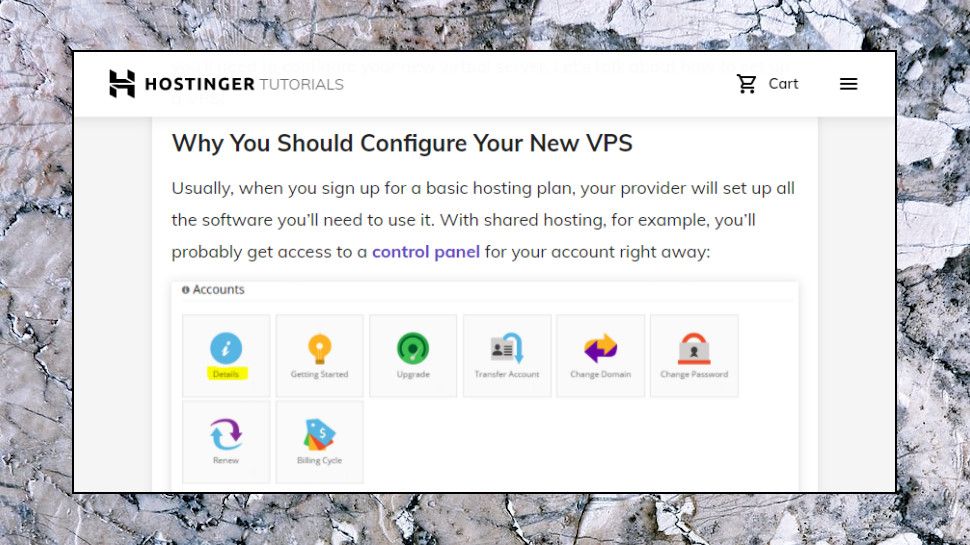 Creating a website
Unlike many hosting providers that default to cPanel, Hostinger instead uses its homegrown hPanel. While it can perform all the same tasks as cPanel, it does take some getting used to, especially if you have prior experience working with cPanel.
To install a CMS such as WordPress, Joomla, etc., you must click the Manage button under the Hosting heading on the Dashboard. Scroll down to the Website section and click the Auto Installer button. The default option is WordPress but hPanel also lets you choose WooCommerce or Joomla. If neither of these CMS's suit your fancy, click Select under Other and then choose the CMS you wish to deploy from the drop-down list.
You must specify the URL for the CMS, as well as a title for your website and set an administrative password. The installer will also let you define the update policy and your choices are to turn off automatic updates -always update to the latest version or update only to minor versions.
If you're uncomfortable deploying a website on your own, you can take advantage of Hostinger's Website Builder, Zyro, to put together a professional website using the drag-and-drop interface. Note, however, that you'll have to separately purchase a Zyro plan to use the website builder.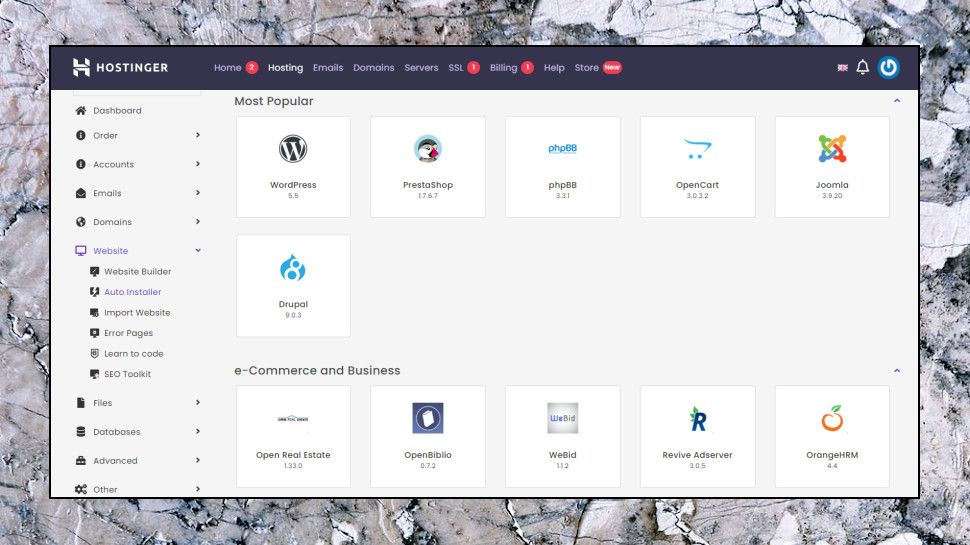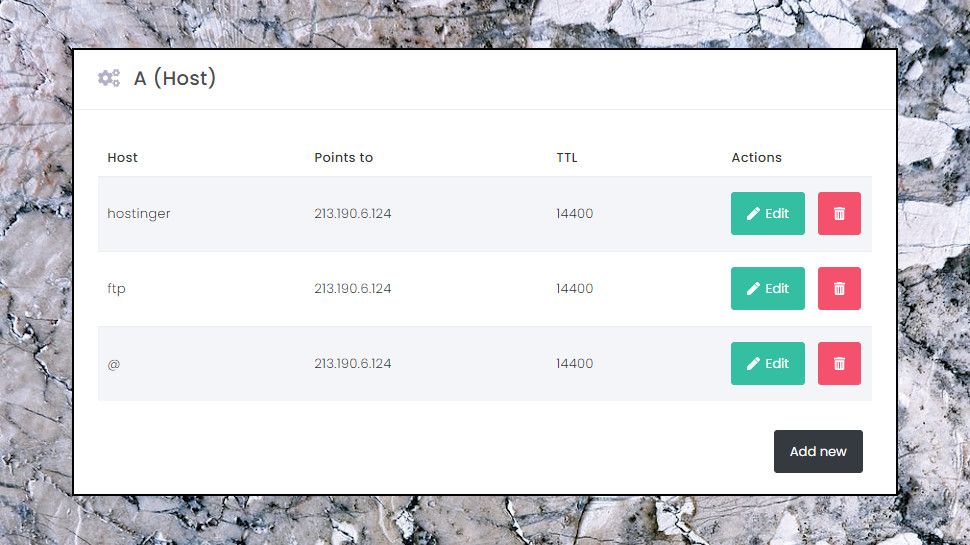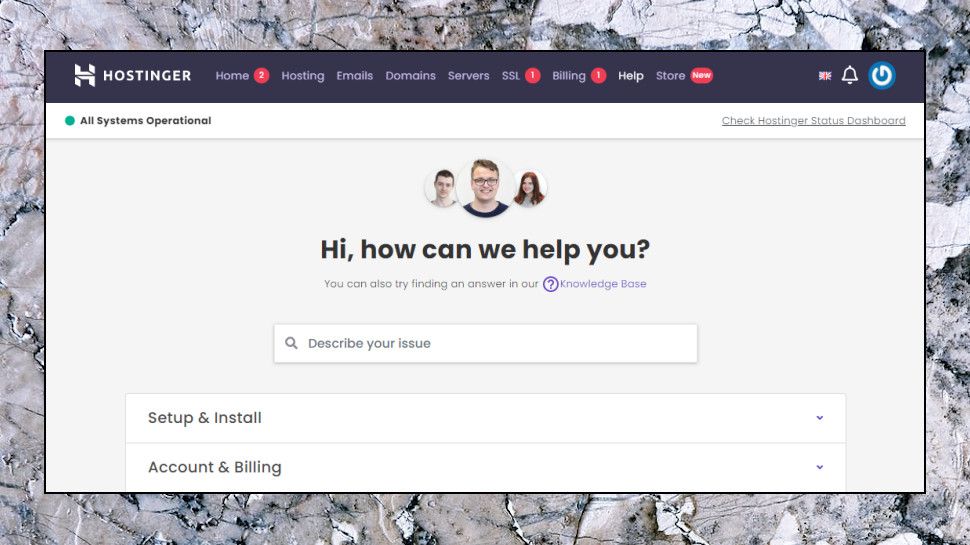 Support
Many hosting providers offer the option to interact with a representative as soon as you land on the website. This allows you to make an informed decision about the plan that might best suit your needs, or make specific inquiries about what's on offer with the different plans. With Hostinger, the live chat is only available to its customers. You can, however, drop a general inquiry to its support staff if you have questions and they will get back to you.
You'll also appreciate the vast repository of information in the Help Center, which is a collection of tutorials and instructions on managing your website and configuring different aspects such as emails, sub-domains, accessing FTP, etc.
In fact, you can search through the Help Center from the convenience of the Dashboard itself. Hostinger will provide results that best match your search query and more often than not, you can easily find the solution you're looking for. If not, the live chat will be quick to address all queries. While Hostinger claims that it takes on average only 50 seconds to respond to the live chat queries, our experience was quite different as we were put in a queue and had to wait for over 15 minutes for a response. If you close the window, as we did, Hostinger informs that the reply will be sent to you via email. We received the email, which was quite informative and useful, after another 15 minutes. The second time we tried the live chat, the response was nearly instantaneous.
If you want more immediate replies, you should consider purchasing the Priority Support add-on, which will cost you $1.99 per month if you opt for a four-year subscription.
You can access the live chat from the Dashboard. The chat window informs you that the usual response time is under one hour.
Something bizarre happened during our tests. Although we were able to initially access the live chat, the feature stopped working out of the blue. While the option to start a chat was still available, clicking on it did nothing. We were forced to file a general query with Hostinger.
The formal reply was to clear the browser cache, or switch the browser! Clearing the cache didn't resolve the issue, but the latter trick worked. We were essentially forced to use an alternate browser just to get a fundamental feature to work.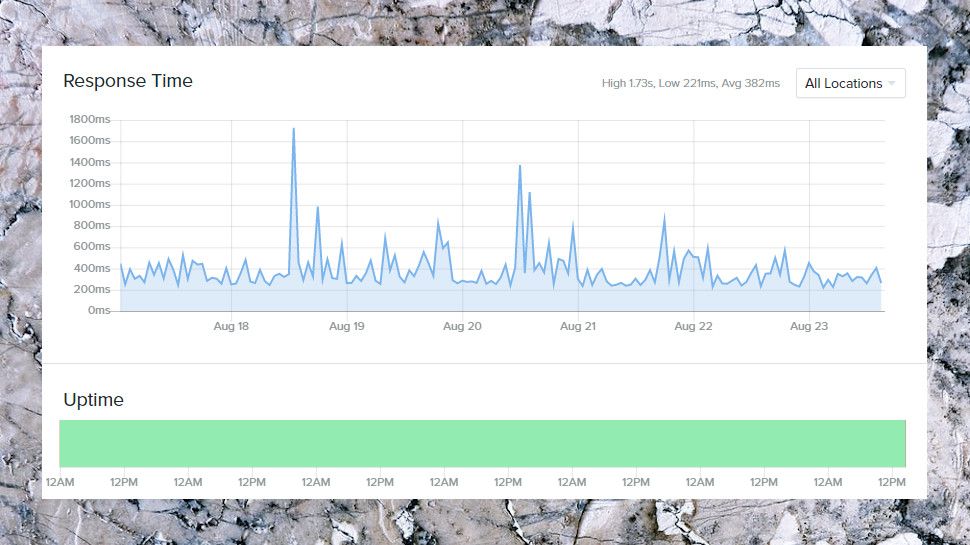 Performance
We rounded off the review by using Uptime.com to monitor our test website from multiple locations around the world, logging response times and any downtime.
Our test site was hosted on Hostinger's most basic shared hosting plan, but still managed a solid 100% uptime record over 10 weeks of monitoring.
Uptime.com recorded a response time range of 171ms to 1.73s, with an average of 382ms, over the last seven days of testing. Starter shared hosting plans typically manage 200-400ms with an average peak of 700-800ms, so Hostinger is clearly on the slow side when it comes to response times.
Page load times matter too, though, so we used Dotcom Tools' Website Speed Test to measure our site performance from 16 locations around the US and Europe. This time the results were much better at 878ms, putting it in the top 25% of providers.
A mixed story, then, but keep in mind these are comparisons based on the cheapest shared hosting plan from each test provider. Some of those plans cost 5x to 10x the $1.39 you could pay with Hostinger, so on balance we think the company did reasonably well.
Alternatives
It's difficult to choose from the different hosting providers, but we've narrowed down five of Hostinger's peers based on their features and pricing.
1. HostGator
HostGator has a similar set of services to Hostinger, but also offers dedicated hosting. Although slightly pricier than Hostinger, it makes up for it with its lucrative features such as unmetered bandwidth and disk space. It distinguishes itself from the competition by offering a 45-day money back guarantee and free domain even in the most basic shared hosting plan.
2. Bluehost
Apart from shared, VPS and dedicated hosting plans, Bluehost also offers WordPress and WooCommerce plans. The add-on CodeGuard plans are pricier than HostGator, but it makes up for it by offering a free CDN service, which is offered at a premium by most hosting providers.
3. GoDaddy
GoDaddy's repository of articles and blog posts complement the excellent support options and the range of services, making it a popular choice for newcomers as well as established businesses. Their starter plans are underpowered, and also have slow server response times, which can become an issue as your website visitors increase.
4. Liquid Web
Liquid Web is a US-based host offering premium managed web hosting solutions that exceed many standards in terms of speed, safety, sophistication, and support. Specializing in fully managed VPS and dedicated hosting solutions, Liquid Web is well suited for medium businesses, but its plan prices may put some small businesses out of pocket.
Final verdict
Hostinger's starter accounts have some significant limits, but they'll still work for some, and otherwise its products offer plenty of features and powerful cPanel-like site management for a very fair price.
Want to know how Hostinger compares to another top European web hosting provider, check out Hostinger vs SiteGround