With nearly two decades of catering to businesses and professionals, Web.com is well versed in the art of getting you online, and noticed. Its website builder service includes hosting space, lucrative introductory offers on essentials such as domain name, daily automatic backups, and more have helped it become one of the most trusted hosting companies.
With the help of its incredibly intuitive UI, you can create stylish, modern pages in minutes with just a few clicks. The builder also offers mobile-friendly designs and ready-made templates to make building a website easier.
Unlike many other hosting companies that provide a range of plans for different hosting solutions such as shared, VPS or dedicated servers, Web.com only provides shared servers. On offer are two shared hosting plans aimed at novices and SMB's and two plans for those looking to create an ecommerce platform.
With so many features promised by the company, one might wonder if Web.com is worth it. In this review, I'll have an in-depth look at this website builder's features and performance to help you decide if it's the right pick for you or not.
Features
The first feature that caught my attention was the DIY website builder. It allowed me to quickly and easily create my own website without any coding or design experience whatsoever! The intuitive drag-and-drop editor made it simple for me to customize my site with different page elements such as text, images, videos, and more. Plus, the pre-made templates were incredibly helpful in getting me started on the right foot.
Another great feature of Web.com is its ability to register custom domains as well as transfer existing domains from other registrars. This allowed me to choose a domain name that was unique and memorable while still being easy enough for customers to remember when they search for my business online. Plus, transferring existing domains was fast and easy thanks to the automated process provided by Web.com.
Having reliable web hosting is essential if you want your website to stay up and running all the time, that's why Web.com offers high-performance hosting solutions that are both secure and reliable at an affordable price point.
Web.com also provides access to Google Workspace which allows you to access popular Google products like Gmail, Drive, Docs, Sheets, etc., all under one roof - making it easier than ever before for businesses like mine to stay connected with clients and colleagues while working remotely or on-the-go. It also offers business email services so you can create professional email addresses using your custom domain name which helps make your brand look more legitimate in the eyes of potential customers or partners!
It can happen in an instant - a power outage or server error can wipe away hours of work in just seconds. That's why one of my favorite features of Web.com is its automatic website backup feature. With this feature, I don't have to worry about losing any information because all changes are automatically backed up daily, so even if something unexpected happens, my hard work won't be lost forever.
Web.com also offers custom website design services so I can create exactly what I want while still being able to use the tools and templates provided by the platform. Plus, with its ecommerce website design features, setting up an online store has never been easier. Whether I'm selling physical products or digital downloads, the easy-to-use tools make adding items and tracking orders simple and efficient.
Having a unique WordPress theme for your site is key to creating a memorable brand experience for your customers, which is why Web.com offers hundreds of customizable WordPress themes perfect for any business or personal blog. Plus, it also provides search engine optimization (SEO) features so that my content will always show up at the top of search engine results pages (SERPs). This helps attract more visitors to my site and increases my traffic over time.
Last but certainly not least is Web.com's pay-per-click advertising service which allows me to reach more potential customers by targeting specific keywords related to my product or service via Google Ads or Bing Ads campaigns.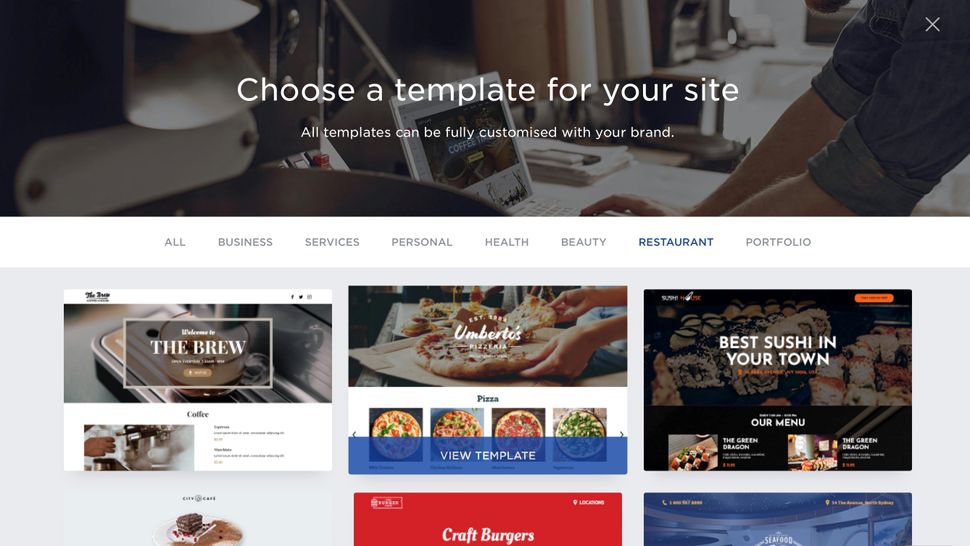 Tools
The first tool I tried out was the business name generator tool. This is a great way to come up with a catchy, memorable name for my business that will help me stand out from the competition. It's easy to use; all you have to do is enter some keywords related to your business and it will generate several potential names for you. You can also customize your search by setting parameters such as length and whether or not you want the name to include a keyword related to your product or service. I was also quite impressed with the platform's WHOIS lookup tool, which allowed me to easily check if domains were available or not, as well as find out information about who owns them and when they expire.
The Business listing tool is another great inclusion in Web.com's builder tools. This feature allowed me to create profiles for my website on popular business listing sites like Yelp and Google My Business so that customers can easily find my website online. It also allowed me to track customer reviews so that I can get feedback on how well my website business is performing and make adjustments accordingly if necessary. Also, I found the Appointment scheduler very helpful in managing bookings and appointments without any additional hassle or cost.
I was especially pleased with the stock images & videos tool since it made finding high-quality images and videos easy, without having to pay for expensive stock photos or footage. Another great thing was the connected social media tool that allowed me to add links to all of my social media channels on my website quickly and easily. With this tool, I could also track how many people visited my website from each one of these channels separately.
Finally, its contact & maps tool allowed me to add contact information along with a map showing where my business is located on my website in just a few clicks; this way customers can quickly get in touch with me or find directions to visit my store if needed. Additionally, Web.com also had options for shipping software, inventory & stock tools that helped me manage these aspects of running a website right from within the platform as well.
Getting started
Having bought your first month and hooked up your account to a domain name, the next stage is to choose the template you'd like to work with. Even though this is a new service, there are already 125 to choose from, all broken down by categories such as "Business", "Services", "Health", and "Portfolio", among others. 'Blank' is also available should you prefer to start from scratch.
Each template is then further divided based on whether you need to create a single or multi-page website.
Once you've chosen your template, you're then introduced to the website builder proper, with a few handy tool tips. You have the option of switching between Desktop, Tablet and Mobile thanks to icons at the top of the page, to see what your creation looks like on various devices.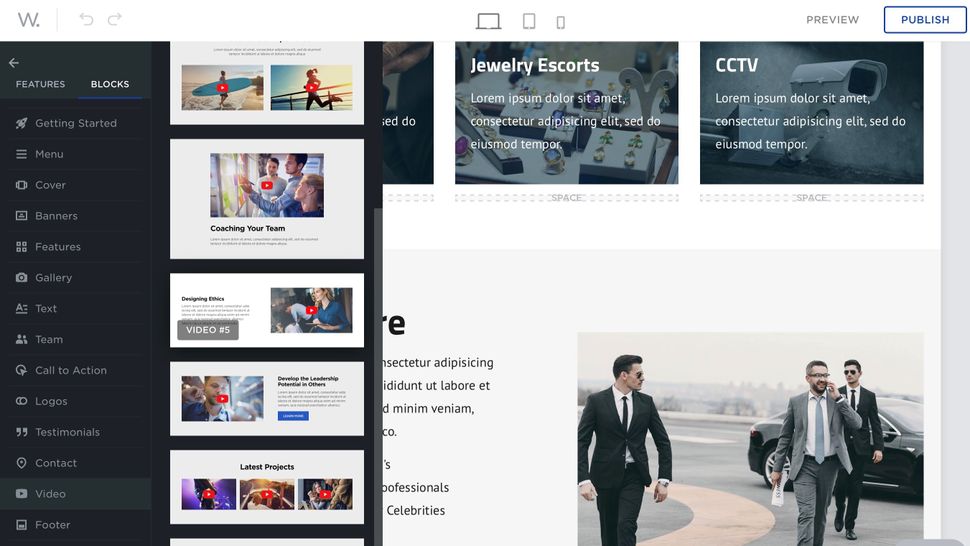 The whole concept of web.com's website creation process is centred around dragging and dropping 'features' or 'blocks'. The Features' titles are pretty self explanatory: Heading, Text, Button, Icon, Slider, etc. Just drag them onto the page, as the right section turns red, release the mouse button to insert that feature there.
Blocks behave in the same way, but come more pre-assembled, with placeholder text and images in various location. This is a great and easy way to add what could be seen as more complex parts of a website - like a navigation menu - in seconds. It's also great to quickly generate sections which you can easily customise, such as Testimonials, a Call to Action, Galleries, etc.
Pricing
I started with the Website Essentials plan, which costs $1.95/mo and renews at $141.99 when billed monthly. This plan came with a DIY website builder and blog as well as 150+ mobile-optimized templates, thousands of stock images, website analytics, and professional email support. In addition to all this, it also offers customer support through email, phone calls, and chat support if you ever get stuck or have any questions. The website essentials plan was great for getting started on the Web.com platform. The DIY website builder was incredibly easy to use and it allowed me to customize my site with just a few clicks of the mouse.
Once I had created my site using the website essentials plan, I wanted to take it one step further so I upgraded to the website and marketing plan for $3.95/mo (renewing at $21.99/mo). This plan includes all of the features offered in the website essentials plan plus logo builder tools and powerful SEO tools that help improve my search engine rankings and visibility online. These additional features are especially helpful for businesses looking to increase their online presence and reach more customers.
The online store plan starts at $9.95/mo but will renew at $29.99/mo after the initial purchase period ends. This plan includes a mobile-responsive online store as well as unlimited products and categories so that customers can quickly find what they are looking for on your site. Additionally, you will have access to secure online payment options and real-time shipping rates – all essential components of any successful online store. This plan also includes custom discount codes, appointment scheduling, and an abandoned cart saver feature that is designed to save lost sales due to shoppers abandoning their carts before checking out. Finally, you'll be able to take advantage of social selling features to help promote your products on popular social media platforms like Facebook and Twitter.
The online marketplaces plan costs $24.95/mo and goes for $44.99/mo when you renew. In addition to all the features included in the ecommerce essentials plan, this plan also includes unlimited inventory locations so that you can track multiple stock levels across different stores or warehouses with ease, marketplace & social settings which allow customers to share product reviews and ratings, automated sales tax calculations, and powerful ecommerce reports that provide detailed insights into customers habits and buying behavior patterns so that you can optimize your marketing efforts accordingly.
Web.com also recently introduced the QUICKSTART web design special offer for business owners who want an easy and effective way to get online.
QUICKSTART is the perfect solution for anyone who needs a website designed and built quickly. The entire process takes as little as 7 days, so you can have your very own professional website up and running in no time. This plan costs $199 and comes with you a custom domain name, hosting setup, and easy-to-use software so you can start building your site right away. Plus, Web.com's experienced designers are on hand to help customize the look of your site according to your specifications. And should any problems arise along the way, there is always someone available to assist with technical support 24/7. QUICKSTART also comes with added benefits such as SEO optimization tools that guarantee higher visibility online and Google Analytics integration so you can track how people are interacting with your site in real-time.
Security
SSL stands for secure socket layer and is an encryption technology that helps protect your data from being intercepted and stolen by hackers or cyber criminals. It also helps verify your website's identity and authenticity, which is important for establishing trust with customers. Web.com offers SSL certificates for every website on its platform making sure that websites are secure and data are encrypted.
Another way that Web.com helps me keep my website safe is by providing comprehensive security monitoring services that scan incoming web traffic for malicious activity 24/7. The service also provides regular updates on the status of my site security so that I can stay informed about any potential threats or issues as they arise. Additionally, when there are issues identified, the team at Web.com is always available to help me address them quickly and efficiently so I don't have to worry about losing any critical data or information due to cyberattacks or other security threats.
Web.com also provides automatic daily backups of my entire website so that if something goes wrong, all of my content is safely stored away offsite and can be restored quickly without any loss of data or functionality.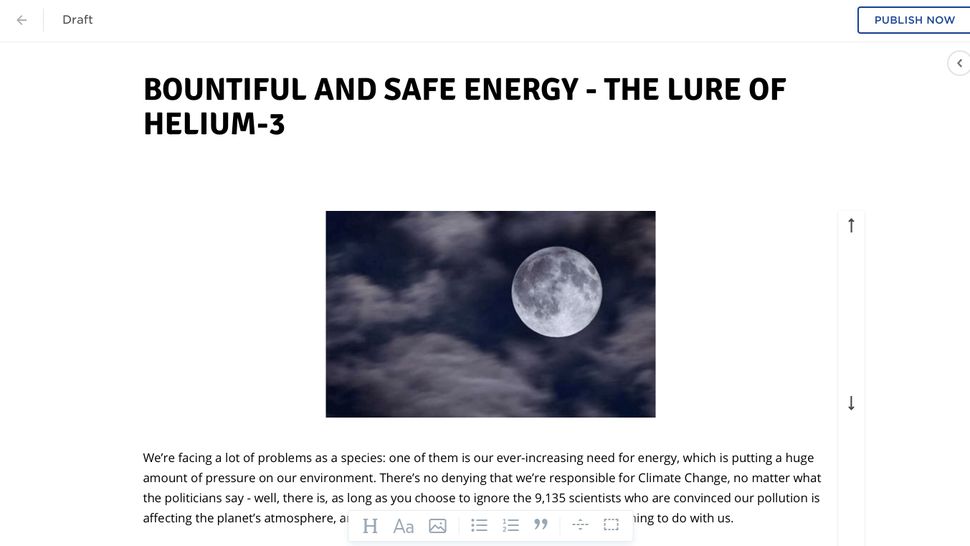 Blogging
You'd be forgiven for thinking web.com doesn't support blogging, but that's because this feature is hidden by default - possibly because it's still in beta. To reveal it, go to Settings in the Sidebar, select Blog and click on 'Enable Blog'. A new Blog icon will then appear in the sidebar and a 'Blog' page will have been added to your site (which you're free to rename of course).
Blogging itself is pretty straightforward. You add a title, write your piece, and pepper it with images. I can add an image above or below a section of text, but can't apparently get the text to wrap around the image.
We also couldn't find a way to schedule a post's publication, add a featured image, or even tags. Although simple and trouble-free, blogging with web.com feels pretty bare bones and definitely earns its 'beta' monicker.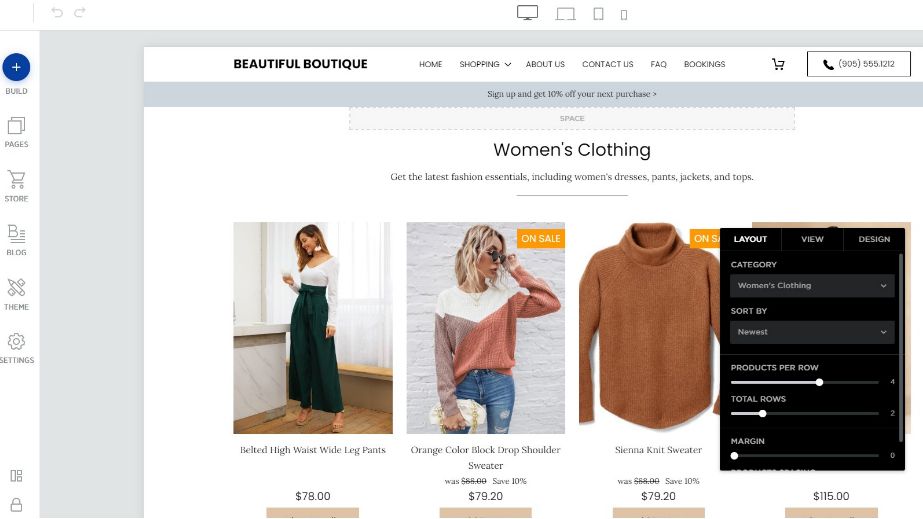 ecommerce
Web.com now has a more advanced ecommerce website builder platform with more layout designs for product and category listing pages. There are more options for customization on the product details pages within the store.
The product is really easy to use and needs no technical skills. Web.com offers a single place where you can manage all the day-to-day tasks of running an online business with its ecommerce software.
On testing out the ecommerce platform, I was able to list products for sale on my test website and on marketplaces like Etsy, Amazon, eBay, Walmart, Bonanza, and Google, managing all customer orders in one place. You can also manage fulfillment, product listing updates, restocking, reporting and more.
Web.com also offers 24/7 automated inventory sync technology - your product quantities will show accurately everywhere they sell. You can also connect to suppliers via Web.com's feed management system to automatically sync product data, order data and tracking details when suppliers fulfills an order.
The SEO tool integrated in Web.com's ecommerce product offers monthly health checks, tracks keyword rankings, and creates a custom action plan to improve site visibility. Payment gateways offered include Paypal, Stripe and Web.com also offer the option for your customers to pay by cash on delivery.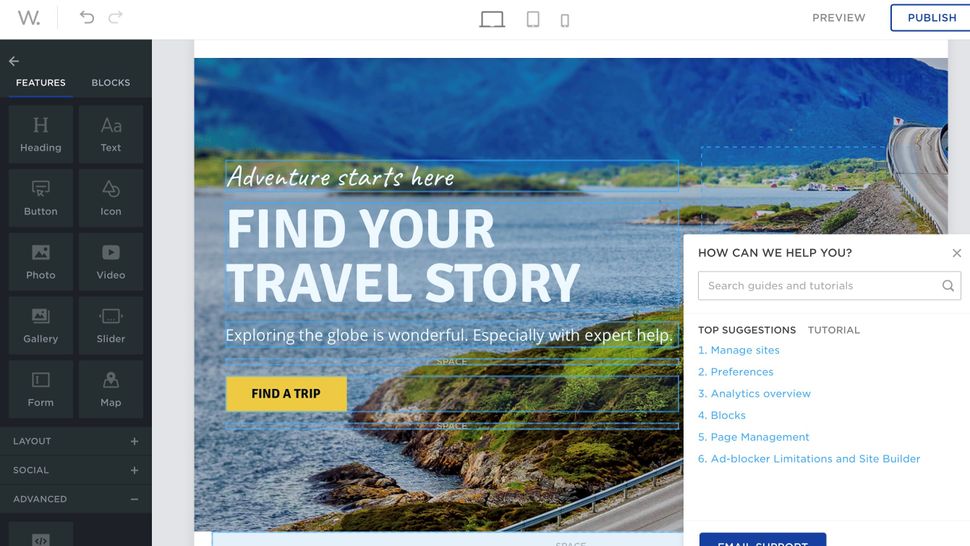 Support
The first thing that impressed me was the availability of customer support options. Web.com offers a wide range of ways to get in touch with its team, including an online chat feature, phone support, and email support. This was great because it meant I could reach out at any time of the day or night if I had an issue or question related to my website build.
Another great thing about its customer support is the knowledge base articles. These resources are incredibly helpful, especially for newbies who don't know much about building websites from scratch. There are step-by-step tutorials for setting up your account, as well as more general advice on topics such as SEO optimization and social media marketing.
Web.com website builder alternatives
WordPress.com is one of the most popular website building tools in the world today, and for good reason. It's easy to use and completely customizable, making it ideal for businesses of all sizes and types. The platform also comes with plenty of features, including customizable themes and plugins that can help you create an effective and attractive website in no time at all.
Wix is another great alternative to Web.com website builder if you are looking for something that's easy to use while still providing plenty of features and customization options. With Wix, you can create a professional-looking site without any coding knowledge or technical skills at all—all you need is a drag-and-drop interface and a few clicks of the mouse.
Squarespace is another excellent alternative to Web.com if you want something that's both powerful and easy to use at the same time. Squarespace lets users customize their websites quickly and easily with its intuitive drag-and-drop editor as well as dozens of templates designed specifically for businesses in mind.
Is Web.com's website builder right for you?
I found web.com to be a very good website builder. Its features and blocks allow you to create a unique and visually interesting page (or series of pages) in minutes. Beefing up the blogging, and offer bulk product imports for the online store, would make it even better. It's a simple, and affordable solution.
Web.com website builder FAQ
How do I create a website on Web.com?
Creating a website on Web.com is easy and straightforward. All you need to do is sign up for an account, select the type of website you want to create (such as an e-commerce store or portfolio site), and then customize it with your own design elements and content.
You can even add features like contact forms, galleries, blogs, and more. Once you're happy with the design of your site, click "Publish" and your new website will be live for everyone to see.
Does Web.com offer a free trial?
Unfortunately, Web.com does not offer a free trial of its website builder service at this time. However, they do offer several different pricing plans to suit any budget, so if you have some money saved up you can try out its service without breaking the bank.
Can I create a web page with Web.com?
Yes. With Web.com's easy-to-use tools, you can create a basic web page in no time at all - no coding experience required.