With tons of templates, an easy-to-use yet powerful editor, and a massive app market, you can create pretty much anything with Wix. Whether it's an online portfolio, a personal blog, a small online store, or a booming business site, Wix has got you covered. Since Wix is a bit pricier than similar one-stop solutions, you can start with the forever-free plan and scale it up later on.
Pros
+

Automatic backups available

+

Built-in SEO tools

+

Easy to use

+

Lots of likable templates

+

A solid set of e-commerce tools

+

There's a free tier
Cons
-

Can't switch your template without starting from scratch

-

Not perfect for large sites

-

Third-party tools will cost you extra
Why you can trust TechRadar We spend hours testing every product or service we review, so you can be sure you're buying the best. Find out more about how we test.
Wix is a beginner-oriented website builder and an all-in-one tool that'll equip you with everything you'll ever need to build a beautiful website. It comes in the package with a web hosting service and a domain name, free or paid.
It offers over 800 templates you can customize as you wish, connect with more than 300 third-party apps, and some superb advanced features such as photo galleries, online scheduling, and member areas. It also covers all core e-commerce tools, so you can create an online store and sell your products or services without a hitch.
The company behind Wix, Wix.com Ltd., has been around for almost two decades. Headquartered in Tel Aviv (Israel), the company started its story in 2006 as a simple site builder that would evolve over years into the online platform we know today. It is one of the best solutions for small and mid-sized e-commerce businesses. As we write, this site builder serves over 200 million users across the world and is available in 19 languages.
Wix features
As a one-stop site-building solution, Wix comes coupled with a cloud hosting service and a domain name. However, to connect a custom domain you'll have to choose one of the paid plans - with the free plan, it is a Wix domain or nothing. Meanwhile, all paid plans include a free domain for a year and they cover the most popular domain names such as .com, .net, and .org.
Another downside of using the free plan or the cheapest one - called "Connect Domain" - is that your site will be swamped with Wix ads, which could sidetrack visitors from your brand. So, if you plan to make money with your site anytime soon, these ads must go away.
Also, all plans come with a free SSL certificate, which will keep sensitive data on your site (such as IDs, passwords, and credit card information) secure. On the downside, storage space is limited with all plans (business-focused solutions too) and bandwidth is unlimited with most plans but not all of them. For instance, if you go with the cheapest solution, you'll get a mere 500 MB of storage space. At the same time, the priciest plan - called "Business VIP" - will get you 50 GB of space and that's all of it.
If an e-commerce site is what you had in mind, you'll have to go with some of the business-focused solutions starting with "Business Basic" and up. These can cover all core e-commerce features and let you sell an unlimited number of products and services. Plus, you can sell in multiple currencies, offer subscriptions, calculate sales tax automatically, and market your products on popular online marketplaces (such as Amazon, eBay, and Wish).
What's more, Wix allows you to accept online bookings for appointments, schedule online services, manage your staff, stream videos, and much more.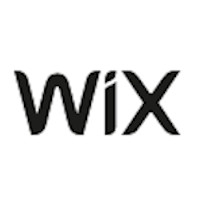 1. Wix - a top-notch website builder
Wix offers some powerful paid plans, starting from as little as $8.50 per month for the Combo plan, which gets you 3GB of storage space, a free domain and free SSL certificate.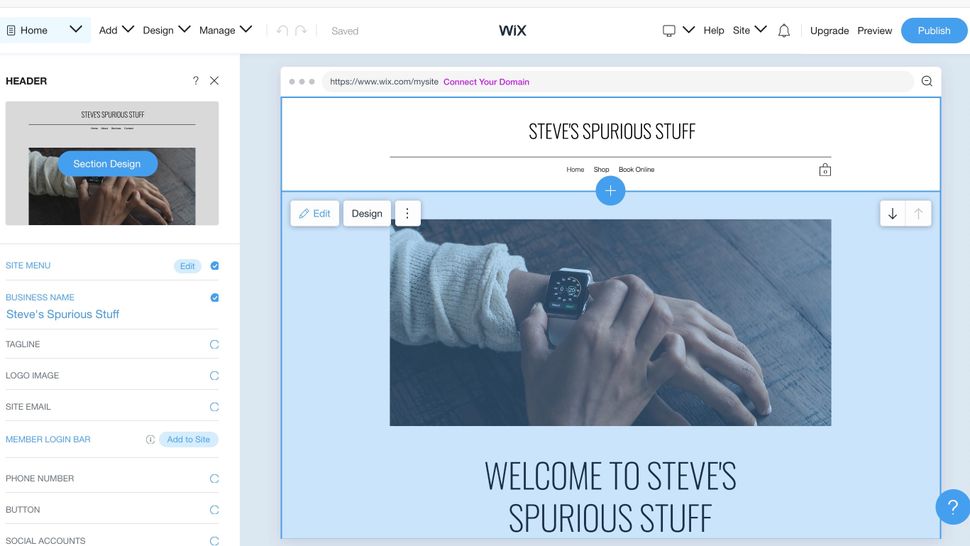 Wix tools
With Wix site builder you can utilize three types of editors to create your site and all of them have their pros and cons.
As its name implies, Wix ADI is an AI-powered editor aimed at beginners who've never used a site builder before. To build a basic site, they'll be asked to answer a couple of questions about the site they wish to create, and that's it. Once it's done, a site will be created for them in no more than a couple of minutes.
Apart from the AI-powered editor, you also have standard Wix Editor and Editor X - their latest addition. Wix Editor is everything you would expect. You start by choosing a template and then customize it to your liking via an easy-to-use editor with drag-and-drop functionality.
Presented to the public almost three years ago, Editor X is the most advanced out of the three editors. It enables users to completely customize their site while making it look superb on all types of devices. You can add new content and remove the old one with no effort at all.
If you're wondering about the ready-made templates, there are over 800 of them to choose from - and they can fit all types of blogs, online stores, and business sites overall.
To make sure your site shows up at the top of Google search results (or close to it), you can utilize built-in SEO tools. It will take you through the process and give you tips and tricks you can use to boost its ranking.
We must also mention Wix App Market as it can add additional features and functionalities to your site. There are over 500 apps on offer covering everything from marketing and online selling to communication tools. And this includes apps created by Wix as well as popular third-party tools such as QuickBooks, Mailchimp, and Google AdSense.
Thanks to Wix's built-in analytics tool you can get regular reports on traffic, sales, booking, subscriptions, visitor behavior, and more. And if you want more, you can install Google Analytics but only if you've purchased the premium plan or up. So, no Google Analytics with the forever-free tier.
Also, Wix Ascend, an all-in-one business solution for Wix website owners is available on the Premium subscriptions in your Wix account. Encompassing over 20 tools in areas like email marketing, branding, SEO, chat and site membership, you can grow your sales online without writing any code.
Is Wix easy to use?
Boasting its beginner-friendly approach, Wix is one of the easiest site builders to use, particularly if you don't mind putting your trust in its AI-powered tool Wix ADI.
To utilize Wix ADI, go to Wix's official site and click on the "Get Started" button. After this, you'll be prompted to answer a few questions about the site you're creating. In a matter of minutes, Wix ADI will build a site for you, though a basic one. So, you'll still want to utilize the editor and touch up your newly created site. You can change colors, images, fonts, and more; add new pages and elements to your site; look around the app market and pick up new tools to integrate.
And if you happen to need a helping hand, Wix's support team is available round-the-clock to all paid users.
Wix pricing: Is it a good value for money?
If Wix's forever-free plan looks too good to be true, it's because it isn't particularly good at all. Yes, it's completely cost-free, but it comes with some serious strings attached. For starters, you're stuck with Wix branding on your site until you upgrade your plan to a paid one. Plus, you can't add Google Analytics unless you upgrade to premium. And if this wasn't enough, you can't connect a custom domain with the free plan - so, it's a Wix.com domain or one of the paid plans.
As for paid plans, Wix provides four personal and three business-focused plans, which is more than you get with other popular providers. The most pocket-friendly plan is "Connect Domain" and it starts at $4.50 (£3.70) per month when billed yearly, but if you're planning to create anything but a small personal blog, we recommend skipping it. It comes with super-small storage of 500MB, 1GB of bandwidth, and unwanted Wix ads.
Other plans can cost you anything from $8.50 (£7) to $35 (£28.85) per month but not one of them comes with unlimited storage space. To get the essential e-commerce features, you'll have to purchase "Business Basic" for $17(£14) per month or up, which is rather reasonable and within the industry's standard.
With all paid plans you can choose between monthly, annual, and biennial billing cycles - as you suspect, the longer you commit, the more money you can save.
While there are no free trials, all paid plans are backed by a 14-day money-back guarantee. There are also some Wix promo codes that could be useful.
As for supported payment methods, Wix accepts all major credit/debit cards (including Visa, Mastercard, and American Express), PayPal, and SEPA debit payments.
Wix ecommerce
Building a web store with Wix seems very simple. Browse an array of templates, add any extra components you need, and the visual previews and sample images make it easy to define the look and feel of your store. Don't be fooled, though: there's plenty of power under the hood.
Wix supports digital as well as physical products, for instance, and also includes services.
Products can be illustrated with videos, as well as images. You can give them custom options (size, colour), a weight or an SKU (a product code to enable automatically managing your inventory.) You can promote them with coupons, organise them into collections, or set up your own shipping and tax rules. Wix supports plenty of payment providers, and even shows you only those available in your area, including their own payment system
Wix stores can't quite match specialist ecommerce solutions (or for that matter the best web hosting providers), but that's no great surprise. The service does make it easy for personal and small business users to start selling online, though, and considering the low price you're paying, that's a pretty good incentive.
Wix safety and security
With Wix, you can be sure your site and all its visitors are properly protected from all sorts of cyber threats. This site builder takes security rather seriously as it comes with a rock-solid set of built-in security features.
All Wix plans come with an SSL certificate and Anti-DDoS protection, which means all sensitive data on your site - such as IDs, passwords, and credit card details - are secure. Also, with two-factor authentication (2FA), fraudulent payments are even less likely to happen.
In addition to this, Wix is PCI-compliant (which is a golden standard for e-commerce) and committed to several international security and privacy regulations.
We should also note that Wix's security staff keeps a watchful eye on all their sites round-the-clock so their users don't have to. Also, since all their sites are automatically backed up, you won't lose your content if something goes wrong.
Wix support
Once you enter your Wix Editor, you'll surely spot small info buttons scattered around - they serve as short step-by-step guides for the editor itself. So, if you get confused, be sure to check these buttons.
As for more personal support channels, Wix provides a 24/7 callback service and live chat support from Monday to Friday, 2 AM - 6 PM (ET). In addition to English, live chat is also available in ten other languages including French, German, and Italian. You can also try your luck on social media sites (mainly on Twitter, Facebook, and Instagram) and Wix's official community forum.
Wix Help Center offers lots of step-by-step guides you can browse via categories (such as "Getting Started", "CRM Tools", "Managing Your Media", and so on) or a search box (which we prefer). The guides themselves seem simple enough with suitable screenshots featured in most how-tos.
Alternatives to Wix
If building a site with Wix isn't fast enough for you, you should consider Weebly. Its editor is equally easy to use but the editing approach is more structured and much more straightforward. However, if you want to give a unique look to your site, Wix is a smarter choice.
If you're planning to start a personal or professional blog, Squarespace is the way to go. Although there are fewer templates, all of them are fully responsive and perfect for all types of blogs. Yes, the editor feels more complicated than with Wix, but it's a small price to pay for a beautiful blog.
Is Wix right for you?
The best thing about Wix is that it has something for everyone. So, whether you're planning to launch a pretty-looking personal blog, a stunning online shop, or a professional site to promote your business - Wix has got you covered.
And if you wish to add features or additional functionalities to your site, you'll likely find what you're looking for in Wix's app store. However, most third-party apps won't come free of charge. Also, Wix doesn't provide unlimited resources with any of its plans, which makes it less ideal for fast-growing and large sites.
While not perfect, Wix is still one of the best site builders and surely worth checking out.
---
Wix website builder FAQs
What are the disadvantages of Wix?
If we leave out the limited free edition, the main disadvantage of using Wix is the lack of mobile-responsive templates. While Wix templates are mobile-friendly, you'll have to work with the mobile view editor to make sure your site looks good across all devices.
Also, once you choose a template, you can't simply go back and swap it for another one. No, with Wix you'll have to start building your site from scratch.
Which is better: Wix Editor or Editor X?
If you're looking for a more powerful editor that'll let you customize your site completely, then Editor X is better for you. However, it comes with a steeper learning curve so it might not be the best choice for complete beginners.
Is selling on Wix worth it?
If you're wondering whether Wix charges additional transaction fees, the answer is no. However, there's a standard processing fee for using Wix Payments to process orders and it's 2.9% of the transaction amount plus $0.30 for the USA. For UK citizens it's 2.1% of the transaction amount plus £0.20. And if you want to check the processing fees for other countries, check the "Wix Payments Processing Fees" section on Wix's official site.
So, is selling on Wix worth it? Yes, it probably is. Wix provides all essential (and some additional) e-commerce features and everything else an online store should have. It's also powerful, superbly secure, and a scalable solution excellent for any e-commerce business.
Is Wix good for SEO?
Wix has a wide range of great SEO tools to help websites rank well in search engine results. Wix gives you the ability to customize your website's meta tags, URL structure, canonical tags, structured data markup, robots.txt file and more.
Can you switch from Wix to WordPress?
There are two ways you can convert your Wix site to WordPress. The first way is by using an automated migration plugin and the second is by using the RSS feed to import all your posts then manually migrate your pages, images and other content on your website. Website owners who built on the New Wix Blog can use an automated migration plug-in by CMS2CMS.
Do Wix sites show up on Google?
Wix websites are search engine friendly, with Wix guaranteeing that all of your website content can be crawled and indexed by search engines (e.g. Google and Bing) whether you have a Premium site or not.
Is Wix payment secure?
Yes, Wix Payments are secure and complies with the Payment Card Industry Data Security Standards (PCI DSS).
Why is Wix so slow?
If you are experiencing a slow loading time on your website, this could be down to the images and media used. If you've chosen high-definition images and videos, it takes up a lot of space. The server first loads the image before loading the site, thus those high-quality images and videos will take more time to load.
Mirza Bahic is a freelance tech journalist and blogger from Sarajevo, Bosnia and Herzegovina. For the past four years, Mirza has been ghostwriting for a number of tech start-ups from various industries, including cloud, retail and B2B technology.