Weebly (opens in new tab) can help you build your website quickly, and is an excellent tool for creating an online store. The App Centre has hundreds of widgets for enhancing and integrating your site with other services, and the integrated web store enables selling any combination of physical products, digital downloads, and services.
Signing up for Weebly is easy – just provide your name, email address and password – and the company doesn't hassle you with welcome emails or confirmation links, or direct you to an account area.
Instead it immediately kicks off the site creation process by asking you more about your requirements. The service has plenty of supporting features, too, covering marketing, SEO (opens in new tab), social media and more. There are even custom iOS and Android apps to enable building, editing and managing sites from your mobile device.
Plans and pricing
The great thing about Weebly is there's a free plan (opens in new tab) you can try for an unlimited time. No credit card information is required, and you can always upgrade to a paid plan whenever your website needs more support. The free version comes with an SSL certificate (opens in new tab) which is great - most web hosts will only include that extra security in the paid plans
The Connect plan (opens in new tab) costs $10.00 per month when billed annually. It includes your own domain name. Similar to the free version, there's an option to add third-party embedded code to help track your site's performance.
The Pro plan (opens in new tab) costs $12.00 per month when charged annually and is a great option for small businesses looking to grow their SEO and reach of their website. This plan comes with unlimited storage space, advanced statistics, password protection, and no Weebly site advertisements.
The Business plan (opens in new tab) is the highest web hosting plan listed. It costs $25.00 per month when billed annually - quite the jump from the other plans. However, this plan comes with advanced SEO, priority customer support, and accepts payments through PayPal. If you're looking to build a website that's super powerful and does almost anything, then this is the plan for you.
Getting started
Signing up for Weebly is easy – just provide your name, email address and password – and the company doesn't hassle you with welcome emails or confirmation links, or direct you to an account area. Instead it immediately kicks off the site creation process by asking you more about your requirements.
This starts by choosing a template. You initially get a choice of dozens, divided into categories – Business, Portfolio, Personal, Event, Blog, Other.
The editor starts by asking you to choose your website domain. You're able to register something new, or use one you own already. Not ready to decide yet? Just close the window and make your choice later.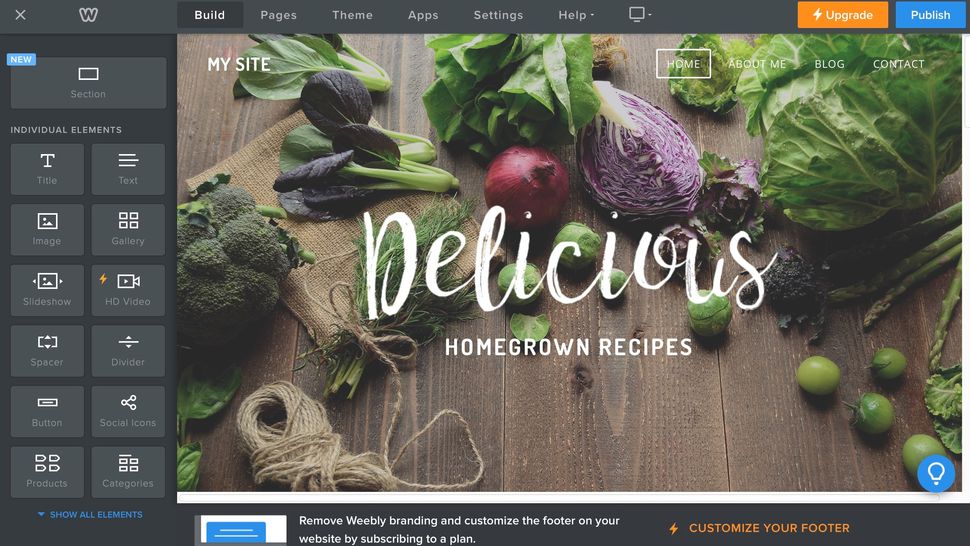 Interface
Weebly's interface is well organised and its basic operations are similar to other website builders. A left-hand sidebar contains assorted objects and items you can drag-and-drop onto your pages. A top-level menu gives access to other website management features (Build, Pages, Theme, Apps, Settings, Help). Your site is displayed in the body of the page, and you're able to click on images, text and anything else to edit them or change their properties.
While the editor doesn't give you full control of where you place most components on a page, you still have lots of options. Browse Weebly's website and you'll find the lists of features pretty easily. You can't simply drag-and-drop an image to a defined pixel position on your page, for instance. Instead you drag a container above or below one already on your page.
You can align an object within that container, and perform minor adjustments. This keeps life simple, but might be limiting for some people.
Worse though, is the absence of an Undo feature. Accidentally deleted a component? Tough luck – you'll have to manually restore it and any custom settings you might have made.
That doesn't mean to say the whole interface is problematic. There are parts we really liked, such as the way you change and manage pages. You're not required to work through a page manager: just click the Blog link in your website menu, and you're taken to that page directly.
Weebly does have a separate page manager though, which is also well designed. It displays your pages in a sidebar, so your current page always remains accessible and in full view. You can add new pages and drag-and-drop others to rearrange them, and the menu bar is updated right away – easy.
Media
Weebly has a few image editing tools, like cropping, applying one of dozens of filters, performing some basic adjustments (like brightness, saturation and contrast), adding text, and applying a blur to specific parts of it. There's enough here to cover the basics, and more.
The App Centre gives you more media options. Weebly's standard audio player only handles a single MP3 file, for instance, but there are apps that can handle playlists, support streaming from other sites, or even stream digital content from your own store. It's good to have these available, but they're not always a viable solution. Many have restrictions unless you pay for the Premium version.
Sadly, Weebly has no central library for any media you upload, something which is ideal if you like to reuse media on several pages or sites. Instead you're left to manage files locally and upload them each time, showing that there's plenty of room for improvement here.
Blogging
Weebly's blogging component didn't immediately impress us. It's plain-looking, and doesn't come with any post templates, so you have to manually drag-and-drop titles, text blocks, images and so on, to suit your needs, in a same way you build your other pages, just without any templates to guide you.
Posts can be published immediately or scheduled for later. There are also per-post comment settings enable turning comments on or off (or have them require your approval).
Ecommerce
Setting up a web store can seem intimidating, even for experienced users, but Weebly does its best to break the job down into manageable tasks.
Adding products doesn't have to involve manually entering them one by one. You can import an existing product catalog from Etsy, Shopify, Square or generic CSV, more functionality than you'll get with many specialist e-commerce platforms. And you can export your catalog to CSV, too, which is good news if you ever decide to leave Weebly and take your store somewhere else.
The store has plenty of features. You can deal with physical products, digital downloads, services, donations, memberships, events, and there's even a special section for 'prepared food and beverages'. You're able to set up current and sale prices, assign a weight, mark something as tax-exempt, or define your own extremely configurable product options (you can set up dropdown lists, give multiple choices, allow colour choices or text input).
Shipping tools are very flexible. You can set up as many shipping regions as you need, each with your choice of countries, and each region can have its shipping charges based on a flat rate, item quantity, product weight or the order total, with the possibility to offer free shipping under certain circumstances (the order being more than a fixed price).
Tax management is equally versatile, with the ability to set up multiple store locations and manually set custom rates for every country you support (US taxes are calculated automatically).
Conveniently, Weebly doesn't force you to upgrade before you can even see how a feature works. The free plan doesn't offer you a store, for instance, but you can still experiment with the options, enabling you to fully understand what's on offer before you have to part with any cash.
Support
Clicking Help in the Weebly editor opens the company support site in a new browser (opens in new tab) tab. The web knowledgebase has a convenient search field, and contains a lot of articles, some of which are more relevant than others when performing a search for a specific subject. But when you find the information you're looking for, the article is clear, and peppered with images to guide you through the process.
If this isn't enough, you'll find a link to the Community Forum at the end of the page. There's also an automatic AI-control contact system, which we didn't find was really that helpful at all.
Final verdict
Weebly's stylish temples get your site off to a good start, there are plenty of features to help take the project further, and overall this service needs to be on your shortlist, but there are quite a few niggling aspects to this service as well - the worst offender being the lack of an undo function.