GoDaddy is an extremely well known domain name and hosting provider, but you might not be aware of their Website Builder service, so let's explore this side of their business, which you can do for free…
Pros
+

Easy to use

+

Vast array of simple customisability

+

Complex features are all taken care of for you

+

Free for a month
Cons
-

Lacks customisability for more pro-needs

-

Preview options are pretty poor

-

No permanent free option
Why you can trust TechRadar We spend hours testing every product or service we review, so you can be sure you're buying the best. Find out more about how we test.
GoDaddy is an extremely well known domain registrar and web hosting provider, but you might not be aware of their website builder service, so let's explore this side of their business, which you can do for free…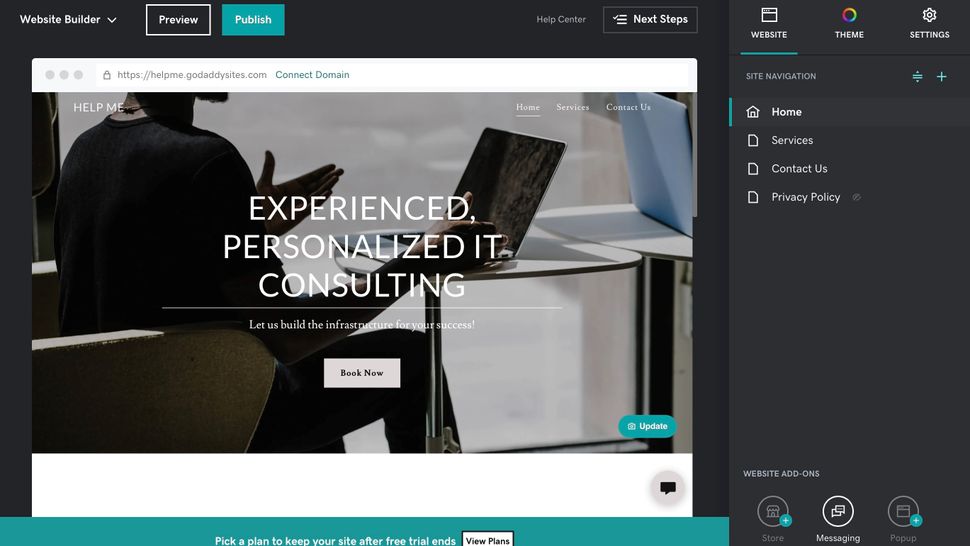 Getting Started
After having answered a handful of simple questions, GoDaddy creates a few sample pages for you, which can all be seen in the sidebar to the right.
The interface is very simple to use and understand: to edit a page, simply mouse over a section. As it highlights, click on it. The tools you need either appear in the sidebar, or hover near the highlighted section itself. This makes it one of the easiest website builder platforms around, and provides the tools you'll need to quickly build your website.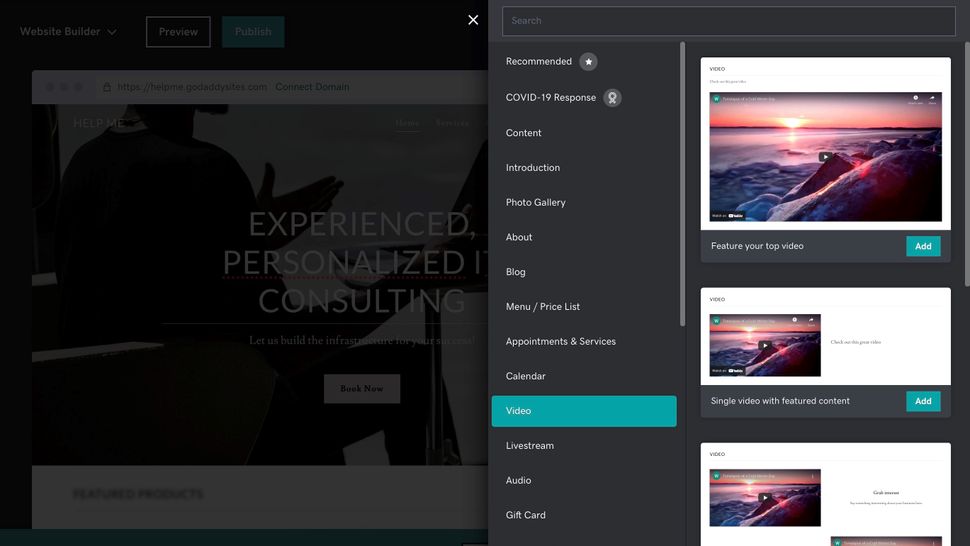 There are chevrons to reorder your pages' sections, and a big plus between sections to add another. You're offered a list of different types of sections to add to your page, such as Introduction, Photo Gallery or Livestream, with most offering you various layouts to choose from.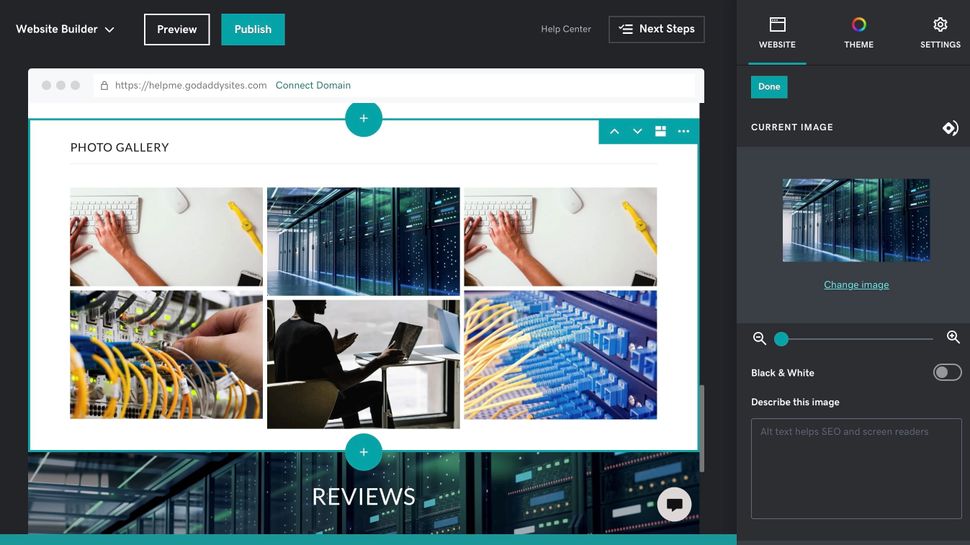 Adding a gallery is a very easy affair: choose it from the 'Sections' menu, select the look you prefer, and GoDaddy automatically populates it with stock media based on the business description you typed in when you first set up your site.
Obviously you can customise this, either by adding your own photos or choosing different stock images. Each one can be individually captioned. The only image processing you have at your disposal is to set photos to black and white, and crop them. If you need to edit them more extensively, this has to be done outside of this service.
It's basic, but is works and it looks good.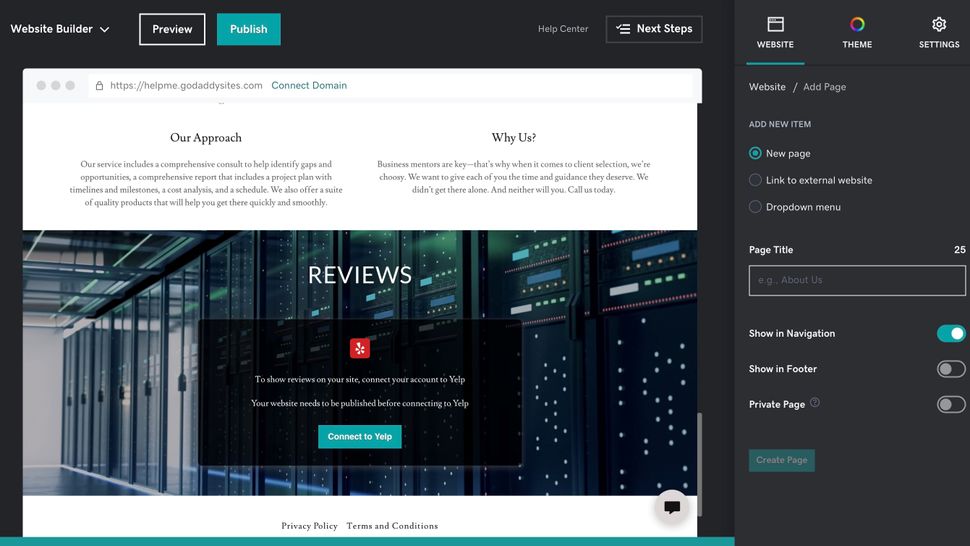 The '+' top right of the Sidebar not only allows you to create new pages for your site (there doesn't appear to be a limit to how many you can have), you're also given a choice how the information is presented in the navigation menu, and even have the ability to add a URL or even create a drop down menu.
Placing links to pages in the Footer is another option, and so it making a page private - this means that only specific people which you invite can see those pages.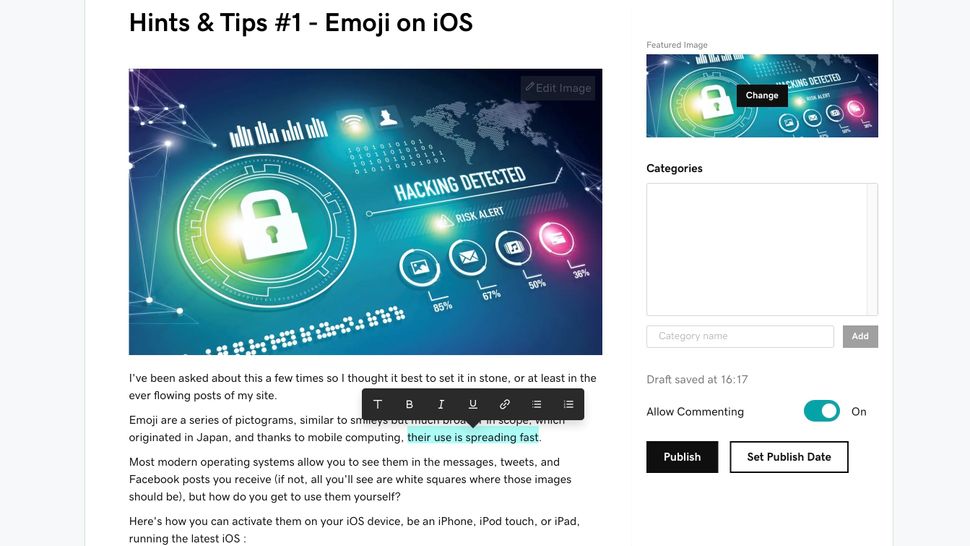 Blogging
The blogging section is quite nice, and if your needs are simple, you'll be very happy with this feature.
Everything you need to create a blog is right there: adding headings, URLs, bold, italicise, bullet points or numbered list, you've got it.
We quite liked the fact you can add images within your post and even choose how to align them - to the left or right of a paragraph, or on its own. You also have the option to add a caption and crop the image (by zooming into it). Sadly there doesn't appear to be a way to resize the image so it sits better within your page.
Videos can also be inserted just as easily. You can upload them just as you would an image, or paste the video's URL (this works for most sites we tried).
Once written, you have the option to publish your post immediately, or schedule it, which isn't something we don't see in many free plans.
Shopping
Activating the Shopping section is done differently than any other, by clicking on its button, bottom of the sidebar. For such a complex addition to any site, it looks pretty simple to use. If you've got a Square account, you can import your inventory from there, which would be an excellent time saver. CSV files are also supported.
Adding a new product manually is very straightforward, be it physical or digital. There's a place for photos and videos, a description, category, inventory, variations, shipping cost, and even additional extras like engraving or gift wrapping.
When it comes to accepting payments, GoDaddy offers you three options: PayPal, Stripe or Square, with very clear descriptions as to which service offers what. PayPal is selected by default when you create a store. There's also an 'offline payment' option (cash/check/bank transfers), should you prefer.
Appointments
There's a very clever feature to GoDaddy's Website Builder and that's Appointments. This allows you to set up and schedule client meetings, one-off classes and recurring courses. Everything can be done online, even payment.
Clients are sent email reminders automatically, and you can set up when you'd like those reminders to be sent. Additionally, text messages can also be used - but this feature could incur a cost.
Publishing
When it's time to publish, your free options continue since GoDaddy will host your site for you and give you a [yourbusinessname].godaddysites.com URL. If you want to connect your site to a specific domain name however, you have to pay for the privilege.
Plans and pricing
GoDaddy allows you to explore its website building service free for a month. When you're ready to upgrade, four plans are open to you:
The first one is called 'Basic'. It costs $9.99 (£9.99) a month. This plan includes up to 100 email marketing sends a month, 5 social posts, and 1 social media platform support.
'Standard' costs $14.99 (£14.99) a month and provides more flexibility and space to grow your website, offering increased limits for email and social media, as well as built-in SEO options.
'Premium' costs $19.99 (£19.99) a month and supports unlimited social media platforms and posts, as well as up to 25,000 email sends a month. There are also additional features, such as recurring appointments, one-time group events, payments for appointments, as well as reminders.
Finally, 'Ecommerce' goes for $24.99 (£24.99) a month and expands on the above by offering a range of ecommerce features, such as product listings, flexible payments and shipping, promotional features, as well as marketplace selling.
Don't forget to see how the plethora of GoDaddy promo codes around can help you save too.
Final thoughts
If you're on the lookout of a service that allows you the flexibility and creativity to design your own web presence, with a flexible layout that will look good on any screen, you should definitely take a look at GoDaddy's web builder offering.
You might also want to check out our other web hosting buying guides:
Chyelle works as a freelance writer for The Daily Beast and edited articles for Forbes, Inc.com, Fox News and other review sites. She researches products and services related to internet consumption and works on TechRadar Pro on SAAS offerings.