TechRadar Deals: Get £150 off an iPhone 6 and lots more!
Pick up a hot deal today!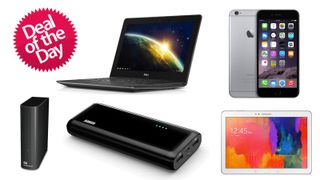 Check out the latest UK tech deals for today here!
Yesterday we had a bargain on the world's thinnest smartphone and today we've got a great deal on an iPhone 6, so let's jump right in.
TODAY'S HOT DEALS
iPhone 6: Carphone Warehouse is currently running a secret deal on the iPhone 6. The normal starting price on a Vodafone contract is £30.50 a month and £150 up front. But using the secret code IPHONESAVE150 you can snag the deal without paying that £150 up front fee, making the iPhone 6 completely free! Get the deal at Carphone Warehouse
Android tablet: We've found a good deal on the excellent Samsung Galaxy Tab Pro 10.1-inch Android tablet. You can currently save £70 on the asking price and bag one of the best tablets around for just £229.99 at Currys.
External hard drive: If you have lots of video and music on your computer, or if you handle large images and graphics, you need plenty of storage at your disposal. So how about the WD Elements USB 3.0 drive. It offers 5TB - that's 5000GB - of capacity and it's currently £43 off - making hte price £119.99 at ebuyer.com
Laptop: If you need a cheap and cheerful new laptop, you can't go wrong with a Chromebook. And Dell is currently offering a great price on its own Dell Chromebook 11. The original price was £179 but you can now pick it up for just £125 at Dell.com!
Portable charger: And finally, another excellent deal on a portable charger for all those times your phone is low on battery and you're away from a wall socket. The Anker Astro E5 has a 16000mAh capacity meaning its battery can charge an iPhone 5S over 7 times without needing a refill! Get it now for just £23.99 at Amazon.co.uk
MORE DEALS
Sim Free Sony Xperia T3 Mobile Phone - Black £189.95 @ Argos
micro/mini usb mains mobile phone charger - £1.00 with free delivery @ Argos ebay
Dyson Allergy Kit - HALF PRICE - £22.00 @ Dyson
Thrustmaster T80 Racing Wheel for PS4 - £59.99 delivered @ The Hut
LiteOn IHAS124-14 SATA 24x half-height Internal DVD-RW Drive Black - £10.26 @ Amazon
The Sopranos - HBO Complete Season 1-6 [DVD] [2007] - £35.14 from amazon
Duracell MN1500 Plus Power AA Size Batteries--Pack of 32 - Reduced down to £11.96 at Amazon
Acer Aspire XC-115 Desktop PC - Is reduced down to £99 at eBuyer
OPPO R8106 R5 16GB 4G UK SIM-Free Smartphone - Silver - Now down to £289.99 on Amazon
Thrustmaster T300 RS Racing Wheel For PS4 & PS3 - £189.99 delivered @ The Hut
Xbox One Console Inc Assassins Creed Unity and Assassins Creed 4 Black Flag + Forza 5 GOTY + Halo Master Chief Collection £299.86 @ Shopto - £299.86 at Shopto
Apple MGEM2B/A Mac Mini (Intel Core i5 1.4GHz, 4GB RAM, 500GB HDD, Mac OS X) - £373.99 at Amazon
Lenovo Ideatab A8-50, 8" Tablet, 16GB, WiFi , Blue Now £79.00 Free CnC @ Tesco Direct - For only £79.99 at Tesco
GM550 Non-Contact IR-Infrared Digital Thermometer - Reduced down to £12.96 at Amazon
Xbox One Console (White) Special Edition Sunset Overdrive Bundle for Xbox One - Now only £255 using code MARGIFT20 at Rakuten
Wacom Intuos Creative Stylus - Black - For as little as £19.99 at Amazon
64GB Mirco SD with adapter - £19.99 delivered @ 7Dayshop
Salter 800w Whole Fruit Juicer (RRP £79.99) - Now £20.00 Free C&C @ Matalan
Vodafone Smart 4 Turbo Pay as you go Handset - Black - £54.99 from Amazon
Deals on Games
Bayonetta 2 for Wii U - £24.98 - via Amazon.co.uk (£22.95+£2.03 P&P)
Monster Hunter 4 Ultimate Nintendo 3DS (Using Code) - £24.16 @ Rakuten/Base Use: MARGIFT5
Train Sim 2015 Steam Edition - Save 85% £5.25 @ Steam
Dying Light (Steam) £19.94 with 5% Facebook code @ CDKeys For £19.94 when you Facebook Like
(3DS) The Legend of Zelda: Majora's Mask 3D - £26.05 With Code - TheGameCollection Use Code : COMEGETSOME (Code Expires Midnight Tonight)
The Evil Within PS4/Xbox One Limited Edition for only £21.99 at GAME
(Xbox 360) Aliens: Colonial Marines Limited Edition - £2.86 - Shopto
(PS4) Sleeping Dogs Definitive Limited Edition (Includes Artbook) - £14.86 - Shopto
THE CREW XBOX ONE GAME BRAND NEW SEALED - £17.99 on eBay
(PS4/Xbox One) Wolfenstein: The New Order Occupied Edition - Down to £14.99 at GAME
The Walking Dead. Game of the year edition - £18.70 Delivered @ Tesco Direct PS4
Sign up to receive daily breaking news, reviews, opinion, analysis, deals and more from the world of tech.