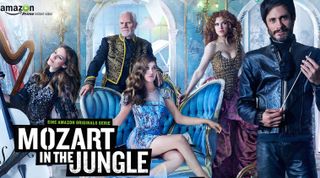 Real talk: Maybe you didn't buy a subscription to Amazon Prime for its accompanying video streaming service, Amazon Prime Instant Video. It could've been a complete afterthought, and, if we're being honest, you might've considered overlooking the service completely in favor of Netflix, the staple service for streaming video.
First off, be glad you didn't pass up on Amazon's video service. Just because Amazon's Prime Instant Video library isn't as extensive as Netflix doesn't mean it lacks its own stable of quality content. From original content like Transparent, Alpha House and Mozart in the Jungle to HBO favorites like True Blood and The Wire, and new shows and movies added every month, there are plenty of excellent series to watch after you finish ordering that last-minute birthday gift from Amazon.
But before we divulge our favorite new shows and the best new films, let's talk about what Amazon Prime Instant video is, how to get it and how much it's going to cost.
Prime Instant Video price and how to get it
Amazon, the major online retailer that sells everything under the sun and can ship almost anything in under 24 hours, has two video streaming services, Amazon Instant Video and Prime Instant Video.
The former is a video rental and purchasing platform implemented a few years back to sell digital copies of movies and TV shows directly to consumers without the need for physical copies. You're able to rent content for a few hours for a couple of bucks or, if you'd rather own it indefinitely, purchase the content outright.
The latter, Prime Instant Video, is a bit smaller than Amazon's digital marketplace, but works like an all-you-can-eat buffet for Amazon Prime subscribers. Essentially, as long as you shell out the $99/£79 per year asking price, you'll get a front-row seat to hundreds of TV shows and movies all without ever worrying about how much it's going to cost.
So how do you start? Head over to Amazon Prime and sign up for the 30-day free trial to see if the service fits your need. After 30 days, you'll start an annual subscription at full price.
Now, if you're new to Prime Instant Video, skip down to the "best shows and movies" sections found below. If you're a veteran binge-watcher, however, and are just looking for something new, here's every new show and movie coming to Amazon this month.
New TV shows and movies (updated for July)
Here's all the shows and movies coming to Amazon Prime Instant Video in the month of July, sorted by chronological order:
July 1
Butch Cassidy And The Sundance Kid (1969)
Downton Abbey (Season 5)
Drive Me Crazy (1999)
The Day The Earth Stood Still (2008)
Thumbelina (1994)
Bulworth (1998)
Heidi (2005)
Wayne's World 2 (1993)
48 HRS. (1982)
The Bad News Bears (1976)
The Brady Bunch Movie (1995)
The Butcher's Wife (1991)
Cadillac Radio
Dirty Dancing (1987)
Dragonslayer (1981)
Flashdance (1983)
Friends & Lovers (2005)
Harlem Nights (1989)
Heaven Can Wait (1978)
King Kong (2005)
The Odd Couple (1968)
Star Trek VI: The Undiscovered Country (1991)
Stuart Saves His Family (1995)
UHF (1989)
The Warriors (1979)
July 2
Annedroids (Season 2)
Glory (1989)
Underworld Evolution (2006)
July 3
Gandhi (1982)
Dr. Strangelove or: How I Learned to Stop Worrying and Love the Bomb (1964)
July 5
July 10
July 11
July 16
Boardwalk Empire (Season 3)
True Blood (Season 5)
July 18
July 23
The Newsroom (Season 1 and Season 2)
Jim Norton: Contextually Inadequate (2015)
Best TV shows on Amazon Prime Instant Video
There's no shortage of great series on Amazon. There are so many in fact, we've even written a whole article about it. (See: The Best Amazon Prime Instant TV series.)
But to save you a few clicks and some precious seconds, here are the top three shows you absolutely need to watch the second you subscribe to Amazon Prime Instant Video.
Transparent (Season 1)
Transparent is everything you want in a TV show. It's funny, it's heartfelt and, most importantly, it tackles an issue that doesn't get a lot of attention: transgenderism. As likely to make you cry as it is to make you laugh, this excellent drama follows a divorced man (played by Jeffrey Tambor) as he attempts to tell his conceited children about the emotional anguish of feeling like a woman in a man's body.
The Wire (Seasons 1-5)
Following the "infrequently seen, but needs to be discussed" category is The Wire, a show that premiered on HBO in 2002 that cut its teeth on the topics of race and racism in the eyes of the law. Even though the show's last credits rolled seven years ago, there's a level of pertinence that echoes in the Zeitgeist of police shootings that pop-up all-too-often in the news.
Alpha House (Seasons 1-2)
While we love TV with real purpose, craftsmanship and a philosophical undertone, sometimes it's nice to sit back, relax and watch John Goodman do a near-perfect interpretation of a Southern congressman dealing with the red-tape and dirty politics on Capitol Hill. Need permission to binge-watch both seasons? Motion granted.
Best movies on Amazon Prime Instant Video
Amazon Instant's video library is an immense place filled with amazing classic films from the golden days of the silver screen and topped off with a splash of modern-day masterpieces. While there's not enough time to dive into the deep-end with Amazon's library, here are three of the best films you can find on Prime Instant Video that you can't miss.
Blade Runner
"What makes a man human?" While Descartes may have summarized it the most eloquently in his five-word declaration "I think therefore I am," it wasn't until director Ridley Scott took Philip K. Dick's "Do Androids Dream of Electric Sheep?" that a work of art so skillfully took a crack at the question.
Apocalypse Now
A riddle, wrapped up in a mystery, inside an enigma, Apocalypse Now poses questions that have no answers, and while it may come off as a bit heady it absolutely remains one of the best films on war, power and humanity ever made.
Annie Hall
Sometimes soliloquy has no place in films. It's pandering. Spoonfeeding. But there are scenes in Annie Hall that Woodie Allen's soliloquy feels more natural than the already great acting. It adds an extra layer of thought to the deep musings of what it means to fall in and out of love and ultimately makes this a more of a relatable film than a stereotypical romantic comedy could ever hope be.
Want even more streaming shows? Check out our list of the best online video streaming services, Hulu and Hulu Plus: the latest TV shows and movies to stream and list of new shows and movies on Netflix.
Sign up to receive daily breaking news, reviews, opinion, analysis, deals and more from the world of tech.
Nick Pino is Managing Editor, TV and AV for TechRadar's sister site, Tom's Guide. Previously, he was the Senior Editor of Home Entertainment at TechRadar, covering TVs, headphones, speakers, video games, VR and streaming devices. He's also written for GamesRadar+, Official Xbox Magazine, PC Gamer and other outlets over the last decade, and he has a degree in computer science he's not using if anyone wants it.