In what's surely an absolutely innocent coincidence considering today's events, Google has slashed the price of its Pixelbook laptops on Amazon today in the US.
The discounts range from a whopping $250 from the entry-level version to $100 off of the highest-end model (opens in new tab).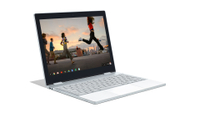 (opens in new tab)
Of course, today is the day many expect to see Apple announce at least one new MacBook during its WWDC 2018 keynote event.
Google clearly wants to detract some attention from Apple's pomp and circumstance with a device that Apple would likely never dare attempt: a 2-in-1 laptop. One of the best in the category, in fact, for far less than Apple will likely price its new laptops.
Take with that what you will heading into today's proceedings, just know that we've quite liked the Google Pixelbook even against the most current MacBook Pro.
So, are you going to wait for today's news before plunking down in either, or is this deal just too good for a laptop that can do a bit more?
Via BGR (opens in new tab)