Update: A leaked image may have given us our first look at the Razer Phone 2, but it seems to be almost identical to the original Razer Phone.
The Razer Phone has set the standard for what a gaming smartphone should be. It has top-end specs, like so many flagship phones, but truly stands out with its 120Hz display. Tapping into its roots as a PC-focused company, Razer knows that games are only as good as the screen that you play them on.
And we now know the Razer Phone 2 is going to break cover on Wednesday October 10, thanks to the official event invite.
Looking forward, there's a ton of potential for the Razer Phone 2. From the more obvious improvements, like jumping up to the Snapdragon 845 or even the Snapdragon 855, to design and software changes, we've put together a list of what we want to see out of the next gaming phone to rule them all.
We're also starting to hear the first rumors about the handset, along with confirmation that it's actually on the way, all of which you'll find below.
Cut to the chase
When will the Razer Phone 2 release?
No debate about this any more: the Razer Phone 2 will appear on October 10, 2018.
That matches with previous rumors we'd heard about the device launching before the end of 2018. Another tip suggested the phone would launch in September, maybe at IFA 2018.
Mark your calendars for October 10 to get a look at the Razer Phone 2.
How much will the Razer Phone 2 cost?
It could end up costing more than the original Razer Phone, which currently goes for $699 (£699, around AU$890).
Razer Phone 2 news and rumors
If there was ever much doubt that we'd get a Razer Phone 2, there isn't any more, as the company has confirmed in an earnings report (spotted by WCCFTech) that the "second generation Razer Phone" is in development.
The report doesn't shed any real light on the specs and features, other than to say that there will be "accompanying software releases which will extend our software and services from PC into the mobile market."
So that might mean some heavily customized software, or apps and features that Razer currently offers on PC, such as potentially access to an Android version of its Razer Game Store or its zGold virtual currency.
We've also seen a leaked image supposedly showing the Razer Phone 2, but it's not much to look at, as the design shown is almost identical to the original Razer Phone.
In fact, the only noticeable change is slightly thinner bezels above and below the screen, though they're still massive in order to house its big speakers. Of course, we'd take this image with a pinch of salt - it could well be wrong.
We've also heard that the Razer Phone 2 will apparently use the latest Qualcomm chipset. That claim comes straight from a Razer exec, so it's probably true.
We even have a good idea of what chipset that will be, as the phone has seemingly passed through the Geekbench benchmark, revealing a Snapdragon 845 chipset and 8GB of RAM in the process. That would make this one of the most powerful handsets on the market, but we'd expect nothing less from a gaming-focused phone.
However, the benchmark also points to the Razer Phone 2 running Android 8.1 Oreo, even though Android Pie is sure to be available by the time it launches. But even if this is accurate we fully expect it will get updated to the newer software at some point.
What we want to see
A refined design
That the Razer Phone adopted the look of the Nextbit Robin was a bit of a surprise. Opinion of its blocky design varies wildly among those in our office (though I like it quite a bit), so most of us are looking to Razer's next phone to shake things up.
The answer doesn't lie simply in rounding off the corners or making it an all-glass affair, but there are certainly a few ways in which Razer can inject some unique design in its next phone.
Judging from its lineup of PC peripherals, the company knows a thing or two about designing with curves. Another key component of Razer design is RGB lights – and a lot of them. Curiously, the Razer Phone features absolutely none, and that might have been a wise move until the company could figure out how to balance them visually what with their probable impact to battery performance.
A headphone port with DAC
Is it too much to ask for a headphone port? Looking at the Razer Phone, there's ample room for it, so its omission is perhaps more inexcusable than other phones that lopped off the feature.
In addition to the 3.5mm port on the Razer Phone 2, we'd like to see it juiced up with a DAC of some sort, like we've seen with the LG V30 and previous models in that series. Razer's screen tech is next-level, but limiting this phone to USB-C or wireless headphones is a downside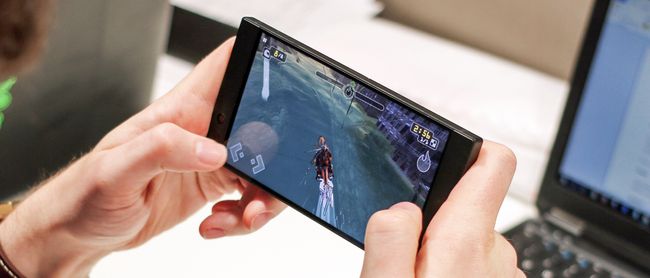 Stereo speakers
Dual front-facing speakers can really make an impact in the day-to-day use of a phone. Whether you spend spare time watching YouTube videos or playing games, front-facing speakers elevate the experience – just try going back to a phone with a speaker that fires away from your face.
Razer did well to include this feature in the Razer Phone, so all we're asking is that it keeps it for the successor.
Wireless charging
The Razer Phone doesn't support wireless charging, but there's little reason why its sequel should be limited.
If the company's next phone is made with glass, that would be perhaps the easiest way to make that happen. But looking at its Hyperflux wireless charging technology currently employed with PC peripherals like the Razer Mamba Hyperflux, it seems like this feature is destined to make an appearance on its upcoming phone
Timely updates
The Razer Phone launched in November 2017, well after Android Oreo launched, yet it came with Android Nougat built-in. After only just receiving the Oreo update in April 2018, we hope that the next model comes with Android P built into the phone should it happen to arrive after Google's new software.
A phone that adopts new software quickly is likely to become a fan-favorite, but Razer's time with Nougat certainly didn't spoil the experience. That's partially due to its Nova Launcher software. It's likely to keep with that going forward, only upgrading when its launcher is compatible with Google's software.