Storage and connections
64GB of storage is less than we would have hoped to see in the Razer Phone 2. Given that devices like the Motorola One, Honor 8X and Honor Play cost less than half the price of the Razer Phone 2 and also ship with 64GB, it's disappointing that we didn't get 128GB in this premium gaming phone.
It does offer microSD card expansion; however, large games often have to be installed on the internal storage, and when Fortnite is 2.54GB, Monster Hunter over 3GB and Injustice 2 over 1GB, that's more than 10% of the phone's storage gone on just three games.
If you end up getting the Razer Phone 2 and know that you'll want loads of games on it, we'd advise you to get an SD card, and set your phone's camera to save all your photos and videos to it, to keep more of the built-in storage free for games.
The other connections are respectable. The Snapdragon 845 delivers download speeds of up to 1.2Gbps, there's Bluetooth 5.0 onboard, and, as mentioned, there's a USB-C to headphone jack adaptor in the box.
Verdict
The Razer Phone 2 is great for gaming, there's no denying that. You know what else is great for gaming? The Pixel 3, Mate 20 Pro, Note 9, Xperia XZ3… we could go on.
While the 120Hz screen makes the Razer stand out, all those other phones have powerful processors, IP67 water resistance or higher, stereo speakers, wireless charging, and at least the same amount of storage.
And where last year Razer had an incredibly competitive price on its side, this year it's charging flagship buck.
What's even more challenging here is that the OnePlus 6T was announced shortly after the Razer Phone 2, with the 8GB RAM version undercutting the Razer in a big way. While it doesn't pack 2K 120Hz goodness, we'd take OnePlus' OLED screen tech over the Razer Phone's IGZO display in a heartbeat for everything other than gaming.
Add to that the fact that the Asus ROG phone is hot on Razer's heels, and even amongst gamers the Razer Phone 2 isn't the obvious choice.
So, while the Razer Phone 2 is seriously good – we've loved our time reviewing it – knowing what else is on the market for a similar asking price, it isn't easy to recommend it, unless of course you're an RGB-loving gamer who lives an overclocked life at 120Hz.
Who it's for
Gamers are the obvious target market for the Razer Phone 2. If you are one, everything here is geared for you – the speakers, the screen, the power and the shiny shiny RGBs.
The Razer Phone 2 is also for anyone who wants a great sound experience from their smartphone. Whether from the stereo speakers or the supplied USB-C to 3.5mm adapter, in comparison to other flagships the Razer Phone 2 is uncompromising when it comes to sound quality.
Finally, anyone who likes statement phones with clean, classic styling may also love the Razer Phone 2. Its bold look and Chroma logo marry to create something that's assertive, and different to anything else on the market – other than the original Razer Phone, of course.
Should I buy it?
If you can get the Razer Phone at a great price, and want power, RGB lighting and a great gaming experience, absolutely – the question is, can you get all, or most of those things elsewhere for less?
Looking for other options? Check out the following Razer Phone 2 alternatives:
Galaxy S9 Plus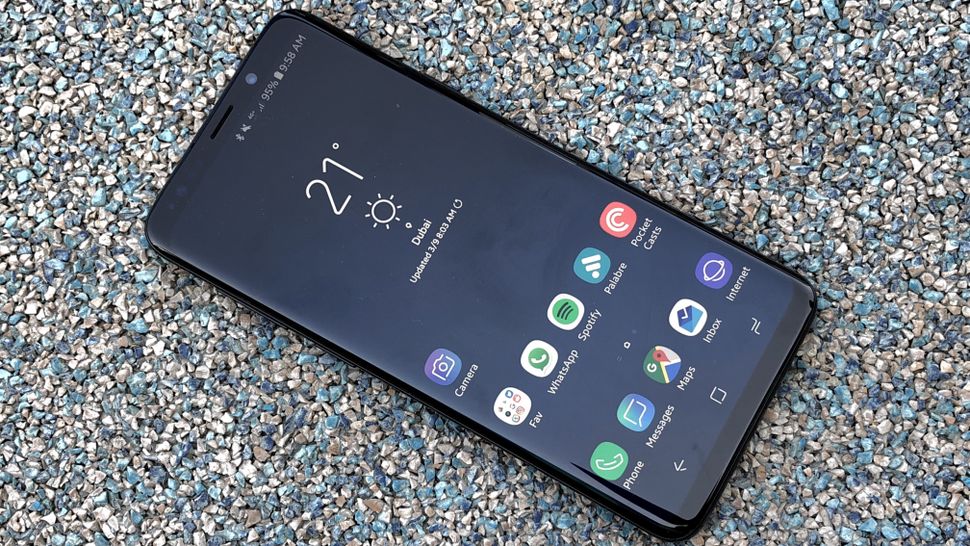 The Galaxy S9 Plus has a bigger, taller screen than the Razer Phone 2. It also has an excellent camera that supports dual apertures, edging ahead in low light. The fact that it's been out for a while now means the price will likely undercut the Razer Phone 2 in your region, and while it may lack the RGB Chroma logo, it does pack a beautiful 2K OLED curved display.
Read our full Samsung Galaxy S9 Plus review
Huawei Mate 20 Pro
With its triple camera, the Huawei Mate Pro is a different beast to the Razer Phone 2 from an imaging point of view, offering an ultra-wide-angle lens as well as a 3x zoom telephoto lens. It has a curvaceous look and feel, a notch and OLED screen technology for deeper colors – although no 120Hz refresh rate. With a larger 4,200mAh battery it lasts for longer than the Razer Phone, and features both wireless and reverse wireless charging, but it costs more.
Read our full Huawei Mate 20 Pro review
iPhone XS Max
The iPhone XS Max delivers much more screen and less bezel than the Razer Phone 2. Still featuring stereo speakers and packing stacks of power under the hood, it's an excellent gaming machine, but the iPhone and iOS in general will cost you more than the Android-running Razer Phone 2 if you're looking to load it up with the latest, greatest titles. The iPhone also packs a markedly superior camera.
Read our full iPhone XS Max review
OnePlus 6T
The OnePlus 6T manages to deliver the same Snapdragon 845 chipset, up to 8GB RAM and more storage, with a base capacity of 128GB. While it doesn't have microSD card support, we'd pick double the internal storage over a card slot anyday. That said, for gaming, the Razer Phone wins out thanks to far superior speakers that are near impossible to cover up, and a more gaming-centric shape.
Read our full OnePlus 6T review