The UK saw its first, belated, 4G network appear for use in late 2012 thanks to EE, which managed to wangle approval from regulator Ofcom to launch an LTE service before the other main providers.
But since then Vodafone and O2 have launched their new high-speed 4G networks and Three has joined the party in rolling out a 4G network, so your smartphone now gives you quicker uploads and downloads than your home broadband, thanks to these new mobile networks.
The downside is that if you haven't upgraded your phone recently you'll probably need a new one to take advantage of these faster connections, as many older mobiles don't have the necessary connectivity to hook into the frequencies used by networks to thrust 4G into your hands.
But if you have decided to upgrade, the good news is networks are falling over themselves to offer you a wealth of 4G-enabled handsets these days. In fact most of the latest and greatest phones and even some of the not so good ones now supporting 4G, to the point where you'll have to specifically ask for one that doesn't.
That gives you a whole lot of choice when shopping for a new handset, but don't get confused: we've done the hard work for you to sift out the best choices.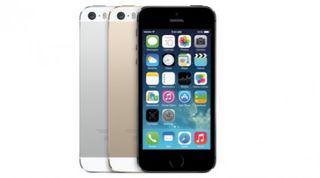 iPhone 5S
The iPhone 5S isn't an enormous update over the previous model, but Apple has managed to squeeze a faster, 64-bit A7 processor inside the chassis, along with an updated camera module and a nifty fingerprint scanner hidden under the home button.
Plus there's a sneaky M7 motion co-processor tucked away inside it, which lets it track your steps all day without hitting the battery life much, making it an ideal replacement for a fitness band. Essentially this is a refined version of the iPhone 5 and while we really want to see a redesigned iPhone 6, that's no bad thing.
iPhone 5S review | Compare iPhone 5S deals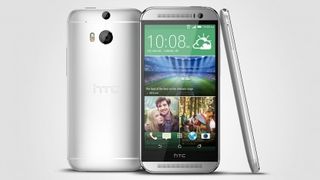 HTC One (M8)
The HTC One M8 is a phone which should need no introduction. It's the five star successor to the five star HTC One and with a luxurious build, killer specs and an innovative Duo camera it's got a lot going for it.
That's before you get to the crystal clear screen, solid battery life and expandable storage. If you want a phone that will catch the eye of strangers and make friends jealous, this is it and as it supports 4G you'll never be short of excuses to get it out.
HTC One (M8) review | Compare HTC One (M8) deals
Samsung Galaxy S5
With the Galaxy S5 Samsung seems to have taken the approach that more is better. Because more is what you get. More power, more battery life, more megapixels and a bigger screen than the Galaxy S4, plus a couple of major new features in the form of a fingerprint scanner and heart rate monitor.
All wrapped up in a redesigned though still heavily plastic package. It also has a 'Download Booster' which combines 4G and Wi-Fi when both are available to give you more download speed. More can sometimes mean bloat, but in this case it's hard to deny that more is better.
Samsung Galaxy S5 review | Compare Samsung Galaxy S5 deals
Sony Xperia Z2
The Sony Xperia Z2 is a great all-rounder with little in the way of flaws. It's a phone that's easy to like but, coming so shortly after the similar Xperia Z1, it can be difficult to love if you're worried about Sony constantly changing its portfolio.
Still, there's a whole lot of positive stuff here, from the premium-if-bezel-heavy design, to the powerful innards, class-leading 20.7 megapixel camera, great screen and water and dust resistant build.
Like any good flagship it supports 4G, so not only is it fast and powerful when playing games and multi-tasking but it's also slick and speedy for web browsing, streaming and downloading, even when away from a Wi-Fi connection.
Sony Xperia Z2 review | Compare Sony Xperia Z2 deals
Google Nexus 5
The Nexus 5 is notable for its price as much as anything else, because at £299 it's very affordable for a high end handset. And it is high end, with a quad-core processor, 2GB of RAM and a full HD 1080 x 1920 display.
As a Nexus device it also enjoys stock Android and is likely to get the latest software as soon as it's available, rather than having to wait potentially months like other handsets which need to fuse the OS with their own user interfaces.
Google Nexus 5 review | Compare Google Nexus 5 deals
LG G2
With its rear facing buttons and otherwise bland design the LG G2 could easily have ended up little more than a niche curiosity, but as an overall handset it wowed us in sufficient measure to warrant a place at our 'recommended' table.
It has a superb camera, very good battery life, a top-end display (one of the best out there, thanks to LG's clever in-house technology) and some innovative features like the ability to wake up the phone with a tap of the screen.
The LG G3 is looming but that just means the LG G2 is likely to drop in price and become a great, affordable, way to get in on the 4G fun.
LG G2 review | Compare LG G2 deals
iPhone 5C
The iPhone 5C is a bit of an odd handset. Its plastic body, yet slick operation should see it compete with the likes of the HTC One Mini and Samsung Galaxy S4 Mini, but its premium price tag means it prices itself closer to the big brothers - both of which have more features. It does come in some bright colours though.
Plus it has the same high quality 4 inch Retina display as the iPhone 5S. In fact if you think of the iPhone 5C as a plastic clad iPhone 5, well...you won't be far wrong.
iPhone 5C review | Compare iPhone 5C deals
Sony Xperia Z1 Compact
Sony isn't alone in shrinking down one of its flagships to a smaller size, but while the likes of HTC and Samsung also slimmed down the specs, Sony kept the power of the Xperia Z1 intact and just packed it into a smaller body.
That makes the Xperia Z1 Compact one of only a handful of relatively small phones that also has high end specs.
Along with its expensive looking, water and dust resistant body, solid camera and decent battery life that makes this a great option for anyone that wants a high end phone with a smaller 4.3 inch screen.
The Z1 Compact has also inherited 4G capabilities from its big brother, so it's lightning fast even when there's no Wi-Fi available.
Sony Xperia Z1 Compact review | Compare Sony Xperia Z1 Compact deals
HTC One Mini
If you're after the HTC One M8 at a lower price, well, you've got a couple of options. Buy 2013's One, or get the HTC One Mini, both of which offer 4G performance.
We prefer the latter (although the signs point to an upgrade, with the HTC One Mini 2 rumoured to be coming soon) as it has smaller stylings, the strong and premium metal chassis and that important 4G.
Its specs aren't quite up to the same standards as the One M8, or even the original HTC One, but it's no slouch as mid-range phones go, with a 4 UltraPixel camera just like its big brother, alongside a 1.4GHz dual-core processor, 1GB of RAM and a 720p screen. All the while costing not a lot of money.
Of course, it will probably get even cheaper if a new model replaces it soon, but either way it's a strong choice for a smaller 4G smartphone.