Update: No surprise here, but we've added the outstanding Huawei P20 Pro to our list of the best phones in Australia for 2018. Read on to find out where it placed and why it made the cut!
If you're interested in Apple's flagship handset, then perhaps you'd be more interested in our best iPhone list.
Alternatively, if you prefer Google's OS, then our best Android phone roundup should be right up your alley.
2017 proved to be a stellar year for smartphones, and now, 2018 is looking to be even better. The recent launches of the iPhone 8 and iPhone 8 Plus, the Samsung Galaxy Note 8 and Samsung Galaxy S8 Plus late last year mean that the humble smartphone is destined to become faster, more powerful and even more versatile than ever before.
Here at TechRadar, we check out every phone under the sun, putting the ones that matter through our vigorous testing process to create our in-depth mobile phone reviews.
However, with so many to choose from, we've spent hours whittling them down to a top ten, taking into account power, specs, design and value for money. And we'll always point you in the direction of the latest handsets – after all, nobody wants to be carting around a phone that doesn't get any updates in a year's time, right?
So whether it's one of the many slick Android handsets, the latest iPhone or one from a range of other cool manufacturers, we've extensively tested them all so you don't have to!
Here are our rankings for the best smartphones around, currently available in Australia.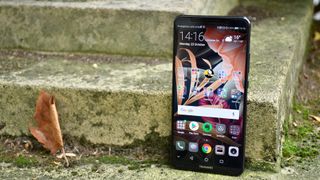 10. Huawei Mate 10 Pro
Huawei's newest Mate delivers the goods
Weight: 178g | Dimensions: 154.2 x 74.5 x 7.9mm | OS: Android 8.0 | Screen size: 6-inch | Resolution: 1080 x 2160 | CPU: Kirin 970 | RAM: 6GB | Storage: 128GB | Battery: 4000mAh | Rear camera: 20MP | Front camera: 12MP
Last year's Huawei Mate 9 wowed a lot of people by being an incredibly impressive handset at an affordable price point. Thankfully, the Chinese phone maker has delivered an impressively premium follow up in the Mate 10 Pro.
The first thing you'll notice about Huawei's new flagship is its stunning 18:9 display. While the regular Mate 10 offers a higher native resolution than the Mate 10 Pro, with Mate 10 Pro is saddled with a maximum resolution that's only slighter higher than FHD (1080 x 2160), its AMOLED display makes up for it with richer colours, deeper blacks and a brighter picture overall.
Thanks to its ongoing partnership with Leica, Huawei has once again a delivered class-leading dual camera setup for the Mate 10 Pro – even the most novice photographer can achieve professional-looking results. Combining a 12MP colour (RGB) sensor with a 20MP monochrome sensor allows users to take incredible depth-of-field shots and stark black and white photos of incredible detail.
One of the camera's most impressive features is how it uses the dedicated NPU (neural processing unit) embedded on Huawei's new Kirin 970 processor to automatically adjust your camera settings based on what you're shooting – it can even tell the difference between cats and dogs!
Huawei handsets are known for their large and long-lasting batteries, and the Mate 10 Pro continues to uphold this reputation. Its huge 4,000mAh battery kept it going for around two days of regular use, which is something that most other phones can only dream of.
While we aren't crazy about some of Huawei's choices on the Mate 10 Pro (the microSD slot has been ditched, same with the headphone jack), we love its astonishing photographical prowess and beautiful new design.
Read the full review: Huawei Mate 10 Pro
See the best Huawei Mate 10 Pro outright deals
Compare prices for the Huawei Mate 10 Pro: