If you want to make your TV smarter than it has ever been, an Amazon Fire TV device is one of the best solutions.
There's the hands-free Cube, a powerful streamer box, and a cheaper streaming stick. All offer access to thousands of apps and games, and almost every streaming service you could want.
We've tracked down the top prices for all three devices to avoid you getting burned by a bad deal. You may be surprised by how little these exceptionally versatile little gizmos cost.
But why choose an Amazon Fire TV over something like a Roku? Many like the simple interface of Roku, but Amazon lets you play with far more apps and games, because it's based on Android. The Fire TV in particular can feel a little like a casual game console, if you want it to.
Like Roku's top-tier player, both the Amazon Fire TV Cube and Fire TV offer full 4K resolution, but only the Amazon Fire TV devices tie into other services like Prime Music.
If Roku sounds like a better fit for you, then check out our Roku deals.
For anyone tied into the Amazon ecosphere of products, either the Amazon Fire TV Cube, Fire TV, or Fire TV Stick would make the perfect center for your smart homes: all come with Alexa, Amazon's artificial intelligence, built-in. That means they can talk to devices like the Samsung SmartThings Hub and Nest Thermostats, allowing you to command your smart home using your Fire TV remote.
But you knew all of that already. That's why you're here looking for the best deal on an Amazon Fire TV device. Well, you've come to the right place.
Here are the best Amazon Fire TV deals we've found today:
Amazon Fire TV Cube
Hands free streaming
Supports 4K content
HDR10 support
Empty List
Released in June, Amazon's new Fire TV Cube is a hybrid between a smart speaker and a streaming media player. Calling itself the "first hands-free streaming media player with Alexa". Amazon seems to be betting on this combined functionality to sway consumers away from rival Chromecast or Apple TV devices.
Much as on an Amazon Echo speaker, customers are able to navigate Fire TV and play/pause/fast-forward content without the need for a remote, while still using Alexa for all their weather/shopping/trivia concerns.
The Cube comes with its own Ethernet port, 16GB of storage, and a built-in speaker, circumventing the need to use a TV's audio output. Users are also be able to control other compatible smart home devices, including additional speakers, soundbars, thermostats, and security cameras.
The Cube is not yet available in other countries, but expect it to be forthcoming in the near future.
Amazon Fire TV 2017
Amazon's new Fire TV does HDR and 4K for cheap
HDR compatibility
Better voice tech
Smaller size won't be for all
The new Amazon Fire TV (2017) is a radical redesign of the Fire TV range, both inside and out. It's been turned into a dongle but also given a hug power boost. Its 4K credentials have also improved with the addition of HDR and it's always great to see Dolby Atmos getting some love. The new dongle is worth the upgrade for brand-new Amazon Fire TV buyers because it combines the best of the old hardware – it's just as powerful as the full-size box, but it's smaller in order to sneak behind your entertainment center without drawing attention.
Read the full review: Amazon Fire TV 2017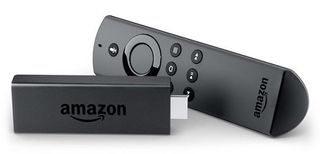 Amazon Fire TV Stick
Want video streaming on the cheap? Check out the Fire TV Stick
Easy to navigate
Alexa well-integrated
Speedy interface
No 4K
Looking for the Amazon Fire TV experience without another black box on your shelf? Check out the Amazon Fire TV Stick. It offers all of the same content that you'd find on the full-size box, but in a mini, USB stick-esque form factor. You'll love how quick and snappy the Fire TV Stick's interface is, and that it's intuitively laid out, making most content quick and easy to find. Once you get to your content it streams without any complaints or buffering while playback is smooth and good-looking. The voice search functionality is quick and accurate when searching for Amazon or Netflix content, and it's also a speedy way of hopping between apps. Most major streaming services are also supported.
Read the full review: Amazon Fire TV Stick