Apple AirPods Max vs AirPods Pro: Apple's premium headphones do battle
One of these 'Pods is not like the other
(Image credit: TechRadar)
After years of speculation, the Apple AirPods Max are finally here. The first over-ear headphones from Apple follow in the footsteps of the AirPods and the AirPods Pro, the company's popular true wireless earbuds.
Aside from the obvious differences in form factor, the AirPods Max represent Apple's first entry into the world of premium personal audio, promising high-spec sonic technology with a high price tag to match.
Now that the AirPods Max are available to buy, you may be wondering whether you should buy them over the Apple AirPods Pro, which are the brand's top-end wireless earbuds.
We've tested both the AirPods Max and the AirPods Pro extensively, and while we can confidently say that both models are great purchases, there are occasions when you may want to opt for one over the other – or neither.
To help you make an informed buying decision, we've put the AirPods Max and the AirPods Pro head to head, giving you a rundown of all their best features, and some of the reasons you may want to avoid them altogether.
Apple AirPods Max
The perfect headphones for Apple devotees
Reasons to buy
+
Unbelievable audio performance
+
Fantastic user experience
+
Brilliant extra features for iOS
+
Great noise cancellation
Reasons to avoid
-
Very expensive
-
No 3.5mm audio port
-
Limited features for Android
-
Ineffective carrying case
The Apple AirPods Max are the most hotly-anticipated headphones of 2020, having been the subject of rumor and speculation for two years, and come with active noise cancellation, superb audio quality, and a design that sets them apart from most noise-cancelling headphones on the market.
In our Apple AirPods Max review, we awarded them four out of five stars, citing their exceptional audio performance and class-leading ANC – yet, they were let down by their eye-watering price, baffling carrying case, and lack of support for Hi-Res Audio codecs.
Despite their high price, the AirPods Max aren't exactly aimed at the audiophile crowd, owing to their lack of 3.5mm audio port; instead, these cans are squarely targeted at card-carrying members of the Apple ecosystem, with nifty features for iOS users and an unmistakably 'Apple' design.
For Android users, the AirPods Max are simply a high-performance pair of noise-cancelling headphones with an unusual design, as fantastic as they may sound – and for these users, we can't see how the high price is justified.
But, if you've already bought into the Apple ecosystem, you have a lot of money to burn, and you don't care about Hi-Res Audio, you won't find headphones that sound better or are easier to use than the AirPods Max.
Exceptional audio quality
The best thing about the AirPods Max is their audio performance, which is nothing short of outstanding. They can easily compete with the Sony WH-1000XM4 in this regard, with a wide, immersive soundstage and carefully balanced profile, with crisp trebles, smooth mids, and powerful bass frequencies.
With high levels of detail and clarity, the AirPods Max reveal elements in your favorite songs that you may not have noticed before – and that's the mark of a pair of really fantastic-sounding headphones.
For iOS users, there's the added benefit of Spatial Audio. Released as part of iOS 14, the Spatial Audio feature first came to the AirPods Pro, and works for content in 5.1, 7.1 and Dolby Atmos, which positions sound all around you within a virtual sphere – this means that, for example, if you're watching a Dolby Atmos film that shows a plane flying overhead, it will sound as though the plane really is passing above you.
Great noise cancellation
The AirPods Max can easily compete with the likes of the Bose Noise Cancelling Headphones 700 when it comes to ANC, with the ability to block out most environmental sound, from the rumble of trains to the sound of your washing machine.
For times when you want to quickly tap into your surroundings, a Transparency mode allows environmental sound to pass through the earcups at the touch of a button.
Easy to use
Like most Apple products, the AirPods Max are incredibly easy to use, with Automatic Pairing for iOS devices, and simple physical controls to adjust your music playback. We appreciate the use of physical controls as opposed to the voguish swipe controls that most wireless headphones seem to favor these days. We particularly liked the reprisal of the Apple Watch's Digital Crown, which allows you to precisely adjust the volume and easily control your music playback.
Any downsides?
As we mentioned, the AirPods Max come with so many features that are exclusive to iOS devices that they're just a very expensive pair of headphones for Android users, no matter how good they sound.
There are some downsides for Apple users, too; for one, the baffling design of the Smart Case is a huge miss for the tech giant, leaving the headphones largely exposed to debris, even if it does put them into a low power mode to save battery.
However, the biggest downside to the AirPods Max is the price, especially when you compare them to studio-quality over-ears headphones at similar price points. The lack of a 3.5mm audio port means that, if you want to listen to music with a wired connection, or hook up the AirPods Max to an amp or DAC, you'll have to shell out for a USB-C to 3.5mm audio port adaptor.
That seems rather miserly when you consider the price – and if Apple wants to market these as a pair of premium headphones, the inability to use them with an amp straight out of the box is unfortunate. Another thing that will put off the audiophile crowd is the lack of support for Hi-Res Audio codecs, which is limited to Apple's own Apple Digital Masters.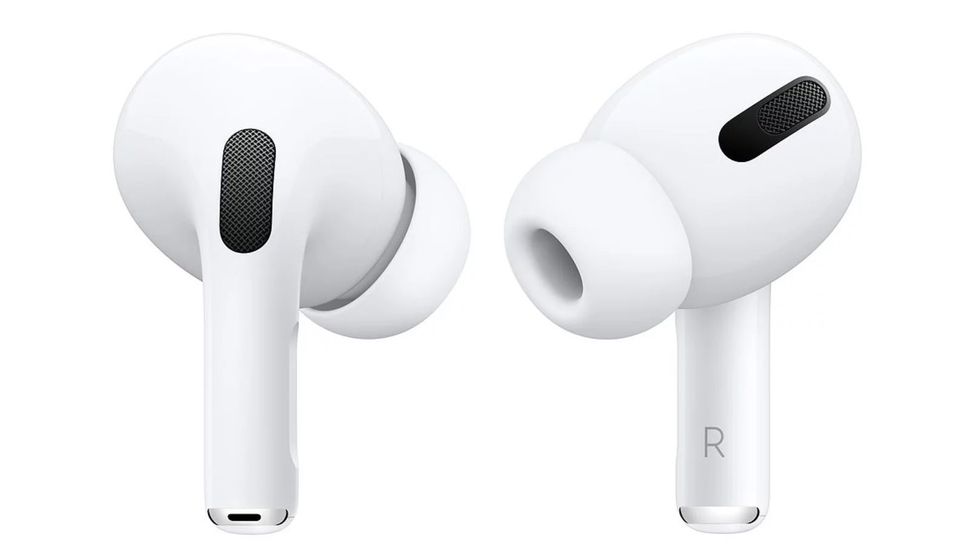 Apple AirPods Pro
The AirPods Pro are the perfect earbuds... for Apple fans
Reasons to buy
+
Good noise cancellation
+
Improved fit
+
Good for tracking hearing health
Reasons to avoid
-
More expensive than better rivals
-
USB-C charging cable in box
-
Can get loose during workouts
The Apple AirPods Pro are among the most popular true wireless earbuds you can buy today, following in the footsteps of the iconic AirPods.
These snug-fitting earbuds offer a great sound, and the additional microphones provide strong noise-cancelling (particularly when commuting), as well as a useful Transparency mode, like the AirPods Max.
For wireless earbuds, the audio quality is pretty good, and they're easy to use thanks to intuitive touch controls.There's so much 'Apple-ness' that runs through the AirPods Pro – from the initial setup, where the headphones scan your ears to check they're the right fit, through to the fact there's a small air vent to make putting them in or removing them a more comfortable experience.
Like the AirPods Max, the AirPods Pro are optimized for iOS devices, which means Android users won't be able to access some of the features that set them apart from other true wireless earbuds on the market; namely Spatial Audio, Automatic Pairing, and the ability to track your hearing health.
Compact design
The AirPods Pro are far sleeker than their predecessors, the 2019 AirPods, with silicone eartips that allow you to find a comfy and secure fit. Their lightweight build and compact accompanying charging case makes them ideal for use on the move, while an IPX4 water-resistance rating means you can use them in the rain and buckets of sweat won't affect their performance if you want to use them while working out.
Hearing health tracking
The AirPods Pro – along with the AirPods and Powerbeats Pro – send exact volume levels to your iPhone, so you can make sure you're not listening to music too loudly. According to Deafblind UK, experts recommend that you keep your listening to between 60 and 85 decibels to protect your hearing health; and with the AirPods Pro, you can do just that.
Easy pairing with iOS devices
One of the best things about the AirPods Pro (and the AirPods Max) is how well they integrate into Apple's wider ecosystem, including how quickly and seamlessly they pair with iOS devices (though they do also work with Android devices).
A new feature, called auto-switching, is testament to that: following a recent software update, the AirPods Pro can now, in Apple's words, "magically switch over between devices", detecting automatically which iOS device you are using.
As well as that, you can use the recently announced Apple HomePod mini (and older Apple HomePod) to transmit voice messages to AirPods in your home, thanks to a new Intercom feature.
Cheaper than the AirPods Max
While we wouldn't describe the AirPods Pro as 'cheap', they are far less expensive than the AirPods Max, making them a better choice if you're on a strict budget. As they're a little older now, you can often find discounts on the wireless earbuds too, particularly during big sales events like Amazon Prime Day and Black Friday – and with the January sales coming up, you may be able to bag a bargain very soon.
Any downsides?
If you're looking for class-leading audio quality, there are better-sounding true wireless earbuds out there, often for less money; rivals like the Sony WF-1000XM3, Cambridge Audio Melomania 1, and the Lypertek Tevi can handle your music more adeptly, and sound great with any genre of music.
As with the AirPods Max, the AirPods Pro are so locked into the Apple ecosystem that Android users are probably better off opting for one of these cheaper models, as they won't be able to access features like Spatial Audio.
Takeaway
Both the AirPods Max and the AirPods Pro are at the top of their game in their respective form factors, and this is one of the main considerations to take into account when you make your buying decision.
If you want a pair of over-ear headphones that will offer superb audio quality and noise cancellation, opt for the AirPods Max. However, if you're looking for compact buds you can easily slip into your pocket and use while working out, the AirPods Pro are your best bet – though there are better running headphones on the market you should also consider, including the Powerbeats Pro.
We wouldn't recommend either the AirPods Max or the AirPods Pro for non-Apple users; you'll find that so many of the features that set them apart from the competition are inaccessible, and you may as well opt for a cheaper model.
Sign up to receive daily breaking news, reviews, opinion, analysis, deals and more from the world of tech.
Olivia was previously TechRadar's Senior Editor - Home Entertainment, covering everything from headphones to TVs. Based in London, she's a popular music graduate who worked in the music industry before finding her calling in journalism. She's previously been interviewed on BBC Radio 5 Live on the subject of multi-room audio, chaired panel discussions on diversity in music festival lineups, and her bylines include T3, Stereoboard, What to Watch, Top Ten Reviews, Creative Bloq, and Croco Magazine. Olivia now has a career in PR.