The first thing you'll want to do is put the Apple Watch on your wrist. Not so quick, flip the Apple Watch over and spot the two small indents next to the straps.
These are the band release buttons, press and hold one and slide the band out sideways to remove it. Check in the Watch's packaging and you'll find another band (you get one large and one small). Try both and see which fits best.
Now lay your Watch on a flat surface; this makes the automatic sync with your iPhone easier (try to avoid manual pairing if possible).
Press the side button (shaped like a pill) to turn on the Watch and tap Start Pairing on the Watch and in Apple Watch app on your phone.
During setup you'll be asked to specify which wrist you'll wear the Watch on. This doesn't affect the orientation of the Watch's display incidentally, which is set separately. Combined, these choices tell the Watch the direction of movement that should cause its display to turn on when you raise your wrist.
Don't worry if you're unsure because all these settings can be adjusted later from the iPhone app.
For security in case your Watch is stolen, set up a passcode during the initial setup process. The Watch uses the sensors on its back to determine when you've taken it off, after which the passcode must be entered to use it.
You'll be asked whether you want the Watch to unlock when you unlock your iPhone (as long as you are wearing the Watch).
The default passcode is four digits long, but tapping 'Add a Long Passcode' enables you to enter a 10-digit number. This is much harder to bypass, but only use it if you are truly security conscious.
Additional protection
You might also turn on the Erase Data setting, which is done in the Apple Watch app on your iPhone after initial setup (look under My Watch > Passcode). When this is on, the Watch erases its contents after 10 incorrect passcode entries.
Getting back to setting up: when you're asked whether to install all Watch apps that are included with your iPhone apps, we think it's smarter to install them later to speed up the setup process. Besides, installing every available app can make the Watch's Home screen overly busy.
Finally, the Apple Watch syncs with your iPhone and you can use it as soon as that finishes (it takes a few minutes). Strap on the Watch, tap the screen and enter your passcode. Now when you raise your wrist, the screen will spring to life.
Setting up the Home screen
In the Apple Watch app on your iPhone, scroll down to find two group of apps. The first one contains Apple's apps, while the lower block is where you'll find apps from other developers.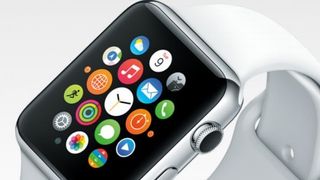 Third-party Watch apps are bundled with their iPhone app. Tap on a third-party app in the list and turn on the Show On Apple Watch switch to install it on your Watch.
Some apps also provide Glances, which give quick access to key features when you slide a finger up from the bottom of the watch face). You can enable up to 20 of them.
Apps are rearranged (and third-party ones removed) directly from the Watch's Home screen. Tap and hold an app icon until all the icons start to jiggle. Tap and hold an app icon to grab it, and move it to a new position.
To delete a third-party app (indicated with a cross at its top-left), tap its icon swiftly and choose Delete App.
It's a lot easier to arrange apps in the iPhone app. Tap App Layout and drag app icons around to rearrange them; the layout on your Watch refreshes a moment later. Tap My Watch at the top-left when you're finished.