If you've been happily nattering away to one of Amazon Echo's range of speakers, like the Echo Plus or the Show, then you probably feel like you know Amazon's AI voice helper Alexa pretty well.
Although it (she?) is really smart, it's only as good as the skills that you've installed. For those not in the know, skills are like voice-powered equivalents of the apps you use on your smartphone or PC. And once they're installed on your device, Alexa can put them to good use.
If you've just got your hands on an Amazon Echo speaker and you're setting it up in your home for the first time, or you've had one for a while but you're getting bored of getting it to miaow like a cat or tell you the heights of famous people throughout history, then this list is for you.
We'll introduce you to all of the best skills available for Amazon's Alexa voice assistant and all of the compatible devices in the Amazon Echo range.
The top Amazon Alexa skills enable your Echo speaker to access various apps, websites and services, allowing you to customise it so that Alexa can interact with the smart appliances in your house, check public transport for your area, read the headlines from your favorite newspaper or website, and a whole lot more.
We've collected together the best Amazon Echo Alexa skills in handy categories: Amazon Echo Alexa skills for smart homes, Alexa skills for travel, Alexa skills for food and drink, and the best games to play on your Amazon Echo.
We'll also take you through the process of installing these Alexa skills on your Amazon Echo.
Music and Radio
When we've tested various Amazon Echo products, probably the number one thing we've used it for has been music and radio playback.
The reason for this is simple: if you want to get something playing quickly then it's much easier to ask Alexa for a specific song or radio station rather than having to open an app.
Getting set up with these services is very simple thanks to the fact that they're built in rather than requiring you to install third-party skills.
If you want to use a music playing service other than Amazon Music you'll need to sign into it using your login details, and then set it as your default. You can do this from the Alexa app on your smartphone, where you'll need to head into the 'Settings' menu, scroll down to 'Music and Media' and then select the music service of your choosing.
It's possible to leave Amazon Music as your default and still play music through Spotify, but doing so will require you to manually request Spotify with each voice command, which isn't that convenient.
Radio playback is even more simple thanks to Alexa's integration with TuneIn. Simply ask for any radio station that's available on the service and it will automatically start playing.
Podcasts are also technically supported, but we found that Alexa isn't very good at recognising episode names and numbers and we wouldn't recommend the experience.
Television streaming
Although Google Assistant had a bit of a head start when it came to video content thanks to its integration with the Chromecast streaming puck, Amazon has been catching over the past year.
A big step forward occurred when Amazon allowed users to control their Fire TV devices with an Amazon Echo. The functionality allows you to open a specific streaming app, or to play specific content by searching by titles, actors or genres.
The functionality also works with TVs that have Amazon's Fire TV software built in.
Recently, Sony's TVs also gained Alexa integration. Using an Amazon Echo you are able to turn your TV on and off, change its channel, and control volume.
This functionality is enabled by Alexa's Smart Home Skill API, which means that hopefully more television manufacturers will work to enable the functionality in the future.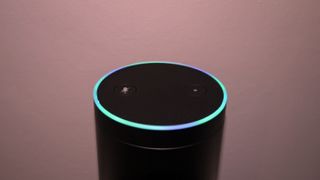 General playback info
There are a number of helpful tips you can use to get the most out of playing music on your Amazon Echo.
First is the fact that it's possible to connect your Echo to an external Bluetooth speaker to improve its audio quality. You can do this through the Alexa app's Settings menu.
You can also use your smart speaker to control your Sonos devices. You'll need to install the Sonos skill in the Alexa app, at which point Alexa will recognise any Sonos speakers that are connected to your home network.
Alternatively, if you have an Echo Dot or 2017 Amazon Echo you can simply connect them to an external speaker using their 3.5mm jack.
Once you've got your music playing you can use your voice to control its overall volume, as opposed to just relying on the physical controls on the device. While it makes sense to ask Alexa to 'turn the volume up' or 'turn the volume down', we prefer the accuracy of asking for specific volumes.
To do this, ask Alexa to turn the volume to a number between 1 and 10 and no, you can't ask it to turn the music up to 11…