Finished Extraction 2? Watch these 6 action movie classics on Netflix
Looking for more action packed, edge of the seat thrill rides? Netflix has you covered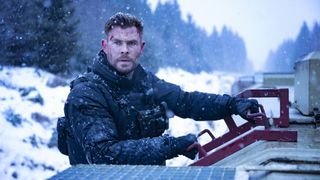 (Image credit: Netflix)
There's been a lot of hype around Extraction 2, the sequel to the hit Chris Hemsworth film, but if we're honest it's a mildly entertaining Netflix action movie that peaks way too soon.
While the action stuff is great – its pulsating 21-minute one-shot sequence will blow your mind – we felt it peaked a little too early and the plot could have been a lot better, especially given that it took four grueling months to film.
So, if you've watched it and need some recommendations to scratch that action-movie itch, or if you haven't and just want some really fun things to watch on Netflix this weekend, here are some of our favorites.
1. Luther: The Fallen Sun
This is a big cheeseburger of a movie: it's probably bad for you but it's a lot of fun to consume. Idris Elba is his usual magnetic self as detective John Luther, a good cop who sometimes does bad things; Andy Serkis chews the scenery as Andy Serkis so loves to do; and while it's best not to think about the pretty major plot holes the set-pieces here are stunning.
2. 6 Underground
Ryan Reynolds! Michael Bay! You're sold already! Let's not look at the Rotten Tomatoes rating – it's not good – and focus on the fact that if you like films like this, this is the kind of film you'll like. The tale of six people brought together to change the future is a bit silly but all Michael Bay movies are, and the fight choreography and set-pieces are spectacular. According to Jennifer Heaton of Alternative Lens, this film is "Mountain Dew in cinema form, bursting with energy and ridiculous ideas".
3. Haywire
No need to avoid Rotten Tomatoes here. This film, starring Gina Carano, Michael Fassbender and Ewan McGregor, has a healthy 80% rating and lots of great reviews. This assassin's tale is directed by Steven Soderbergh and features Carano as a highly trained security operative who's betrayed and left for dead. Is revenge sought? Are heads cracked? Are asses kicked? Do bears poo in the woods?
4. The Raid 2
The sequel to the jaw-droppingly violent The Raid is just as astonishing as the first (incredible) film, with some of the most stunning fight choreography you'll ever see. In the first film rookie cop Rama had to fight his way through a building full of gangsters and henchmen, and it turns out that was just a practice run for fighting what appears to be every bad guy in Jakarta.
As Easternkicks.com put it, The Raid 2 "packs a punch – not to mention bullets, lots of sharp items, a metal baseball bat and two hammers...", while The Times of India said: "if you enjoy savage on-screen action that is unabashedly over-the-top... don't hesitate to go watch this."
5. Salt
Angelina Jolie takes on a role originally written for Tom Cruise in a film that delivers all the thrills of Extraction 2 with a much better story and some really great wigs. Former spy Evelyn Salt is accused of being a Russian spy and goes on the run, using all her abilities to evade capture and protect her husband.
The Guardian's Peter Bradshaw says it's: "pacy, smart, subversive and knocked out with such verve and attack that you're not in the least bit bothered by how far-fetched it all is."
6. The Old Guard
Charlize Theron is magnificent in this tale of five immortal mercenaries who've been keeping the world safe for centuries and whose existence is suddenly exposed. It's a good time to catch up on this one, because a sequel's in the can for an expected 2024 release.
Flick Feast says that while there are obvious thematic similarities to Highlander, Theron is amazing and there is "a series of entertaining action set pieces that are directed with verve and style by director Gina Prince-Bythewood". The story may feel familiar but it's told with such wit and verve (and, hurrah, some decent queer characters too) that you'll enjoy it immensely.
Get daily insight, inspiration and deals in your inbox
Get the hottest deals available in your inbox plus news, reviews, opinion, analysis and more from the TechRadar team.
Contributor
Writer, broadcaster, musician and kitchen gadget obsessive Carrie Marshall (Twitter) has been writing about tech since 1998, contributing sage advice and odd opinions to all kinds of magazines and websites as well as writing more than a dozen books. Her memoir, Carrie Kills A Man, is on sale now. She is the singer in Glaswegian rock band HAVR.