If the shift to daylight saving time has thrown your sleep patterns out of whack, you might be wondering about treating yourself to a new mattress to help yourself catch some better sleep. If that's the case, right now's the time to buy the best cooling mattress on the market. And we do literally mean right now.
Nectar is running a daylight savings flash sale that ends tonight; we've been looking at the prices and they're seriously impressive. There's 40% off the entire Nectar range, and for the most part that translates into the lowest prices we've seen in absolutely ages. And that means if you've had an eye on Nectar's high-end Premium Copper mattress, you can order it today at a price we're unlikely to see again for at least a few months.
Bottom line: today you can get the Nectar Premier Copper mattress (opens in new tab) in a queen size for just $1,169 (MSRP $1,949), while the hybrid version is available for $1,349, down from $2,249. We're genuinely struggling to remember when we might have seen prices quite that low in Nectar mattress sales before, and we doubt they'll come back down to anywhere near that level until Black Friday. Basically if you want the best price on one of the best mattress options around, get on it right now.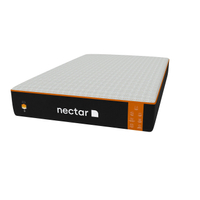 (opens in new tab)
Nectar Premier Copper mattress: was $1,499 now from $899 at Nectar (opens in new tab)
40% off - This is the best price we've seen on the Nectar Premier Copper in ages, and with this flash sale due to expire in a few short hours, you should take advantage of it if you're after the best cooling mattress all round. With this deal the price of a queen size is reduced to $1,169, down from $1,949, and it's rare to see it under $1,200.
If you don't specifically need a cooling mattress, there are excellent savings across the rest of the Nectar range. The standard Nectar Mattress (opens in new tab) in a queen size is down to just $629 (from $1,049), with the hybrid version reduced from $1,199 to a mere $719. And for a sleep upgrade there's the Nectar Premier Mattress (opens in new tab) with dual-action cooling technology; a queen size will cost you $899 (MSRP $1,499), and if you'd prefer the hybrid model, that's $1,079, down from $1,799.
All in all it's a pretty good way to kick off Sleep Week 2023,but let us reiterate: if you want to get a new Nectar mattress at these prices you'd better order within the next few hours, because we can't see this offer being repeated any time soon.