The Samsung Galaxy Z Fold 4 just got a whole lot sexier, with a number of retailers offering mammoth 40% discounts in Australia on one of the best foldable phones on the market.
While the huge discounts are likely to help Samsung shift stock in the lead up to the launch of the Galaxy Z Fold 5 (serving as a reminder that the Z Fold 4 will soon be 'old news'), we'd argue the Z Fold 4 offers plenty of reasons to buy. And now with a much lower price, there's very little to find fault.
How much lower is the price, we hear you ask? Well, depending on the configuration and retailer you buy from, you could save well over AU$1,000.
For our money, Amazon AU is offering the most attractive deals on the Galaxy Fold 4, with a 42% discount on the 512GB model in black, beige and green colours. This sees its price being brought down to AU$1,569 – a saving of AU$1,130.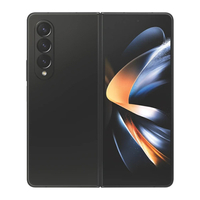 Samsung Galaxy Z Fold 4 (512GB) | AU$2,699 AU$1,569.00 at Amazon (save AU$1,130)
There has literally never been a better time to snap up one of the most accomplished foldable phones ever released. This 42% discount on Amazon on the 512GB model represents incredible value in our opinion, serving up the perfect combination of specs, storage and savings.
The discount applies to the phantom black, beige and green models.
You can also snap up the 256GB model in beige for AU$2,499 AU$1,498 (other colour options has sold out).
But that's not all. Amazon AU has also put live a number of bundles that also receive huge discounts. The bundles in question bring together a Galaxy Z Fold 4 (512GB) and partner it with a Galaxy Watch Pro 5 (45mm) and a pair of Samsung's Galaxy Buds 2 Pro.
The total price of all these goodies? AU$2,199. That's an incredible saving of AU$1,648 and just over AU$230 cheaper than if you were to buy all three separately through the Amazon AU store.
Each bundle pairs different colours of the Watch Pro 5 and Buds 2 Pro with the Galaxy Z Fold 4, and you are restricted to these preset selections.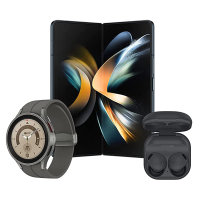 Save a huge AU$1,648 when you pair a Samsung Galaxy Z Fold 4 phone with a Galaxy Watch Pro 5 and a pair of Samsung's Galaxy Buds 2 Pro. There are three bundles to choose from, each with a different colour for the phone, watch and earbuds. The bundles available to choose from are:
If you're more of a flipper than a folder, then Amazon AU may also be able to tempt you with some great savings on Samsung Galaxy Z Flip 4 bundles, too. Once again, these bundles see the phone paired with a watch and a pair of Galaxy Buds 2 Pro. The only difference being, the watch in question here is the 'regular' Galaxy Watch 5 (44mm).
Bundle deals are available on both the 256GB and 512GB variants and again, different colours of devices apply in each selection. Be quick on these though, as at the time of publishing, we're starting to see certain bundle configurations sell out.
Alternatively, you can take advantage of similar savings directly through Samsung Australia, with a 40% discount applied to the 256GB and 512GB variants.
At the time of publishing however, both storage options are only available in a Samsung exclusive burgundy colour. So, if you want one of the original three colours, you'll need to head to Amazon AU.
If you choose to buy from Samsung and you have a device you wish to trade in, you can save an additional AU$350 on top of the 40% discount, increasing total savings to up to AU$1,350.
Note, however, that the option to trade-in when purchasing the 512GB models from the Samsung website is not available, but you can elect to trade-in if you're wishing to buy a 256GB model.
Samsung's terms and conditions state, however, that the trade-in offer applies to the Galaxy Z Fold 4, without singling out any specific variant. You may need to follow the full trade-in process of obtaining a trade-in ID in order to have the additional saving applied to the 512GB version.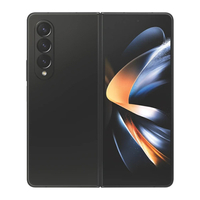 Samsung Galaxy Z Fold 4 (256GB) | AU$2,499 AU$1,149.40 at Samsung (AU$350 trade-in savings applied. Total savings AU$1,349.60)
If you own another device that is eligible for trade-in at Samsung Australia, you stand to save over 50% on a Galaxy Z Fold 4, which is a simply staggering amount for a phone that was only released in August 2022.
We haven't been able to apply the AU$350 saving to the 512GB model ourselves, but you can still grab one with 40% off for AU$1,619.40
Samsung's Galaxy Z Fold 4 is one gem of a smartphone, boasting a 6.2-inch external display and a huge 7.6-inch internal display that reveals itself when you unfold the phone. It's Snapdragon 8+ Gen 1 processor ensures everything runs quickly and smoothly, while the camera system (borrowed from the Galaxy S22) returns some impressive images.
As we said in our full Samsung Galaxy Z Fold 4 review: "this is a do-everything device that presents few compromises," and at the time, our main niggle was its sky-high price. Now that the pricing has been resolved, we can find very few reasons as to why you wouldn't want to own one.