This year's Memorial Day sales are here, and as sure as there will be parades and cook-outs, there will be smart TV shoppers on the lookout for a great deal on a new set.
Memorial Day TV sales present a perfect opportunity to get a brand-new TV at a discounted price. But the deals can be even better on last year's models, which, being just a year old, are often outfitted with similar features to the new ones being rolled out.
A great example of this is the TCL 6-Series. When we reviewed a 65-inch TCL 6-Series model, we found it to be a fantastic TV for the price, one offering exceptional brightness via a mini-LED backlight and both Dolby Vision and HDR10+ high dynamic range support. The 6-Series for 2022 also features a native 120Hz panel that accepts a 4K 120Hz input from next-gen PS5 and Xbox Series X consoles, making them one of the best TVs for gaming.
Sites like Best Buy and Amazon are currently selling 55-inch and 65-inch 6-Series TVs for $649.99 and $949.99, respectively. And while those aren't new all-time-low prices, they are as low as the 6-Series has dropped to so far, and represent a $50 savings over what you'd typically pay.
Latest TCL 6-Series (2022) 4K TV deal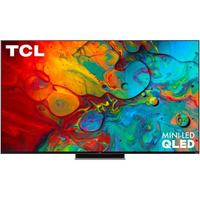 TCL 55-inch 6-Series 4K mini-LED TV (2022): was $699.99 now $649.99 at Amazon
Score $50 off the regular price of a 55-inch TCL 4K mini-LED TV in this Memorial Day deal. As we stated in our 6-Series (2022) review, this TV offers incredible brightness for the price, and it's also packed with gamer-friendly features like a native 120Hz display and HDMI 2.1 ports. The 6-Series is one of the best TVs you can buy for under $1,000, so don't bypass this deal.
Will the Memorial Day sales see even deeper TCL 6-Series discounts? That's entirely possible, but even at the current prices, 6-Series TVs are a fantastic deal. The main reason? TCL's new QM8 series.
The TCL QM8 series TVs are the company's only new mini-LED models for 2023. And while the 6-Series was sold in screen sizes ranging from 55 to 85 inches, the QM8 series ranges from 65 to 98 inches.
Pricing for the new QM8 series starts at $1,699 for the 65-inch model. That's a steep premium over a 65-inch 6-Series set, which features the same mini-LED backlight tech as the QM8 series.
Are there big differences between the two? Well, when TechRadar recently did a hands-on test of an 85-inch TCL QM8 series TV, we found it to have higher peak brightness than the 65-inch 6-Series TV we tested, although the 6-Series holds up very well in comparison, especially considering its price.
Otherwise, both series have similar features, with Dolby Vision IQ and HDR10+ high dynamic range, dual HDMI 2.1 ports with support for 4K 120Hz input, Variable Refresh Rate (up to 144Hz), Auto Low Latency Mode (ALLM), and FreeSync Premium Pro.
So, while the new QM8 series is TCL's current brightness champ, the 6-Series offers an irresistible combination of performance, features, and value. If you're in the market for a 55-inch TV with a bright mini-LED backlight for gaming, movie-watching, or whatever, at $649.99 TCL's 55-inch 6-Series TV is a great Memorial Day deal.
And considering that the new QM8 series starts out in a 65-inch screen size, it may be your last chance to score a 55-inch TCL mini-LED TV – and to get it at a great price.