If you don't already own an air fryer, then now is your chance. We've been tracking Memorial Day sales since they started last week, and there are some fantastic air fryer deals with up to 50% in savings from brands like Ninja and Instant Pot.
These countertop appliances swept into our lives during the pandemic, which made staying at home (a little) more enjoyable since we could cook a variety of foods - and experiment too. Not only are they a lot smaller than conventional ovens, so they take up less space, but they are also much healthier to cook foods in because little to no oil is required when cooking, and they are a lot quicker to cook certain foods types too.
Whilst it may feel like there is always some sort of air fryer deal to snag, they won't necessarily have been at their cheapest. I'm looking out for three of some of the best air fryers in today's Memorial Day sales, which I either haven't seen discounted before because they are so new to the market, or I haven't seen them down to this price before.
If you want to air fry outdoors, this is the solution
The Ninja Woodfire is the first of its kind to launch by the brand. It features air frying capabilities, as well as being able to grill, smoke, roast, bake dehydrate, air crisp and broil. And, instead of cooking inside the home, this electric grill is for use solely outside.
You can even leave it outside thanks to the waterproof cover (available separately) and, with the handles either side of it, can be moved around the yard to the desired seating area.
It was only launched in the US last year and as far as we can tell it has not been discounted, until now. With the summer months now in full swing this tabletop appliance could easily replace the BBQ, and take up less space in the process.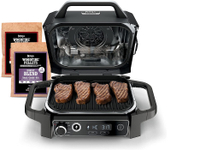 Ninja Woodfire: was $399.99 now $349.99 at Amazon
Grab hold of this awesome Ninja Woodfire deal which is discounted by $50 - the cheapest price ever. It's an electric outdoor BBQ-style grill that can also air fry, which means that you can cook your fave, familiar foods from the kitchen in the backyard.
Read our full Ninja Woodfire review
Want a basket air fryer? This is our #1
The brand behind the iconic Instant Pot also makes air fryers, and this is the product at the top of that category. It is also the top of our list of air fryers that we recommend, and for good reason.
During our time with the Instant Vortex Plus 6-Quart Air Fryer Oven we found that the fries had crisp exteriors but soft, fluffy insides, and the chicken was moist, while its skin was crispy and retained loads of flavor. The viewing window in the basket, and the light, meant that we could keep an eye on the cooking progress which was amazingly reassuring.
According to our research, this air fryer is the cheapest it has ever been right now in the Memorial Day sales on Amazon. Granted; it is not the very latest air fryer to hit the market, but the fact that it has been around for over a year and is consistently a top-seller gives us the confidence that it is going to be a worthwhile investment.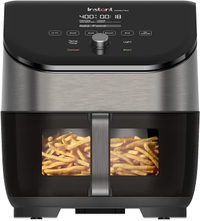 Family's should buy this twin drawer air fryer
The Ninja DZ201 Foodi 8 Quart 6-in-1 DualZone 2-Basket has been a regular sell-out; during the pandemic and in pretty much every sale. It's a popular choice, and it's easy to see why.
As well as air fry it can also roast, dehydrate, bake and even reheat. The countertop appliance also has two separate compartments which means that you can cook two different dishes so they're ready to serve at the same time. We were really impressed at just how quickly the air fryer crisped and evenly browned our fries. The baskets are deep enough to hold a 3lb / 1.4kg batch of fries or 4.4lb / 2kg chicken each.
It's great to see that it is in stock and available for a really good price. Although it isn't the cheapest it has ever been (it's only a few dollars off that) this Ninja air fryer is still worth a look, whilst you still have the chance.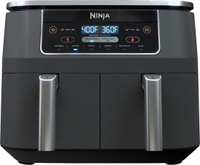 More Memorial air fryer sales
If you don't fancy those then use our handy widget (below) to get another stella deal. Don't wait too long though because we don't expect these air fryer deals to hang around.
See more bargains in our Memorial Day appliance sales roundup, and you can see tech deals in our Memorial Day TV sales guide and Apple Memorial Day sales.