Finding a solid gaming laptop under $1,000 with good specs is difficult, especially during the cost-of-living crisis that's been driving up the price of tech. However, Best Buy has a great sale going on right now for the Acer Nitro 5.
The Acer Nitro 5 scored a four out of five-star rating from us and even made our best cheap gaming laptops buying guide, cementing its place as a high-quality and higher-value gaming machine. And thanks to this deal, the Acer Nitro 5 is currently at $849.99, a savings of $150 that drops it below $1,000.
The specs are pretty solid, with an Intel Core i5 CPU and an Nvidia GeForce RTX 3050 Ti GPU that easily handles nearly any PC game at high settings. It also features 16GB of RAM and 512GB of storage, the former of which is more than enough for any PC game, and the latter will allow you to download several games before needing an external hard drive.
Today's best gaming laptop deal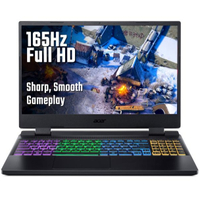 Acer Nitro 5: was $999.99 now $849.99 at Best Buy
The Acer Nitro 5 has pretty solid, if not high-end, specs that keep it strictly budget-minded. It includes an Intel Core i5 CPU, a GeForce RTX 3050 Ti, 16GB RAM, and 512GB of storage. If you're not worried about maxing out gaming performance but still want something that can handle a full Steam library without breaking the bank, this is the laptop for you.
The Acer Nitro 5 has an excellent port selection on top of its specs, making it versatile enough to handle pretty much any task that a gamer could need their laptop to perform. It also has a full HD display with a more than respectable 144Hz refresh rate, which is more than enough for most gamers.
You can even expand the RAM up to 32GB, which is a rarity among gaming laptops. Of course, it has its drawbacks, which include a plain design and a slow recharge time for its already bad battery life. But if you need a budget gaming laptop under $1,000, this is the perfect one to invest in.
More gaming laptop deals
You can also see more of the best gaming PC deals and laptop deals happening now, for all your gaming needs.