We've just spotted the first significant discount on an RTX 4050 gaming laptop today with this 15.6-inch MSI Cyborg for $799.99 (was $999) at Best Buy.
Gaming laptops with this brand-new graphics card have doggedly been holding onto their introductory prices of at least $999 - until now, that is. This deal is part of today's early Memorial Day sales at Best Buy and is well worth checking out if you're on the hunt for a budget machine with up-to-date specs.
Today's best gaming laptop deal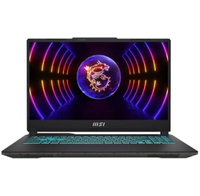 MSI Cyborg 15.6-inch gaming laptop: was $999 now $799.99 at Best Buy
Processor: Intel Core i5-12450H
Graphics card: RTX 4050
RAM: 8GB
SSD: 512GB
This MSI Cyborg is the first significantly discounted RTX 4050 gaming laptop deal we've seen since these new graphics cards hit the market earlier this year. It's definitely not a high-end machine by any stretch of the imagination but for $799 we think this one is a great buy. Not only do you get one of the latest GPUs in this machine (which is comparable to the older RTX 3060), but you also get a relatively recent 12th gen Intel Core i5 chip, which should back up your graphics card nicely for 1080p gaming.
A great mid-range buy with up-to-date specs
Impressive price considering you're getting an RTX 4050
12th gen Intel Core i5 is also great
Likely not a super high-end build
Average RAM and SSD components
We've yet to review the MSI Cyborg here at TechRadar, so we're basing our impression on similar models from MSI, such as the slightly older MSI GF63 Thin, which we reviewed last year. We were impressed by that one at the time, and this Cyborg looks to offer a similarly competitive package for the price.
By far and away, the biggest selling point with this one is the combination of an RTX 4050 graphics card and 12th gen Intel chipset - the former being particularly impressive for $799. While it's early days for gaming laptops with this brand new GPU (it's only been around for a few months), up until now, we haven't really seen any notable price cuts crop up, with machines doggedly holding on to a price tag of $999 or above.
Because of this, we've generally been keener to recommend older machines with RTX 3060 since not only is the performance similar to the RTX 4050, but you often find RTX 3060 gaming laptop deals for as low as $749. Generally speaking, though, this MSI Cyborg is really decent in comparison, considering you're not only getting the latest GPU but a relatively recent chipset too. Put together, you're going to get great performance at 1080p setting with this machine - enough to max out plenty of titles and even run Ray Tracing.
See our Memorial Day laptop sales page for more great options to shop today and over the next week or so.
Check out our guide to this year's Memorial Day sales if you're on the hunt for more tech