Whether you're looking to switch from another provider or sign up for television (TV) service for the very first time, DirecTV offers amazing value. The satellite TV provider offers a number of packages and plans to fit any budget, all of which come with at least 155 HD channels and a digital video recorder (DVR) for recording your favorite shows when you can't watch live. Plus, as DirecTV is owned by AT&T, you can bundle your service here (opens in new tab) with a wireless plan and/or internet service and pay less than if you were billed for each of them separately.
To see all the packages and order directly, go to DirecTV here (opens in new tab) and make sure to click "Check Availability" too see the best deals in your area.
What is DirecTV?
DirecTV is a digital satellite TV provider. It's owned by AT&T and has more than 26 million subscribers. It offers a number of TV packages on par with what you'd get from a cable TV provider.
How much does DirecTV cost?
Although DirecTV's top tier package of 330+ channels costs $134.99 per month, you can get DirecTV service for much less. Its Select Package, which nevertheless includes 155+ channels, is only $59.99 per month.
For more detailed pricing, check out all the packages below. Note that these prices require a 24-month contract, but are only good for the first 12 months, after which rates will increase.
The best DirecTV deals and prices: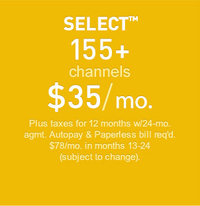 (opens in new tab)
Select Package - 155 channels ($59.99 per month)
(opens in new tab)The best option for the casual TV viewer who doesn't want to spend a lot on TV service, the Select package nevertheless comes with an ample 155 channels, including TNT, Discovery Channel, AMC, CNN, Bravo, and more. And for the first three months, you'll get to try out premium channels, like HBO, Showtime and Starz.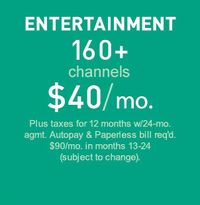 (opens in new tab)
Entertainment Package - 160 channels ($64.99 per month)
(opens in new tab)For the Entertainment Package, DirecTV takes the Select and adds another five channels, including must-haves like ESPN, ESPN2, and Fox Sports. Plus, you'll get the three-month channel premium preview as well.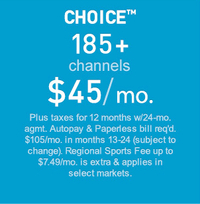 (opens in new tab)
Choice Package - 185 channels ($69.99 per month)
(opens in new tab)The Choice Package comes with 185 channels which include the Weather Channel, IFC, the Travel Channel, the Cooking Channel, and the MLB Network. Plus, with this package, you get the NFL Sunday Ticket for the 2020 season for free, as well as the premium channel preview.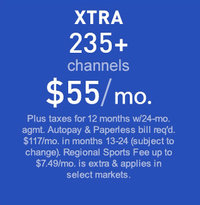 (opens in new tab)
Xtra Package - 235 channels ($79.99 per month)
(opens in new tab)For another $10, you can make the quantum leap from the Choice Package to the Xtra package, adding another 50 channels for a total of 235. Included in those 50 are Nat Geo, NBA TV, and MTV Classic. And you get the premium channel preview as well.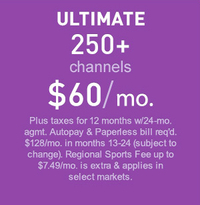 (opens in new tab)
Ultimate Package - 250 channels ($84.99 per month)
(opens in new tab)And for just another additional $5, you can move up from Xtra to the Ultimate Package, which adds on another 15 channels of mostly movies, with such channels as Starz Encore and The Movie Channel. Plus, you the get the NFL Ticket for 2020 and the three months of premium channels.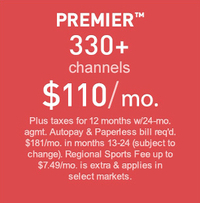 (opens in new tab)
Premier Package - 330 channels ($134.99 per month)
(opens in new tab)What could be better than the Ultimate Package? It can only be the Premier Package, which offers a staggering 330 channels for the TV fanatic. It's an especially good way to go for movie buffs as it includes all the premium channels like HBO, Showtime, and Cinemax. Plus, you'll get sports channels like ESPN Classic and NBS Sports, along with the NFL Sunday Ticket.