Amazon has just launched its most interesting Galaxy S23 Ultra deal yet, with the retailer throwing in a free Samsung Chromebook Go and £300 Adidas voucher alongside one of the best phones money can buy.
This deal is a little bizarre (especially the Adidas voucher) but it could be a good option if you're looking to buy a device outright. With over £400 in added value, you get a lot of bang for your buck here - although some may prefer to either trade in for a discount at the official Samsung site or wait for a price cut.
Today's Galaxy S23 Ultra deal at Amazon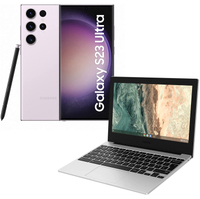 Samsung Galaxy S23 Ultra + free Chromebook and £300 Adidas voucher: was £1,698 now £1,249 at Amazon
Amazon's latest Galaxy S23 Ultra deal throws in a free 11-inch Chromebook and a sizeable Adidas voucher - a pretty huge bundle in terms of added value. With a superb display, incredibly powerful chip, and almost peerless camera system, the Galaxy S23 Ultra is an exceptional device and this deal is worth a glance if you're going to make use of the freebies.
Breaking down this deal - is it worth it?
In terms of outright value, you're getting some pretty bonkers freebies with this Galaxy S23 Ultra deal. We've seen free Samsung laptops given away with Ultra devices before, but usually only around Black Friday in November and only over at the official Samsung Store in the States - never before in the UK.
Taking a look at the free Chromebook, it's an 11-inch Go model with 4GB of RAM and 64GB of onboard memory. Put simply, it's not going to blaze away at intensive tasks but it could be handy if you want a portable laptop for answering emails or browsing on the go. Amazon is selling it for £249 by itself right now so it's not a small freebie by any stretch of the imagination - it's potentially a handy little gadget to have.
What is kind of bizarre, however, is the free Adidas voucher. It could be great depending on your tastes but it's not even closely associated with phones or even Samsung. Adidas vouchers tend to be one of the more popular branded vouchers, but still, this strikes us as a 'throw it in and see if they'll bite' bonus rather than an outright selling point.
For our money, you may be able to get better outright value on an unlocked Galaxy S23 Ultra by heading on over to the official Samsung UK store. While it's not quite as flashy as today's deal at Amazon, the official Samsung site offers an exceptional trade-in rebate of up to £570. Obviously, the caveat here is you need a decent device ready to trade in, but this route is going to bag you a great discount if you're eligible.