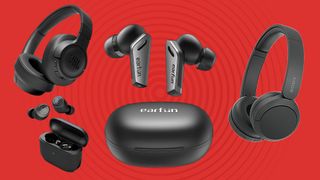 (Image credit: JBL, Sony, JLab and EarFun)
Labor Day sales are nearly upon us and if you're looking to buy some cheap earphones or headphones, this is the ideal chance to do so. Some of the best cheap headphones become even cheaper when you factor in the sales. While Labor Day may be just one day, we're counting on the whole weekend being a good time for sales.
If you're not sure where to look or which headphones or earbuds to buy, we've got your back. We've spent plenty of time with all the major brands out there, including Sony, JBL, EarFun, and many others. That means we know what to look for in great value headphones and earbuds. After all, just because you're not spending hundreds doesn't mean you want to miss out on quality, right?
It's worth taking a look at what we consider to be the absolute best headphones but you'll be surprised at what features transfer across to cheaper offerings. With deals popping up already, now is a good time to check out headphone deals going on.
To help you figure out what to prioritize, here are some of TechRadar's top recommendations for cheap headphones and earbuds. There's something for every taste here.
JLab Go Air Pop
You can't really get cheaper than the JLab Go Air Pop when it comes to true wireless earbuds. Even at their standard price, they're super cheap at $24.99 / £24.99 / AU$49.95. During Prime Day though, they dropped even lower to $20/£20 and really, how can you resist that?
As our JLab Go Air Pop review explains, they might not be the last word in sonic brilliance but they easily sound better than anything else at this price. Offering Bluetooth 5.1, the connection isn't going to drop easily and there's eight hours of battery life from the earbuds and a massive 32 hours when you include the case.
Unusually, the charging cable snaps into the underside of the case but that works well for it, making the JLab Go Air Pop extra portable. The buds have on-device volume control which even pricier alternatives in the best earbuds field don't always achieve. The controls are simple as well with a mic in each earbud for handling calls.
If you enjoy some customization, you'll truly appreciate how there are EQ profiles to choose via a triple tap, even if there's no dedicated app. Good bass and textured vocals balance out a slightly crackly treble at higher volumes, and at this price, we're not complaining.
Due to their standard price, the JLab Go Air Pop can only really see a modest discount to $20/£20 but that soon adds up when you consider it'd be 20% off.
Sony WH-CH520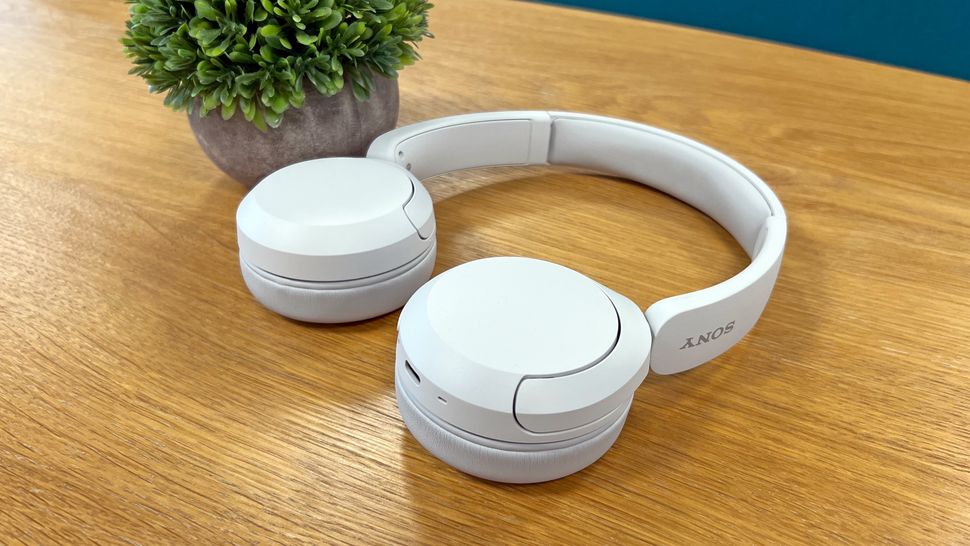 The best Sony headphones may feel like something that would be prohibitively expensive but then there's the Sony WH-CH520 demonstrating you can buy from a premium brand without spending a fortune. The highlight here is the audio quality. Bass, mids, and trebles are all equally represented and clear as we discovered in our Sony WH-CH520 review.
The sound may be more constrained and compressed than from better headphones but at the price of $60/£60/AU$99, it's hard to find too much of a problem with this. It's possible to use Sony's headphone apps to tweak the EQ too so you can get things just how you like them.
The Sony WH-CH520 also throw in DSEE which is effectively an 'upscale' for music. Sony states it adds detail back into Bluetooth-quality streaming and we found it added some warmth to the mid-range.
For larger-than-average heads, you may want to steer clear of the Sony WH-CH520 due to their clamping force on the sides of your head, but the cushioning goes some way to helping this. The shell is well made textured plastic also, with on-device buttons proving easy to use.
The icing on the cake is Bluetooth multi-point pairing which is always convenient, along with an impressive 50 hour battery life. You may miss out on auto-pause functionally and 3.5mm, but the Sony WH-CH520 covers most of the essentials at a shrewd price.
As standard, the Sony WH-CH520 are $60/£60 but during sales events, they've dropped as low as $40/£40 making them incredibly affordable, especially for Sony headphones.
EarFun Air Pro 3
Since its launch earlier this year, the EarFun Air Pro 3 have steadily dropped in price. Costing $99/£99 at launch, they were already highly affordable.
For the price, you get Bluetooth 5.3 support, ANC, and up to 37 hours of battery life once you factor in the charging case. Yes, 37 hours! Without the case and with ANC off, there's up to 9 hours which is pretty respectable and that only drops to 7 hours once ANC is enabled.
Other useful features include multipoint pairing so you can easily switch between devices, and support for Qualcomm's apt-X adaptive audio codec which you don't always see, especially in this price range.
While there's wear detection and the touch controls are a little awkward, for the most part, the EarFun Air Pro 3 work well. In our EarFun Air Pro 3 review, we appreciated the fun if not entirely fantastic sound, along with being able to adjust the EQ.
As we pointed out, you'd generally have to spend more like $150/£150 to find comparable earbuds to the EarFun Air Pro 3. Even better, with recent price drops to lows as little as $70/£70, we're keen to see just how low it can go during Labor Day sales.
JBL 760NC
The JBL 760NC are often discounted, usually any time there's a reason for them to be. The last big price cut was during Black Friday last year where they dropped as low as $65. With a MSRP of $129/£99/AU$179, that's quite the price cut.
They're appealing too thanks to having mostly everything you could want at this price. There's Bluetooth 5.0 support with USB-C charging them up. Up to 35 hours of battery life is possible here when ANC is on with up to 50 hours with it disabled. A five minute charge gives back two hours of listening time.
Adding to the fully fleshed out bunch of features, there's also Google fast pair and multi-point Bluetooth support. The JBL app is useful too for making adjustments from setting up ANC to tweaking which voice assistant you want to trigger via the on-device button. For the most part, the JBL 760NC sound pretty punchy too.
At this price, there are compromises to be made. The JBL 760NC can get a bit hot thanks to the synthetic leather earpads and they feel pretty plasticky, but they're a lightweight pair of cans which help. They're foldable too so the JBL 760NC are highly portable and could be tracked down at a bargain price soon.
Sign up to receive daily breaking news, reviews, opinion, analysis, deals and more from the world of tech.