Apple is working on a new hearing test feature for AirPods Pro, but you'll have to wait
Apple's earbuds could soon test your hearing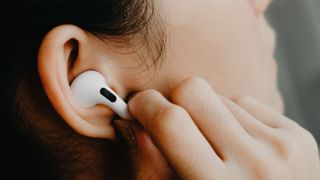 (Image credit: Shutterstock / Framesira)
Apple is doubling down on the AirPods' hearing aid features. According to Mark Gurman's – Bloomberg's tech reporter – latest email newsletter, the company is working on a new hearing test feature to help gauge which frequencies you can and can't hear.
Apple isn't content with making some of the very best earbuds money can buy. It also wants to use their privileged position – stuck in your ear canal – to help you track your health with one of the best AirPods.
This builds on the hearing health features that were spotted in patent filings earlier this year, which indicated that future AirPods could have integrated temperature sensors to help deliver much more accurate cycle tracking and even spot signs of fever.
This year's AirPods Pro won't be getting any big hardware upgrades beyond a switch from Lightning to USB-C charging, but from the sounds of it Apple is working on some really interesting updates that it plans to roll out over the next few years.
How AirPods will help you hear better
The current AirPods Pro 2 make surprisingly great cheap hearing aids, thanks to features such as Live Listen, which can help you focus on specific sounds in busy environments. That's really attractive to me because after decades of serious electric guitar abuse, I find it really hard to hear people in places such as bars and busy restaurants.
I should probably look into hearing aids, but they make AirPods Pro seem cheap. Commercial hearing aids can cost ten times the price or more, and they don't generally have the ease of use, sound quality or wider iPhone integration of Apple's earbuds. If you're a bit hard of hearing like I am, here's how to use your Apple AirPods Pro as hearing aids – but even better hearing aid features are coming.
In the US and in many other territories, hearing aids are regulated medical devices. That adds cost and complexity that simply doesn't apply to regular earbuds, and it has a side-effect of keeping competition out. But in the US, the FDA has relaxed its rules on hearing aids and they can now be sold over the counter.
Sony and Bose are already working in this space, and according to Gurman Apple intends to do the same. It's hired engineers from traditional hearing aid firms and has developed a simple but effective hearing health test app that can identify signs of hearing damage or loss by playing you tones and other sounds.
Don't expect to see any of this in 2023, or possibly even 2024, though. Apple appears to be working on a three-year hardware cycle with its earbuds, so with AirPods Pro 2 launching in 2022 we're not due the third generation until 2025. But if like me your hearing isn't what it used to be, the AirPods Pro 3 could turn out to be a genuinely life-changing bit of hardware.
Sign up to receive daily breaking news, reviews, opinion, analysis, deals and more from the world of tech.
Contributor
Writer, broadcaster, musician and kitchen gadget obsessive Carrie Marshall (Twitter) has been writing about tech since 1998, contributing sage advice and odd opinions to all kinds of magazines and websites as well as writing more than a dozen books. Her memoir, Carrie Kills A Man, is on sale now. She is the singer in Glaswegian rock band HAVR.