Upping the ante on the already excellent
For
Bespoke Qualcomm Snapdragon 8 Gen 2 chipset
More base storage than predecessor
Functional refinements
Against
Faster charging would have been nice
Looks identical to predecessor
Seriously expensive
Samsung's first flagship to wholly fuse Galaxy S and Note sensibilities in an impressive package
For
Incredible cameras and zoom
Excellent little S Pen
Gorgeous buttery-smooth screen
Against
Pricey
No microSD slot
Battery life could be better
The Samsung Galaxy S23 Ultra could well be the ultimate Android phone of 2023, with an equally compelling case for it possibly being the best phone overall. Of course its predecessor, the Samsung Galaxy S22 Ultra, was one of the best phones of 2022. So the question is, does Samsung's newest flagship phone do enough to set itself apart from what's come before?
And with prices for the outgoing model set to drop and tempting contract offers likely to come thick and fast, the Galaxy S23 Ultra needs to prove itself a worthy upgrade.
So how does it stack up to its masterful predecessor? Here's how it compares to the Galaxy S22 Ultra on a spec-by-spec basis.
Samsung Galaxy S23 Ultra vs Samsung Galaxy S22 Ultra: Price and availability
The Samsung Galaxy S23 Ultra is on sale as of Friday, February 17, 2023, just shy of a year after the Galaxy S22 Ultra arrived on February 25, 2022.
With the global economy going a little downhill over the past 12 months, not everyone is going to be happy with the new Galaxy S23 Ultra's pricing – even if the price increases over the S22 Ultra aren't as drastic as we'd first feared.
Samsung Galaxy S23 Ultra prices:
Galaxy S23 Ultra: 8GB / 256GB: AU$1,949
Galaxy S23 Ultra: 12GB / 512GB: AU$2,249
Galaxy S23 Ultra 12GB / 1TB: AU$2,649
Samsung Galaxy S22 Ultra prices:
Galaxy S22 Ultra: 8GB / 128GB: AU$1,849
Galaxy S22 Ultra: 8GB / 256GB: AU$1,999
Galaxy S22 Ultra: 12GB / 512GB: AU$2,149
Galaxy S22 Ultra 12GB / 1TB: AU$2,449
The first thing to note here is that Samsung has done away with the 128GB entry model for the Galaxy S23 Ultra, meaning there is now one fewer storage and pricing option. Yet in taking a closer look, the change also means consumers have an opportunity to save on the S23 Ultra when compared to the S22 Ultra depending on which storage option they go for.
Aussies will be paying AU$50 less for the 256GB Galaxy S23 Ultra than they would have had to fork out for the S22 Ultra with the same amount of storage, even though they'll be faced with higher prices for the S23 Ultra in other storage sizes compared to the S22 Ultra in 2022.
For the 512GB S23 Ultra, Aussies will be paying AU$100 more while the 1TB S23 Ultra will set them back an extra AU$200 over the S22 Ultra with the same storage. But when considering the economic climate and fears that the price increases might be higher, things certainly could have been a lot worse.
Samsung Galaxy S23 Ultra vs Samsung Galaxy S22 Ultra: Design
You might want to play a game of spot the difference with the Galaxy S22 Ultra and the Galaxy S23 Ultra, because any changes between the two are challenging to spot, to say the least. Given that we called the Galaxy S22 Ultra "an inarguably beautiful device" in our review, that's not necessarily a bad thing.
Once again, Samsung has borrowed from the Galaxy Note 20 Ultra playbook, with curved left and right edges and flat top and bottom edges, while the rear camera lenses each stick out individually.
One notable difference is that Samsung has flattened out the display a little for the Galaxy S23 Ultra, so while it's still curved at the edges, the effect is less pronounced. This is a positive change, especially for landscape video watching and S Pen stylus usage.
The Galaxy S23 Ultra comes in phantom black, green, lavender, and cream colour options. Though if you order from Samsung directly via its website, you'll find additional lime, graphite, red and sky blue colours to choose from. If you're curious, you can check out our Samsung Galaxy S23 colours roundup to get a closer look at every available finish now.
The Galaxy S22 Ultra, meanwhile, launched with a similar variety of available colour options including phantom black, white, burgundy, green, graphite, red and sky blue.
Samsung has spoken of the credentials of its new flagship with respect to being environmentally friendly, with recycled materials from discarded fishing nets, water barrels and PET bottles going into its build. Altogether, the S23 Ultra reportedly features twice as many components as the S22 Ultra that are, at least in part, made from recycled materials (12 instead of 6).
Neither of these handsets are small, with only minuscule differences between the pair in terms of size and weight. The Galaxy S23 Ultra measures 78.1 X 163.4 X 8.9mm and weighs 234 grams, while the Galaxy S22 Ultra measures 77.9 x 163.3 x 8.9mm and weighs 229 grams, meaning that there really is precious little difference between them in this area.
Samsung Galaxy S23 Ultra vs Samsung Galaxy S22 Ultra: Display
Both of these phones pack generously sized AMOLED displays that are bright and sharp, with little to the eye in terms of a noticeable difference between the two.
In both cases you're looking at a 6.8-inch 'Dynamic AMOLED 2X' panel with a 1440 x 3088 (WQHD+) resolution and variable 120Hz refresh rate, which can step right down to 1Hz as needed in the name of saving power.
Again, this similarity isn't a bad thing, with the Galaxy S22 Ultra screen remaining one of the best on the market to this day. As we noted in our review, "Everything from games and videos to apps looks fantastic on the display."
Both displays can hit 1,750 nits too, which remains one of the brightest peaks in the business (with the iPhone 14 Pro line being the notable market leader hitting a max brightness of 2,000 nits outdoors).
Samsung Galaxy S23 Ultra vs Samsung Galaxy S22 Ultra: Camera
The cameras are where the most significant differences between the Galaxy S23 Ultra and its predecessor can be found, with Samsung equipping the S23 Ultra with a brand new 200MP sensor powered by Samsung's own Isocell HP2 image sensor – the latest successor to the Isocell HP1 sensor found in the 200MP lenses of the Motorola Edge 30 Ultra and Xiaomi 12T Pro. This amounts to a pretty generous upgrade over the Galaxy S22 Ultra's already-impressive 108MP sensor.
The HP2 sensor also brings with it some pretty significant performance upgrades if Samsung is to be believed, such as the introduction of Samsung's Dual Vertical Transfer Gate (D-VTG) technology, which allows the camera of the S23 Ultra to reportedly absorb more than double the amount of light than previously when shooting.
The Samsung Galaxy S23 Ultra is also granted quite a significant boost when it comes to video recording, too, enough for it to appear at least on paper as a genuine competitor to the iPhone Pro line's status as the video king. The S23 Ultra is capable of recording Super HDR video in 4K at 60fps, 8K at 30fps or 1080p at 120fps. This is compared to the S22 Ultra's max capabilities of 4K at 30fps, 1080p at 60fps and 8K at 24fps.
Outside of its main sensor, the Samsung Galaxy S23 Ultra features an essentially identical camera set-up to its predecessor at the rear with a 12MP ultra-wide, 10MP telephoto capable of 3x zoom and 10MP periscope lens capable of a 10x zoom.
Interestingly, Samsung has dropped the Galaxy S22 Ultra's 40MP selfie camera in favour of a 12MP unit, though on paper this might not necessarily be the significant downgrade that it appears to be given the upgrades to the S23's performance as we outline below.
One other camera feature that's worth mentioning is the Galaxy S23 Ultra's ability to shoot Expert RAW shots at 50MP rather than the 12MP of the Galaxy S22 Ultra, something that will appeal most to professional or hobbyist photographers or designers.
Samsung Galaxy S23 Ultra vs Samsung Galaxy S22 Ultra: Performance
"Over almost a week of intense testing, the Samsung Galaxy S22 Ultra never let us down," we stated in our review of 2022's Samsung flagship. However, this statement was made for the S22 Ultra which came with the Snapdragon 8 Gen 1, and the S22 Ultra actually featured the Exynos 2200 chip in various regions outside the US. And while that Exynos chip might still be plenty capable, it's inarguably not as fast or as efficient as the Qualcomm equivalent.
There are no such problems with the Samsung Galaxy S23 Ultra though, which is all set to feature a Snapdragon 8 Gen 2 CPU regardless of whatever region you buy it in.
This isn't just any Snapdragon 8 Gen 2 chip either, but rather a specially enhanced one with its prime Cortex-X3 core clocked to 3.36GHz as opposed to the usual 3.2GHz. On paper this promises to make the Galaxy S23 Ultra one of the fastest phones on the market, and as you'd expect also offers improved performance over the Snapdragon 8 Gen 1.
Elsewhere, you're getting the choice between 8 or 12GB of RAM for both phones, and we'd argue that you should really be getting 12GB as standard in a 'Pro' phone such as these are, but this is of course is only a relatively minor gripe. The S23 Ultra also technically boasts marginally faster memory with LPDDR5X versus LPDDR5 in the S22 Ultra.
The variety of storage options is generous, but more so with the Samsung Galaxy S22 Ultra which as mentioned above offers a 128GB storage option of top of 256GB, 512GB and 1TB options while the Samsung Galaxy S23 Ultra offers the same except for the 128GB option. In all honesty, given the nature of the Ultra line as a premium handset, we're not especially sorry to see the lower-end option being culled.
The 2023 Ultra also boasts faster, more power efficient UFS 4.0 storage (one of the first phones on the market to do so) compared to its predecessor's UFS 3.1 storage.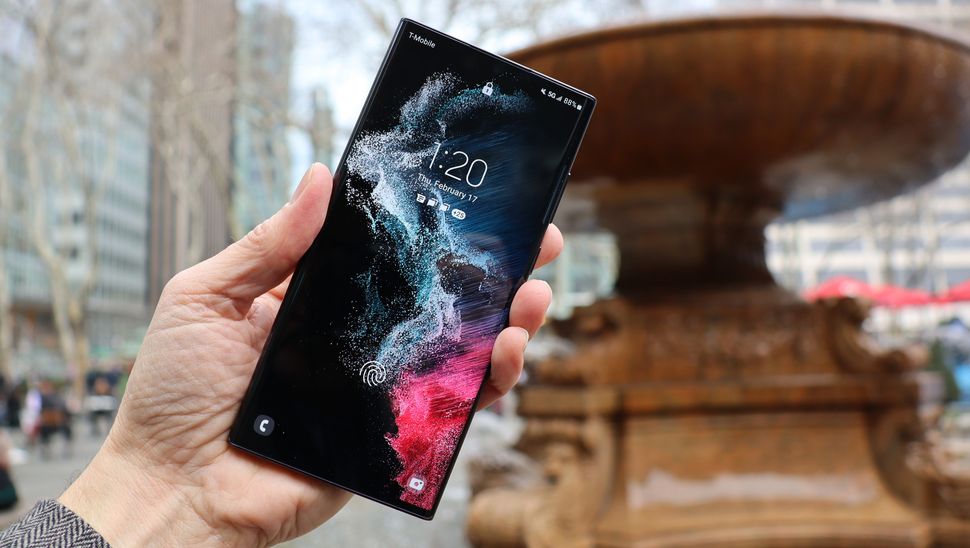 Both phones have access to Android 13 and Samsung's One UI 5.1 user experience, but the big difference here is that the Galaxy S23 Ultra comes with an extra year of guaranteed software updates – meaning four years of Android OS updates and five years of security updates.
Samsung Galaxy S23 Ultra vs Samsung Galaxy S22 Ultra: Battery
While the rest of the Galaxy S23 series have increased the size of their batteries, the Galaxy S23 Ultra stays the same as its previous generation at 5,000mAh. On the one hand, that's a perfectly decent capacity for a modern flagship phone in theory, but on the other hand we were hardly blown away by the Galaxy S22 Ultra's stamina with the same size battery.
"We were a little surprised that such a large battery didn't provide a day and a half of battery life," we noted in our Galaxy S22 Ultra review.
However, worth noting is that the Galaxy S23 Ultra's improvements to its processor, memory and storage is reported to offer the new flagship a little more staying power with more energy efficiency. Samsung itself claims that the battery of the S23 Ultra is 20% more efficient than that of the S22 Ultra, and this is one area of comparison we'll be paying particularly close attention to as we continue to spend our time with the new handset.
Samsung has kept its charging provision the same between the two handsets, with support for 45W wired charging and, as has apparently become custom with new handsets these days, no charging brick bundled with either phone.
Which one should you buy?
Samsung delivered one of the best phones of 2022 with the Galaxy S22 Ultra, so it didn't necessarily need to make sweeping changes with the Galaxy S23 Ultra, but where it has made changes on paper are more than enough to pique our interest.
The new 200MP Isocell HP2 sensor is a pretty significant upgrade over the main camera of the S22 Ultra, and Samsung certainly appears to be suggesting that the software to support the new sensor has improved too. And what we understand about the S23 Ultra's new Snapdragon 8 Gen 2 chip gives us a lot of reason to hope that Samsung's talking up of the S23 Ultra's improved performance is more than just marketing fluff, though we'll know for sure after we've spent some more time with the new handset.
The question is, will the Galaxy S23 Ultra be a worthwhile upgrade when those cheaper Galaxy S22 Ultra deals start dropping? You'll have to wait for our final review, but we'll be updating this piece with a definitive verdict once we've put the new phone well and truly through its paces.